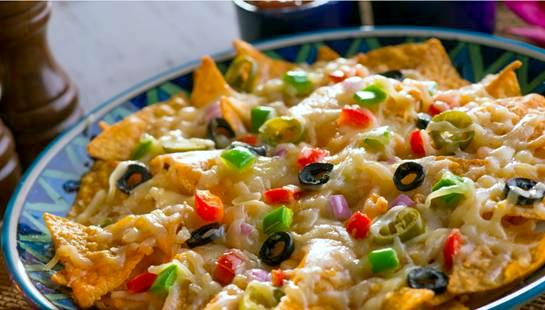 Why order a pizza when you can make one at home?
Chef Varun Bajaj tells us how to prepare a cheesy, crunchy one in your own kitchen.
Here's the recipe!
Nachos Pizza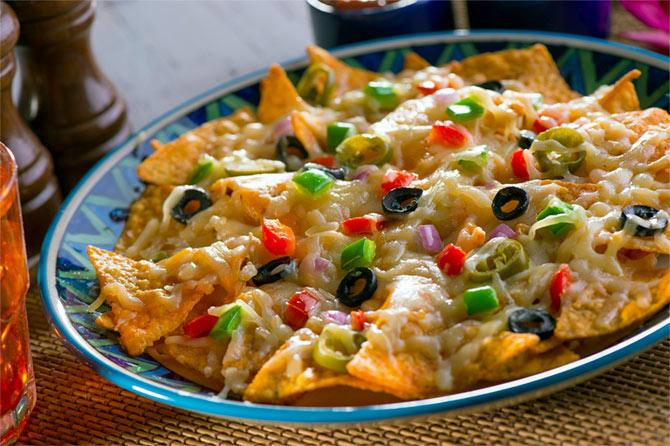 IMAGE: Nachos Pizza. Photograph: Kind courtesy chef Varun Bajaj, Cornitos.
Ingredients
150 gm cheese and herbs flavour nachos crisps
50 gm cheddar cheese, grated
30 gm onion, finely chopped
30 gm tomato, seeded and diced
30 gm pickled black olives, sliced
50 gm red and green capsicum, sliced
50 gm jalapenos, sliced
Method
Arrange a layer of nachos on a plate.
Top it with onions, tomatoes, black olives, jalapenos and red and green capsicum.
Add grated cheddar cheese on top.
Place the plate in a pre-heated oven for a minute until cheese melts.
Serve hot immediately.
Note: You can add oregano seasoning as per taste.
Dear readers, you can send us your favourite recipes too.
Write in to us at getahead@rediff.co.in (subject: Recipe) with your name, hometown and any interesting details about the origin of the recipe, along with a photograph if possible.
We'll publish the best preparations right here on Rediff.com.