Recipes from Reshma Aslam's kitchen diary.
You can share your favourite recipes too!
Here's how to make Masala Keema: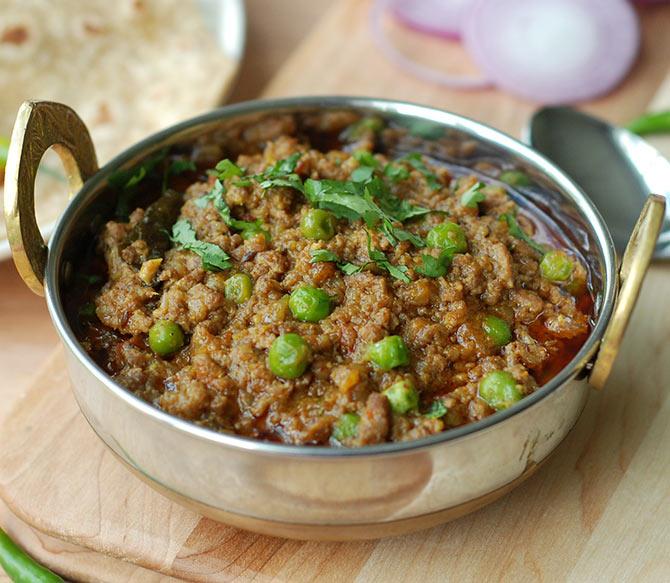 Ingredients
¼ kg keema (minced) mutton or chicken
1cup fresh coriander (paste)
¼ cup fresh mint leaves (paste)
5 to 6 green chillies (paste)
2 medium sized onions (chopped fine or ground to paste)
¼ cup green peas (optional)
1 tbsp garam masala powder
1 tsp turmeric powder
¼ cup oil
¼ cup ghee (vanaspati)
1 tbsp kasoori methi
1 to 2 bay leaves
1 tsp ginger garlic paste
Salt to taste.
Method
Wash the keema well. Drain and keep aside.
Heat ghee and oil in a pan. Add kasoori methi leaves and bay leaves.
Now add the onions. Fry well till it turns nice and pink.
Add ginger garlic paste, chilly paste, mint paste, and coriander paste. Fry well.
Add salt and add the keema. Mix well. Add green peas, turmeric powder and garam masala powder.
Mix well. Add little water and cover lid and let it cook for about 30 minutes.
If you are using chicken it gets done in 20 minutes.
Serve hot with parathas or bread.
You can season to taste by adding little lime juice.
Photograph: Creative Commons
Loved this recipe? Click here for more interesting recipes and food features!
Want to share your favourite recipe? Simply e-mail your recipes to getahead@rediff.co.in (subject line: My Fav Recipe) with your name, hometown and any interesting details about the origin of the recipe, along with a photograph of the recipe, if possible. We'll publish the best preparations right here on Rediff.com and India Abroad.