We'd asked you readers to share your favourite recipes.
Rediff reader Baishali Ghosh shares some easy ice cream recipes. You can share yours too!
Remember how, as kids, we all waited to hear that distinctive bell of ice cream carts?
Every time the bell rang, our faces would light up in smiles.
Times have changed and carts have been replaced by ice cream parlours, but the joy of relishing ice creams has not changed.
These two ice cream recipes, we hope, will bring back those memories.
Chocolate Ice cream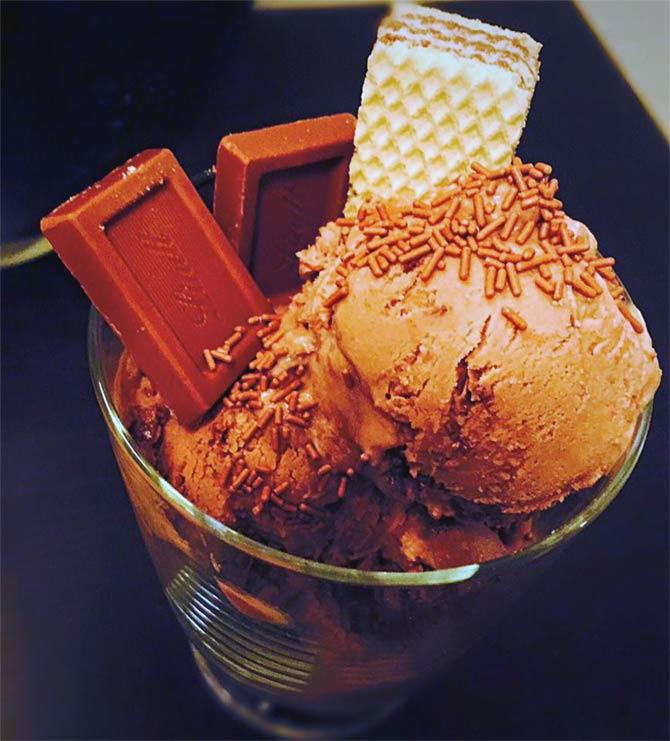 Ingredients
1 cup dark chocolate (grated)
2 and 1/2 cup full cream milk
1 tbsp corn flour
1/3 cup sugar
1/2 cup fresh cream
Vanilla essence
3 tbsp water
Method
Take a non stick pan and heat half cup of milk on medium flame.
Add grated chocolate and keep stirring till the mixture becomes smooth.
Boil the remaining milk with sugar in another non stick pan.
Mix corn flour in water and add it to the milk with sugar mixture. Simmer for 2 to 3 minutes.
Add the chocolate mixture and mix well.
After some time, remove the pan from the fire and let it cool completely.
Take fresh cream, few drops of vanilla essence and pour it into the above mixture. Mix well.
Pour the entire mixture into a container and let it settle. Blend it with a blender to make it smooth.
Use the same container or transfer into a separate one for freezing.
Cover the container and place it in the freezer.
Once it settles, serve.
---
Mango Ice cream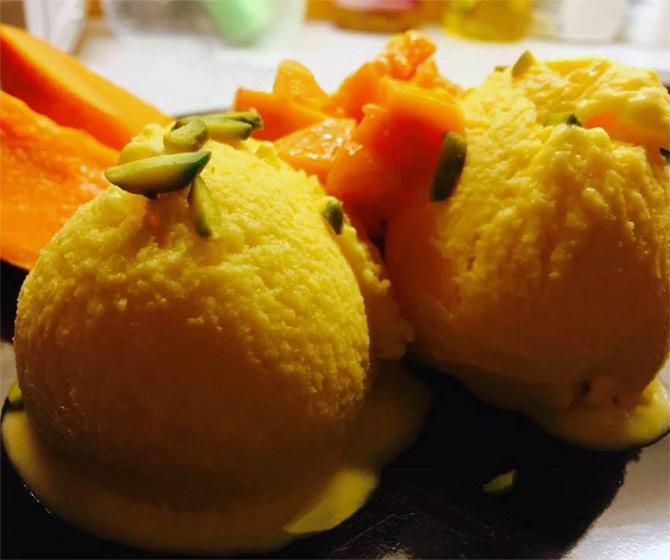 Ingredients
1 cup mango pulp
1 cup fresh cream
1 cup full cream milk
1 cup whole milk cream powder
1/2 cup powdered sugar
Method
Put the mango pulp into a blender jar.
Add fresh cream, full cream milk, whole milk cream powder and powdered sugar. Blend it until it's smooth.
Transfer the mixture into an ice cream container with a tight fitting lid. Freeze till set.
When it settles, place scoops in stemmed glasses, plate or bowl.
Garnish with fresh mint sprigs and serve chilled.
Photographs: Kind Courtesy Baishali Ghosh
Click here for interesting recipes and food features
You can send us your favourite recipes too.
Write in to us at getahead@rediff.co.in (subject: Favourite Recipes) with your name, hometown and any interesting details about the origin of the recipe, along with a photograph if possible.
We'll publish the best preparations right here on Rediff.com and in India Abroad.