Mouth-watering recipes to celebrate the festival of colours.
Holi is almost upon us and besides the colourful celebration, almost everyone looks forward to the delicious traditional delicacies served up on the occasion.
Here are two lip smacking recipes from food blogger Swati Pareek.
Gujiya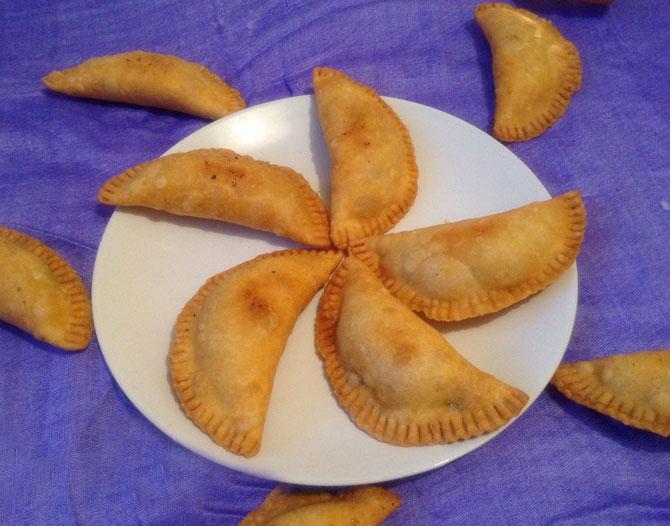 Ingredients
For the dough
1 cup all-purpose flour (maida)
1/4 cup semolina (suji)
1 tbsp melted clarified butter (ghee)
A pinch of salt
Warm milk to knead the dough, as needed
For the stuffing
1 cup grated coconut
2 tsp poppy seeds (Khus khus)
1 cup powdered sugar
1/4 tsp powdered cardamom (Elaichi)
A pinch of nutmeg powder (Jaifal), optional
2-3 tbsp almonds, pistachios, cashew nuts, finely chopped
Oil for deep frying
Method
Add all-purpose flour, semolina, salt, clarified butter in a big bowl and mix well with hands.
Now slowly add warm milk as needed and knead into a firm dough.
Cover the dough with a damp cloth and Keep aside for at least 30 minutes.
Heat a pan and dry roast the coconut for 1-2 minutes, just to warm it (Do not let it turn brown). Keep aside.
Dry roast the poppy seeds for 50-60 seconds and them take them out.
Take a big bowl and add coconut, poppy seeds, sugar, mixed nuts, cardamom, and nutmeg powder. Mix well and keep it aside.
How to make the Gujiya
Roll dough into the size of a puri, neither too thick nor too thin.
Put 1 tbsp stuffing in the centre of the puri.
Moisten edges with milk and fold and press the sides so that the filling does not spill out during deep frying.
Now press the edges with a fork to seal them and make a beautiful pattern.
If you have a gujiya mould, put the rolled dough in it. Fill mawa mixture. Moisten edges with milk and fold the mould. Remove excess dough from the edges.
Heat oil in a pan and when the oil is medium hot deep fry the gujiyas till they turn golden brown.
Serve it warm or store in any air tight container. You can easily store them for 10-15 days.
Notes:
Do not over-stuff the gujiya else it will break during frying.
Seal them well else it will open up and the stuffing spill out.
Oil must not be too hot for frying. Hot oil causes bubbles on the outer covering.
Always fry the gujiyas on a medium/low flame, they will be crispy else they will become soggy after a while.
If you don't want to deep fry, bake the gujiya in a preheated oven on 200°C for 18-20 minutes; flipping them over after 10 minutes, till they get brown spots.
Photograph: Swati Pareek
---
Coconut Barfi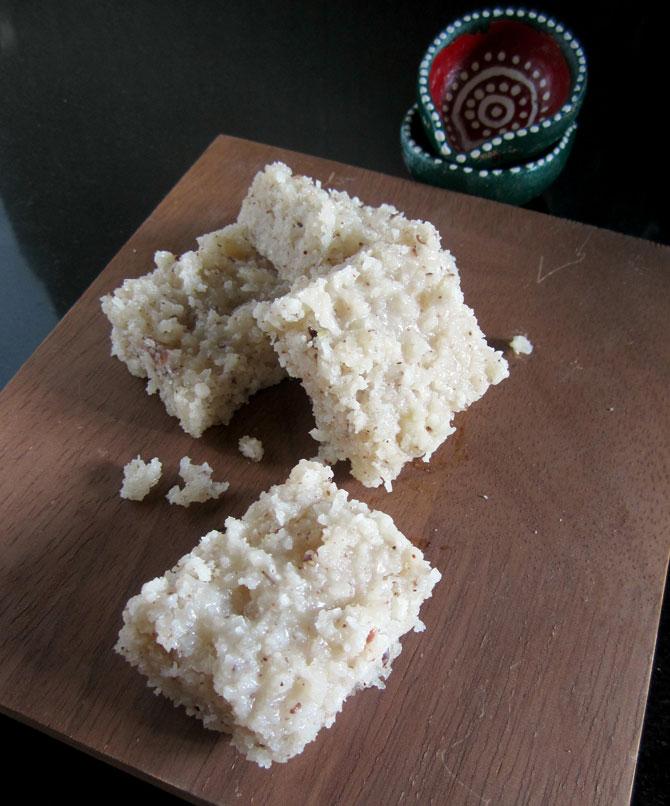 Ingredients
2 full cups of freshly grated coconut
1 1/2 tbsp clarified butter (ghee)
1 1/4 cup sugar
1 cardamom (elaichi), crushed
Method
Heat the clarified butter (ghee) in a pan on a medium flame.
Add the grated coconuts and sauté for 2 minutes.
Now add sugar stir the mixture till the sugar melts.
Keep stirring and cook till all the moisture gets absorbed and the mixture forms a lump. (It will take 6-7 minutes).
Switch off the flame. Add crushed cardamom and mix well.
Now grease any plate or tray with ghee and transfer the coconut mixture on it.
Spread it evenly and let it cool.
Cut it into square shapes or any shape of your choice with a knife.
Your quick, easy and tasty Coconut Barfi is ready!
You can store it in air tight container for up to 2 weeks.
Notes
Adjust the sugar quantity according to your taste.
Cook on a medium flame otherwise the coconut will not get cooked properly or may get burnt.
If you want pure white barfi then scrape off the brown part of coconut before grating.
I scraped off the brown part gave it a quick go in the mixer.
I avoid using a grater as it takes a lot of effort and time.
You can garnish the barfi with your choice of dry fruits like almonds, pistachios etc.
Photograph: Divya Kudua/Creative Commons
Want to share your favourite recipe? Simply e-mail your recipes to getahead@rediff.co.in (subject line: My Fav Recipe) with your name, hometown and any interesting details about the origin of the recipe, along with a photograph of the recipe, if possible. We'll publish the best preparations right here on Rediff.com and India Abroad.
Loved this recipe? Click here for more interesting recipes and food features!