Food blogger Faraz Haindaday, 21 from Mumbai talks about celebrating Eid in the lockdown.
Photograph and video: Courtesy Faraz Haindaday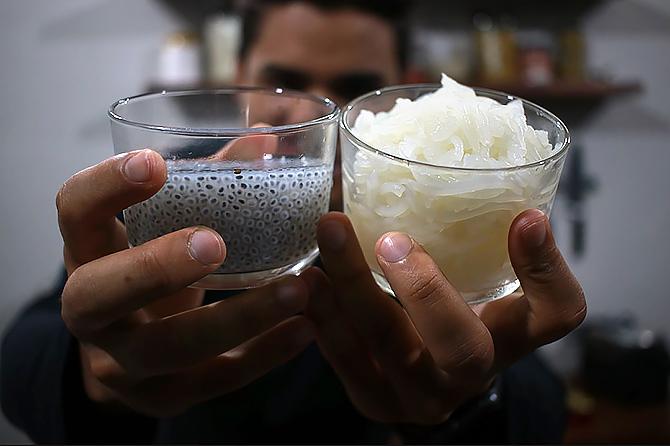 Before the lockdown, our iftar would include items like channa batatas, kebabs or chicken rolls.
You only get these from the local vendors who cook it in their stores.
This year we weren't able to get any of that because these places are shut down.
In all these years, we've never had only home food for all thirty days of Ramzan.
Mohammad Ali Road in Mumbai has always been the charm of Ramzan. We used to get fresh, hot malpuas from there.
This year we made it at home and it turned out pretty well. I put up a video on my YouTube channel too.
I pretty much nailed making Falooda Sev, so we didn't miss it yet.
We also made chicken baida roti, nalli nihari... all the dishes that will make you drool.
Watch the video to see how I made Falooda Sev at home:
Ingredients
1/2 cup corn flour
1 and 1/2 cup water
1 tablespoon oil to grease
You will need:
A sev mould to prepare the falooda
Method
In a large bowl, add 1/2 cup corn flour and mix it with 1 and 1/2 cup of water. Using a whisk, mix the flour making sure there are no lumps.
Add this mixture to a sauce pan and cook on low heat for 5 minutes or until the mixture becomes translucent (toothpaste consistency)
Prepare a bowl with cold water and a few cubes of ice. Now quickly add this mixture in a greased mould.
Gently push out the mixture through the mould into the ice bath.
You will notice falooda forming at the bottom of the bowl.
Leave it untouched in the fridge for 10 to 15 mins and then strain the water out.
Add this to your falooda sherbet or serve with malai kulfi!