How would you like to have it? S Saraswathi helps us with a few recipes: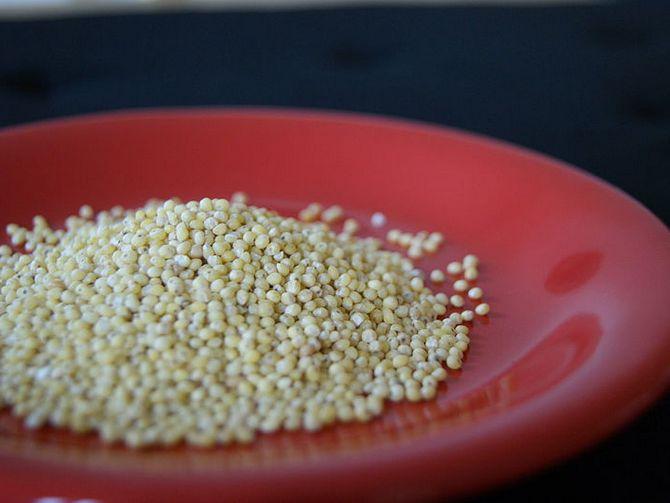 Widely grown across the world, the humble millet, which is mostly considered birdseed, is a grain with innumerable health benefits.
For thousands of years, millet was consumed by our ancestors as staple food.
High in anti-oxidants, dietary fiber and protein, millet is easily digestible and gluten-free.
This makes it an extremely healthy alternative to rice and wheat.
Millet is often used as baby food and one of the most common breakfast foods in rural India.
Millet is also a good source of other essential nutrients like copper, manganese, phosphorus, and magnesium and is known to reduce the risk of heart disease, lower high BP, prevent gallstones and promote healthy blood sugar control.
Millet can be used in a wide array of dishes.
It is readily available in the market in both powder and seed form -- they may be white, gray, yellow or red.
Here are some easy-to-make and extremely nutritious recipes using millet grain.
Basic millet
This is a basic recipe for cooking millet that can be used as a substitute for rice
Ingredients:
1 cup millet
2-1/2 cups water
Salt to taste
Method:
Bring the water to a boil in a heavy bottomed vessel, you can use a cooker.
Wash the millets well and add to the boiling water
Simmer, cover with a lid, and cook for about 15-20 minutes until all the water is absorbed.
Switch of the flame and let the grain rest for about 10 minutes
Tasty, nutritious fluffy rice like texture is obtained, but for a more softer consistency, use a little more water.
This can be served as a substitute for rice
You can lightly dry roast the grain for about 2-3 minutes on medium heat before boiling for flavour.
---
Breakfast Porridge
Tired of oats, cornflakes and dry toast, here is a healthy new alternative.
This soft creamy porridge made with millet grain is not only loaded with essential nutrients, it tastes absolutely delicious.
Ingredients
1 cup cooked millets
1 cup milk
1 tbsp Honey/Maple syrup
Fruits and nuts of your choice (apple, banana, almonds, pistachio, pecans)
Method
Add a cup of milk to the cooked millet and blend well.
Warm on medium heat until the desired consistency is obtained.
Switch off and allow the mixture to rest for a few minutes.
Add your favorite chopped fruits and nuts; drizzle a tbsp of honey or maple syrup and your tasty and healthy breakfast is ready.
If you are pressed for time or prefer a savory breakfast, simply blend a cup of cooked millet with a big glass of buttermilk, it tastes just as good.
You can add a few chopped shallots, one small finely chopped green chilli and some coriander to make it more interesting.
---
Millet Cutlets
Both children and adults will love this yummy snack that is as healthy as it is tasty.
Ingredients
1 cup millets
2-1/2 cup water
1 onion (finely chopped)
1 green chilli (finely chopped)
A few coriander leaves (chopped)
1/2 grated cheese (preferably cheddar)
Salt to taste
(A pinch of garam masala or pepper powder can be added for extra flavor)
Method:
Dry roast the millet grain over a medium flame, stirring continuously for about 2-3 minutes till you get a pleasant aroma and the grain starts to turn slightly brown.
Add the water and let it come to a boil.
Simmer on low heat, cover and cook until all the water is absorbed, takes about 15-20 minutes.
Switch off the flame, cover and let it rest for about 10 minutes.
When still warm, add the finely chopped onion, chilli, coriander and cheese.
Mix well and season with salt.
Make small balls and flatten to make cutlets.
Heat some oil in a frying pan and slowly slide the cutlets in.
Fry in medium heat for about 2-3 minutes on each side.
Serve hot with tomato sauce or chutney.
---
Millet Pulao
Make your regular pulao even more tastier and nutritious by replacing rice with millet grain.
Add your favorite veggies and you have a wholesome and delicious meal.
Ingredients:
2 cups millet (cooked as per basic recipe)
1 tsp ginger (chopped finely)
1 tsp garlic (chopped finely)
1/2 cup onion (chopped)
1/4 cup tomato (chopped)
1/2 cup paneer
1/2 cup peas
2 green chillis (chopped)
1 tbsp thick curd
A few mint leaves
1 tbsp coriander (chopped)
1 tsp coriander powder
1/2 tsp cumin
2 cloves
2 cardamoms
1 small stick cinnamon
Salt to taste
Method
Heat the oil or ghee in a pan.
Add the spices -- cumin, cloves, cardamom and cinnamon.
Add the mint leaves, onion, and green chilli, mix well
Now add the finely chopped ginger and garlic
Mix well and add the chopped tomatoes
Wait until the tomato softens, then add the green peas and coriander pd
Finally add the beaten curd and salt
Mix well, simmer and cook until the peas are soft
Meanwhile, cut the paneer into small cubes and sauté in a pan with little oil
Once the peas are cooked, add the 2 cups of millets, and mix in the paneer
Sprinkle some coriander and your delicious millet pulao is ready
Serve hot with onion and curd raita
General Tips for using millet grain:
Dry roast a few cups of millets on medium heat for 3-4 minutes until the grain starts to turn brown. Allow it to cool and run it through your mixie to get a fine powder.
You can use this powder along with wheat flour, while making chapati dough.
A spoonful can be added to gravies, both veg and non-veg to make it even more nutritious.
It can also be added to the flour, while baking cookies and pies.
Be as creative as possible, the millet is incredibly versatile.
Lead image used for representational purposes only.
Photograph: Bananen Falter/Wikimedia Creative Commons