Food blogger Priyadarsini Raj shares two delicious Indian sweet recipes to bring in the New Year.
You can share yours too!
Here's how to make Rasgulla: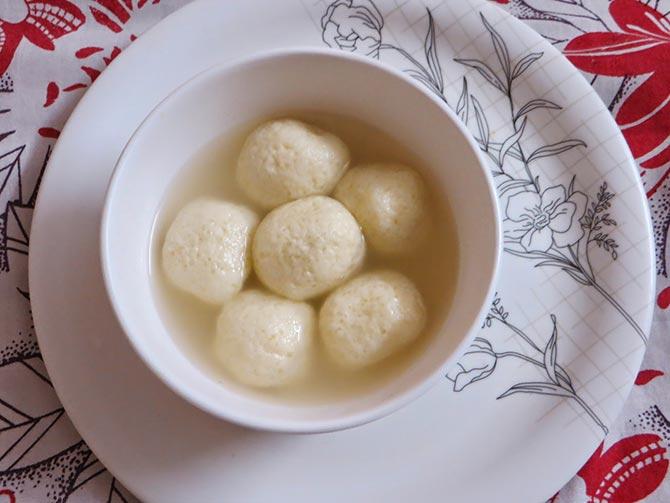 Ingredients
For chenna
1 litre full fat milk
1 1/2 tbsp lemon juice
For sugar syrup
2 cups sugar
5 cups water
6 pieces cardamom
1 tbsp rose water
Method
Squeeze some lemons to get 1 1/2 tbsp of lemon juice.
Take milk in a pot and put it on high flame. Let it come to a boil.
Once it boils, take it off the flame and let it sit for one minute.
Add lemon juice and mix gently. The milk will curdle and greenish water will separate from the milk solid.
Line a sieve with muslin cloth and place it over a big bowl. Strain the milk solids.
Take a big bowl of cold water and wash the chenna well. Rinse it in three changes of water.
Squeeze it gently with your hands to remove excess water. Tie a knot and hang it to drain for 30 minutes.
After 30 minutes, take the chenna in a bowl and knead it gently into a soft dough.
Take a small portion of the dough and roll it in your palms gently till you get a smooth ball.
Repeat with the remaining dough.
Take sugar and water in a large pot and mix well so the sugar melts. Add cardamom and put it on stove and let it come to a rolling boil.
Drop the balls into the sugar water and cover it with a tight lid. Cook it for 8 to 10 minutes till the ball has tripled in volume. You can use pressure cooker as well. One whistle is enough.
Take it off the heat and let it sit for 15 minutes.
Transfer it to a bowl and chill it for 5 to 6 hours.
---
Mysore Pak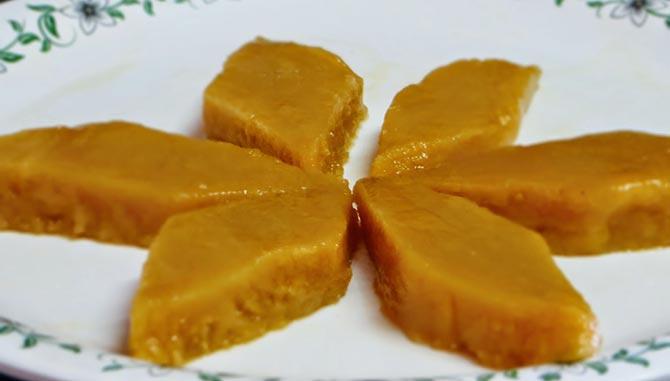 Ingredients
1 cup besan
1 cup sugar
1 cup ghee
1 cup water
Method
Put one tsp of ghee in a non stick pan.
Add besan flour and roast it till it begins to turn golden brown and gives a roasted aroma.
(Optional) You may then sieve it once so that there are no lumps.
Transfer it to a bowl and allow it to cool.
In a pan add sugar and one cup water and stir the sugar in water until it dissolves. Allow it to come to boil.
Turn the flame to low and stir until you get a one string consistency -- it should feel sticky between your fingers.
Add roasted gram flour and continue to stir until it mixes well and the consistency is smooth.
Heat the remaining ghee and add it to the mixture. Mix well.
At one stage, the mixture will not be sticky any more.
At this stage, take it off the flame and pour it on a ghee greased plate. Don't flatten it. It will spread beautifully by itself.
Cut it into squares or diamonds as per your wish while it is still hot.
Sprinkle some granulated sugar over the top and allow it to cool and set.
Enjoy your Mysore Pak.
Photo: Priyadarsini Raj
Want to share your favourite recipe? Simply e-mail your recipes to getahead@rediff.co.in (subject line: My Fav Recipe) with your name, hometown and any interesting details about the origin of the recipe, along with a photograph of the recipe, if possible. We'll publish the best preparations right here on Rediff.com and India Abroad.
ALSO SEE
Loved this recipe? Click here for more interesting recipes and food features!