Rediff reader and food blogger Jofy Abraham shared this melt-in-your-mouth recipe for Christmas.
Do you have a recipe to share? Email it to us!
Soft, tender rice flour balls swimming in sweetened coconut milk, Paal Kozhukattai is a comfort dessert for any feast," says Jofy.
Here's the recipe:
Ingredients
1 cup rice flour (I used readymade rice flour)
1/2 tsp salt
1 cup hot water + 1/2 cup milk
2 cups thin coconut milk
1 cup thick coconut milk
6 whole cardamoms
1 tsp ghee
1/2 cup sugar (or as per taste)
Method
Step 1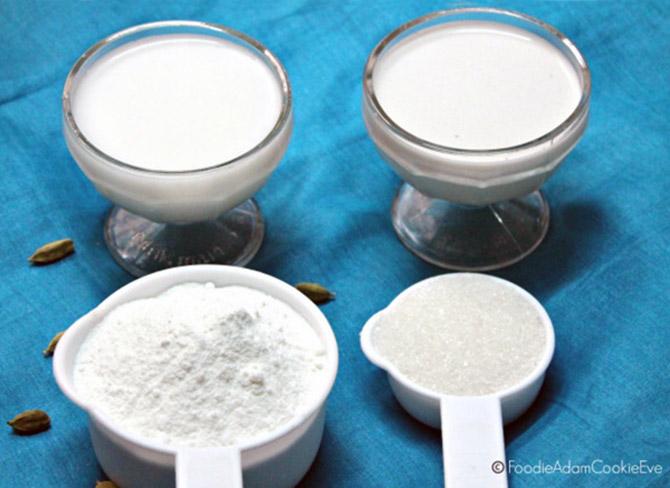 Prepare thick and thin coconut milk. Thick coconut milk is the first extract whereas thin coconut milk is the combination of second and third extract.
Step 2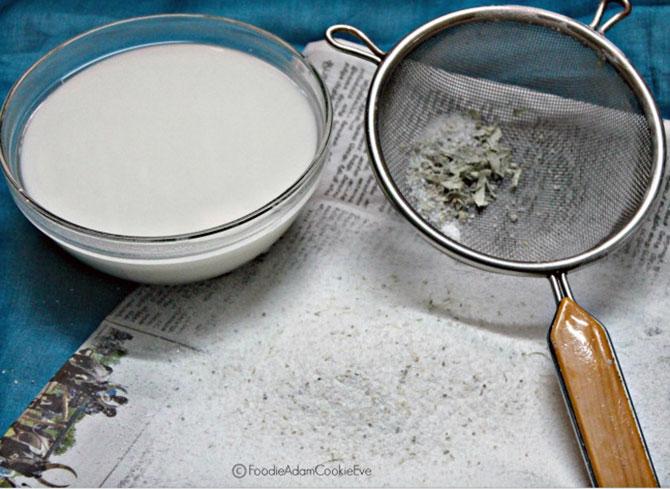 Powder sugar and cardamom together. Sieve it and keep aside.
Step 3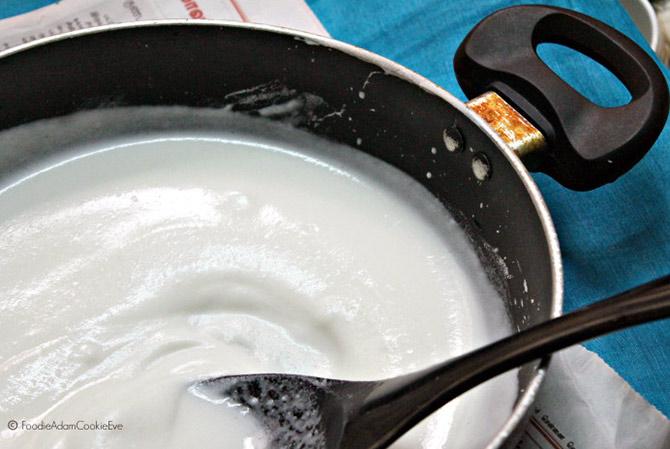 Mix one cup rice flour, salt, 1 tsp powdered sugar, one cup hot water and 1/2 cup milk in a non stick kadhai. Make sure there are no lumps.
Put the kadai over low flame. Keep stirring till the flour is cooked.
Stir constantly so that the batter thickens.
Step 4
Rice flour does not have gluten – the glue that holds the dough together. So mixing water with rice flour will not make a dough, unlike wheat flour, which has gluten.
So keep stirring until the dough leaves the sides of the pan. The endpoint of the flour-cooking is in the picture above.
Step 5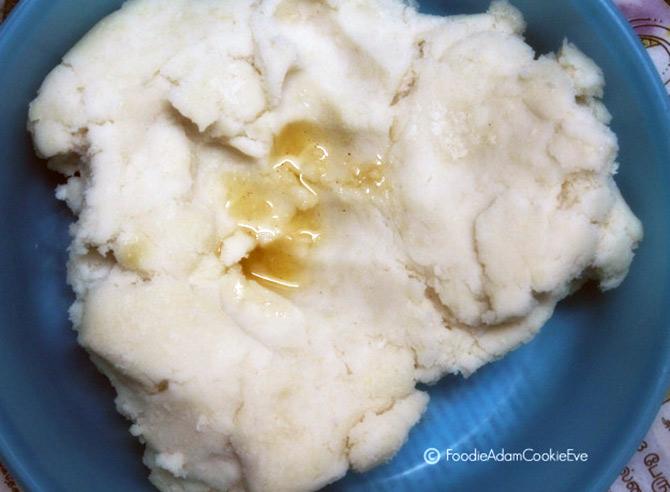 Transfer the dough to a mixing bowl and add ghee.
Step 6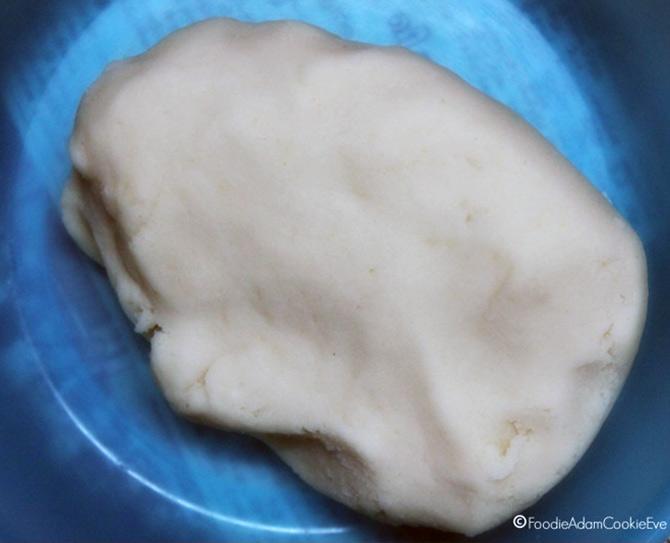 Knead it into a soft dough using your hand.
Step 7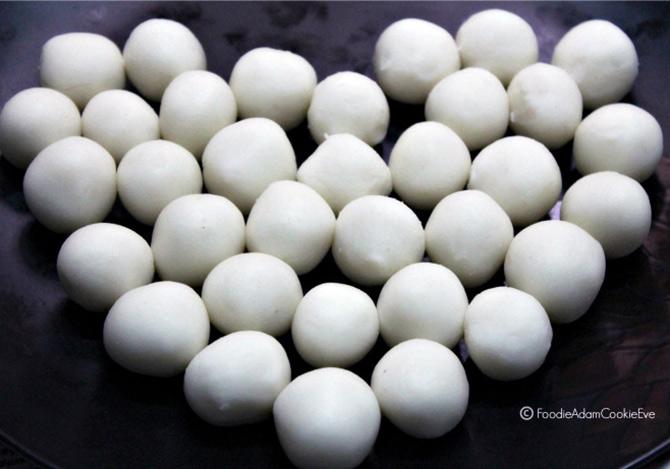 Apply some ghee on your fingers and make small balls.
Step 8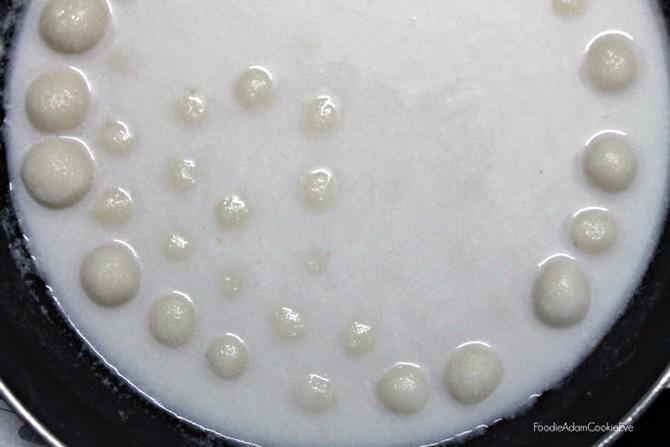 Boil thin coconut milk in a wide pan that can hold all the flour balls. It will start boiling in 2 to 3 minutes. Do not over-boil as coconut milk curdles.
Once it comes to a boil, add the flour balls slowly and cook on medium flame for the next five minutes.
Step 9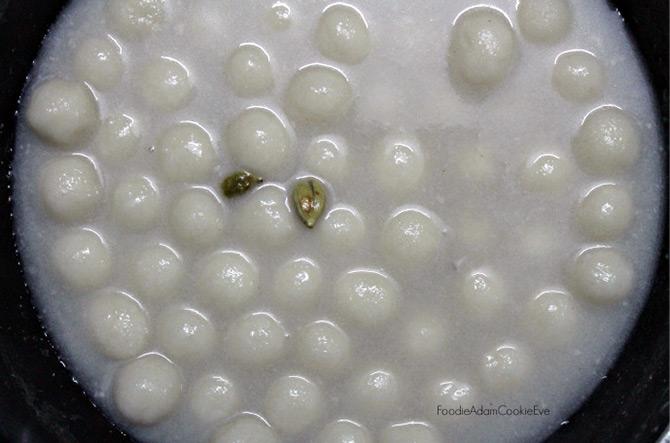 Add the sieved sugar cardamom mixture, stir gently until sugar is dissolved. Let it simmer for two minutes. I added two extra cardamom pods.
Add thick coconut milk and switch off the flame. Serve hot.
Notes
Coconut milk can be replaced by using water boiled with ready made coconut milk powder as well.
To make thin coconut milk, mix 1 and 1/2 cup of lukewarm water with 15 per cent of a 50 gm coconut milk powder pack.
To make thick coconut milk, mix 1 cup of lukewarm water with remaining of the 50 gm coconut milk powder pack.
Switch off the flame once you add thick coconut milk. Else it will curdle.
Please note the flame levels I have mentioned in the recipe. That would help to avoid curdling of coconut milks at any point.
The rice dough should not be sticky. If the dough is sticky, it means it is not cooked well.
I have used sugar, you can replace with jaggery.
Photos: foodieadamandcookieeve.wordpress.com
ALSO SEE
Reader Invite
Do you have an interesting Christmas recipe to share?
Simply e-mail it to us at getahead@rediff.co.in (subject line: Xmas recipe) with your name, hometown and any interesting details about the origin of the recipe, along with a photograph of the recipe, if possible. We'll publish the best preparations right here on Rediff.com and India Abroad.