Do have a go at making this recipe of fusion-style chicken popcorn brought to you by Sharjah-based food blogger Bethica Das. It's spiked with panch phoron, the traditional Bengali five-spice powder.
Coated with dry roasted oats, this yummy starter is can be dished out in a jiffy.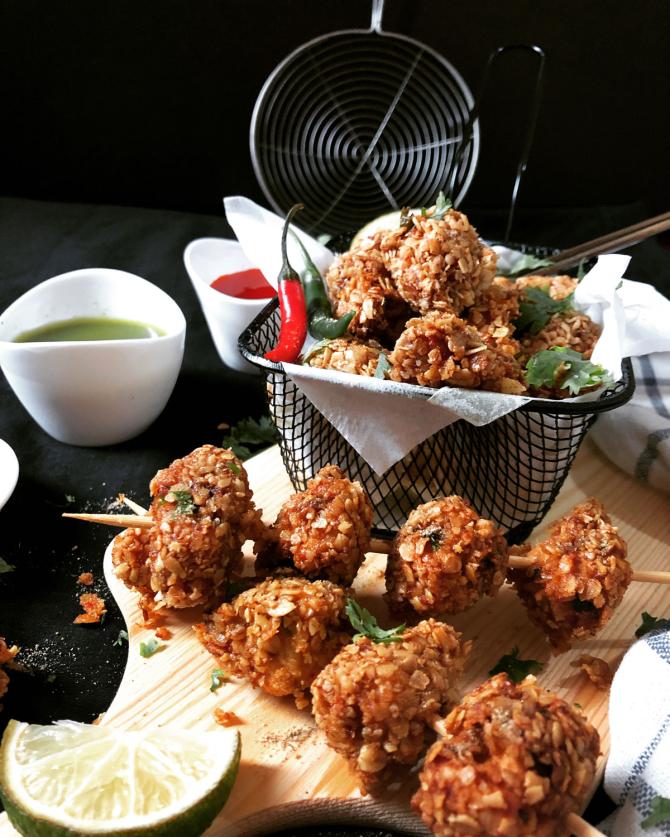 Chicken Popcorn
Serves: 2
Ingredients
For the panch phoron powder
1 tsp rai or mustard seeds
1 tsp kalonji or nigella seeds
1 tsp jeera or cumin seeds
1 tsp sonf or fennel seeds
½ tsp methi or fenugreek seeds
For the chicken popcorn
500 gm boneless chicken, cut into cubes
1 egg
1 tsp ginger-garlic paste
1 tbsp rice flour
1 tbsp red chilly powder
1 tbsp panch phoron powder (made using the recipe above)
1 tsp amchur or dried mango powder
½ tsp haldi or turmeric powder
1 tbsp green dhania or coriander or cilantro leaves, chopped
2 cups oats, dry roasted + a pinch of salt
Salt to taste
Oil for deep frying
For serving
Green chutney
Tomato sauce
Wedge of lemon
Chaat masala
Method
For the panch phoron powder
In a heavy-bottomed pan, over medium heat, dry roast all the ingredients.
Cool and grind into a fine powder.
Store the powder in an air-tight container.
For the chicken popcorn
In a bowl, mix together all the ingredients, except the oats and the oil.
Marinate for 2-3 hours or overnight in the refrigerator.
Roll the marinated chicken in the roasted oats and then refrigerate again for 30 minutes.
Heat oil in a heavy-bottomed kadhai or frying pan over medium heat.
Deep fry the chicken popcorn in batches till light golden in colour.
Drain excess oil and transfer to a plate lined with a tissue or a paper towel.
Sprinkle chaat masala over it and serve with tomato sauce and green chutney.