All across the country, Ganesh Chaturthi is celebrated by offering the foods Lord Ganesha is said to love.
Modaks, the satiny white rice flour dumplings filled with sweetened coconut and spices, top the list.
In the South, it's also traditional to make savoury dumplings known as Kara Kozhukkattai.
Here are the recipes:
Sweet Modak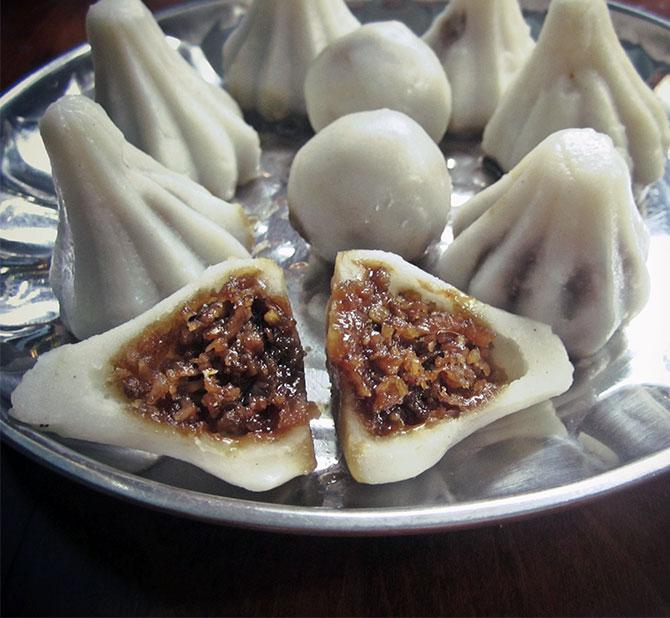 Ingredients
For the covering
1 cup rice flour
1 cup water
Pinch of salt
1 tbsp oil
For the filling
2 cups freshly grated coconut
1 cup jaggery, grated
A pinch of cardamom powder
Method
For the covering
Bring the water to the boil. Add salt and oil.
Remove from the heat and add the flour, stirring briskly.
When cool enough to handle, knead to a smooth dough. It should be neither too dry nor sticky.
Cover with a damp cloth, set aside and proceed to make the filling.
For the filling
Heat jaggery over a low flame and add the coconut. Keep stirring till the mixture comes together. Add the cardamom powder.
To make the modaks
Take small balls of the dough and shape into thin discs, about 3 inches across. Place a teaspoon of filling inside and bring the edges together and pinch them together at the top. Make all the modaks this way.
Place them on an oiled plate or banana leaf and steam for about 10 minutes.
Note: You can also add chopped nuts or poppy seeds to the filling mixture.
Photograph: Divya Kudua/Creative Commons
Kara Kozhukkattai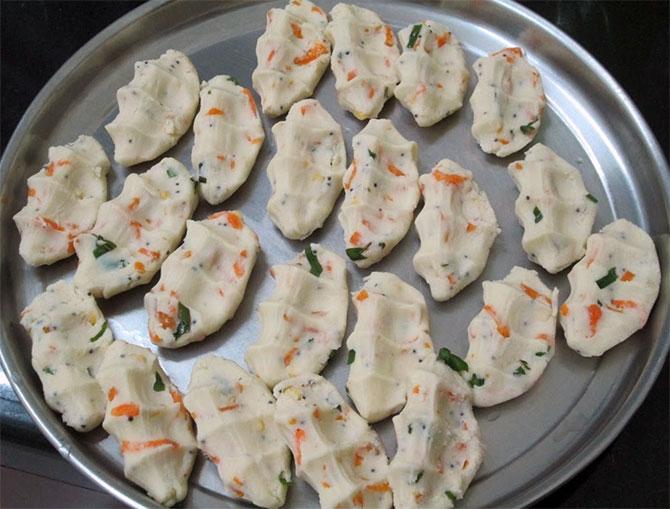 Ingredients
1 cup rice flour
2 cups water
1 tbsp oil
1 tsp mustard seeds
2 tsp urad dal
1 sprig curry leaves
1 red chilli, broken into small bits
Pinch of asafoetida
Salt to taste
4 tbsp grated coconut
Method
Heat the oil in a kadai and put in the mustard seeds and urad dal.
Then add the chilli, curry leaves, asafoetida and coconut.
Pour in the water and bring to a boil. When it's boiling briskly, add the rice flour and stir cook till it comes together.
Remove from the heat and allow it to cool a little.
Grease your hands and shape into small fistfuls.
Place these on an oiled tray or banana leaf and steam for 10 minutes.
Serve drizzled with a little ghee.
Photograph: Courtesy Thamilvurundu/Facebook
Liked this recipe? Click here for more interesting recipes and food features!
Do you have a favourite recipe you'd like to share with us?
Please e-mail your recipe to getahead@rediff.co.in (subject line: 'My favourite recipes') with your name, hometown, along with a photograph, if possible.
We'll publish the best preparations right here on Rediff.com and in India Abroad.
Also Read