Try these easy chicken recipes from Reshma Aslam's kitchen diary.
Whether you like your chicken grilled or fried, these recipes are sure to make your mouth water.
Here are some interesting chicken recipes for you to try:
Chicken Satay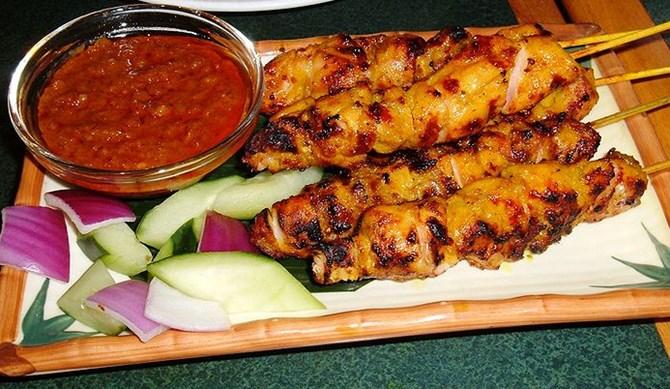 Ingredients
4 medium sized chicken breast
For marination
2 tbsp lemon juice
1 tbsp soya sauce
1 tbsp oil
4 fresh red chillies chopped
Salt
For sauce
1 small onion
1 garlic peeled n crushed
1/2 cup roasted peanuts (after roasting crush it coarsely)
1 tbsp oil
1/2 tsp red chilli powder
1 tbsp soya sauce
3 tbsp tomato puree
2 tbsp honey
Salt to taste
Water
Satay sticks
Method
Cut the chicken breast into 1 inch pieces.
Flatten them with a pounder. Do it gently trying not to mince it.
Put the flattened chicken pieces in a large bowl. Add lemon juice, soya sauce, 1 tbsp oil, chopped red chillies and marinate for about an hour.
Now arrange the pieces on skewers (satay sticks) 2 pieces in each stick.
Heat very little oil in a frying pan and fry the chicken arranged on the sticks. Keep turning from time to time. Keep aside.
For the sauce, peel and grate the onions.
Heat a frying pan and add the onions to it.
Fry it for a minute, add crushed garlic and fry for another minute.
Add the roasted peanuts while stirring continuously.
Add red chilli powder immediately.
Add soya sauce, tomato puree, honey, salt and one cup water.
Bring this to a boil and simmer for 5 minutes or till a sauce-like consistency is obtained.
Serve the fried satays with the sauce.
Photograph: Broken Sphere / Wikimedia Commons
---
White Cream Chicken Pasta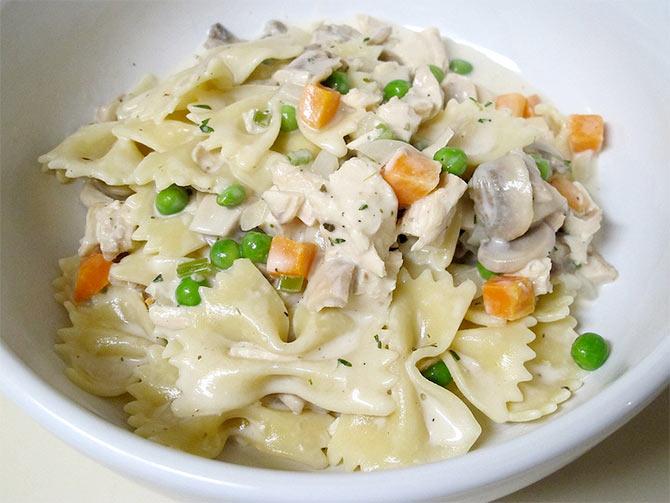 Ingredients


250 gm pasta
1 tsp oil
1 1/2 litre water
1 cup boiled and shredded chicken
2 tbsp butter
2 tbsp maida (all purpose flour)
1 cup milk
1/2 tsp pepper powder
1 tsp parsley
1 tsp oregano dried
3 to 4 green chillies chopped
1 capsicum
1/2 cup grated cheese
Salt to taste
1/2 tsp chilli flakes
1 cup fresh cream
Method
Heat water in a big pan. Add some cooking oil and allow it boil.
When it starts boiling, add the pasta. Boil till it becomes soft.
Remove pasta from water and run under cold water. This helps prevent the pasta from sticking to each other. Keep this aside.
Heat some butter in a pan. Add maida and fry on slow flame till the flour turns golden.
Add milk and stir well so no lumps are formed.
Add pepper powder, parsley and some oregano. Stir well.
Add green chillies, capsicum, chicken, and salt.
Add pasta to it and keep on stirring.
Add fresh cream and stir well. The consistency should be saucy by now.
Add cheese and remaining oregano.
Switch off the flame and serve hot.
Alternately, you may also put it in the oven for five minutes so that the cheese turns golden.
Photograph: Johnny Stiletto/ Creative Commons
---
Chicken Bhuna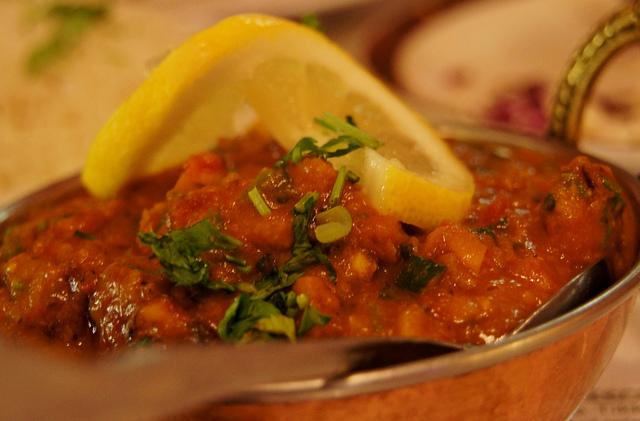 Bhuna is a type of Indian cooking technique in which spices are fried in hot oil.
In Bhuna, the curry may contain chicken and/or vegetables depending on the combination.
It is usually served with roti or naan whichever is preferable.
Ingredients
1/2 kg chicken pieces
1/2 cup curd
1 tbsp ginger garlic paste
2 tomatoes pureed (boil the tomatoes in water, and let them cool before grinding)
1 tbsp red chilli powder
2 tbsp coriander powder
1 tsp garam masala
1 tsp turmeric powder
4 medium onions chopped
2 tbsp oil
5 to 6 green chillies chopped
1/2 tsp cumin seeds
Salt as per taste
1/4 cup coriander leaves
Method
Cut, clean and wash the chicken well and put it in a large bowl.
Add salt, curd and mix well.
Add tomato puree, ginger garlic paste, red chilli powder coriander powder, garam masala, turmeric powder and mix well.
Keep it aside for an hour or so.
Heat a cooker, add chicken. Add onions. Let it cook for some time; keep on stirring from time to time for about 20 minutes.
When all the water evaporates, switch off the flame.
Heat oil in a large pan. Add cumin seeds. When they turn golden colour, add chopped green chillies. Stir well.
Add cooked chicken. Cook until you can see the oil floating on top.
Garnish with coriander leaves and lemon on top.
Serve hot with naan or roti.
Note: You can use any cooking oil or even replace it with ghee.
Photograph: Sea-turtle/Creative Commons
Want to share your favourite recipe? Simply e-mail your recipes to getahead@rediff.co.in (subject line: My Fav Recipe) with your name, hometown and any interesting details about the origin of the recipe, along with a photograph of the recipe, if possible. We'll publish the best preparations right here on Rediff.com.