Chef Ranveer Brar (37), one of the judges on the fourth season of Master Chef India alongside Sanjeev Kapoor and Vikas Khanna, tells Rajul Hegde the reasons behind his success.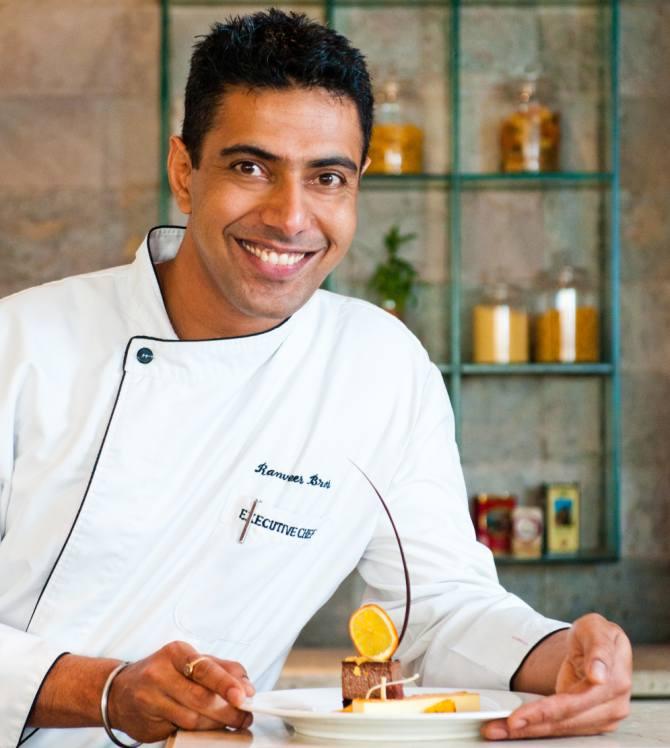 Brar is a popular TV food show host, a food stylist, and Senior Executive Chef with Novotel (Juhu, Mumbai).
His love for food began at 17 when he took to learning kebab-making from veteran street vendor Munir Ahmed in his home town Lucknow.
Having won numerous awards for his restaurant Banq, in Boston, Brar returned to his homeland in 2010.
His television shows include Breakfast Xpress, Snack Attack, Homemade, The Great Indian Rasoi, Thank God It's Friday and Health Bhi Taste Bhi.
When did you first realise that cooking was your calling?
I have been cooking from a very young age.
At first it was at home where I would assist my mother and take over the kitchen when she would take ill.
Occasionally, I would cook in the langar at the local gurudwara.
So initially, that was the extent of my exposure to cooking.
But the way Lucknow, where I was raised, treats its food made me curious about cooking.
In fact, it was Lucknow's street food (specifically its kebabs) that inspired me to become a chef.
I was 17 when I finally decided to pursue a career in catering.
Initially, I faced a lot of opposition from the family.
Nobody thought that being a chef would be a lucrative profession because Chef Sanjeev Kapoor was the only one around on television.
So I left home and did little bit of drama before they came around :-)
Where did you receive your first lessons in cooking?
Munir Ahmed ran a small shop behind Odeon Cinema in Lucknow.
He was my first teacher, so to say.
Munir, like everyone else of his generation are secretive about their ingredients and spices.
So even though he let me into his kitchen and taught me to cook, when it came to mixing spices with the meat, he would drive me out!
But I kept going back.
My family eventually came to terms with my choices.
I joined the Institute of Hotel Management (IHM) Lucknow and went on to work at the Taj in Delhi, Goa and Radisson Blu in Noida.
I went on to open three restaurants -- Morisco, Il Camino and Fishtail in Goa.
Goa is where I evolved as a chef, discovered my 'voice' so to say.
When I moved to the Claridges Hotel in New Delhi, I became the executive chef of Spanish restaurant Sevilla.
At 25, I was the youngest executive chef in India.
Who has been your inspiration? What keeps you going?
Munir Ahmed has definitely been an inspiration.
But the real inspiration has been the food itself.
Cooking has been my greatest inspiration and my real love.
In some ways, I suppose, it has been a marriage :-)
What cuisines do you like cooking the most?
I like cooking food that I have never tried before.
I hate repeating recipes. So when I get a set of ingredients before me, I think of what I *don't* want to cook.
And who cooks at home?
I am always happy to say that I don't cook at home.
There is a cook! :-)
I cook at home only when my mother has invited a lot of guests and she is panicking when things are a mess.
What's your favourite cuisine when you eat out?
My idea is to stay local and try local.
What would you tell men who think cooking is a woman's job?
Everybody should cook, cooking in an experience at all levels.
At an emotional level, it brings back memories of whom you have cooked for and also what others cooked for you.
Hunger is the basic need and cooking satisfies that at spiritual level.
It is very good at a social level too, to connect with people. You can go out and barbeque with your friends connect with food at different levels.
How has life changed after appearing on television?
Television has made me more responsible.
People recognise me and so I have to be constantly aware of my surroundings and the responsibilities that come with being a known face.
What's your signature dish?
Dora Kebab! It is also my favourite.
It is a type of Kebab cooked on a smoked silken thread.
And what according to you is the most underrated and overrated ingredient?
Salt is underrated according to me and quinoa is overrated.
I think India has its own share of millet and super grains but sometimes we chose to be obsessed by foreign ingredients and get carried away by the marketing hoopla.
In my mind rajgira, nachini the classic jowar and bajra as good as quinoa.
We had ragira ladoos every since we are kids but we never treated rajgira with the respect we treat quinoa.
Any handy tips for aspiring cooks?
1. If you are looking, you are not cooking. This holds good especially for slow cooking and barbecue type foods. You have to be confident and let the food be. If you keep opening the lid it's only going to delay and affect the process.
2. Never follow recipes to the 'T'. Taste is very subjective and you can create a common denominator of the taste but you got to put yourself in that recipe and see how you implement it. Recipes are inspiration don't follow till 'T' unless it's a baking recipe because it's more about proposition than expressing yourself.
3. Food keeps cooking even when it is taken off the flames. You have to remove the chicken from the fire before it is actually cooked fully because it gets cooked even after you put off the flame. This is a common mistake. The same has to be kept in mind so as not to overcook any dish.
4. Whenever you cook Indian recipe always believe that you have to fry the gravy and there is no short cut for frying. In Indian food, taste comes from frying the gravy.
5. Don't be obsessed with presentation because the food gets covered, you got to let the hero be seen. The soul of a dish is 75 per cent in the taste, 10 per cent presentation and 15 per cent is the thought behind the dish.