We'd asked you, dear readers, to share your favourite Ramzan recipes.
Indian chef Saransh Goila, author of the acclaimed food travelogue India on my Platter -- shares two tasty Ramzan recipes that you should try. You can share yours too.
Sandalwood Kebabs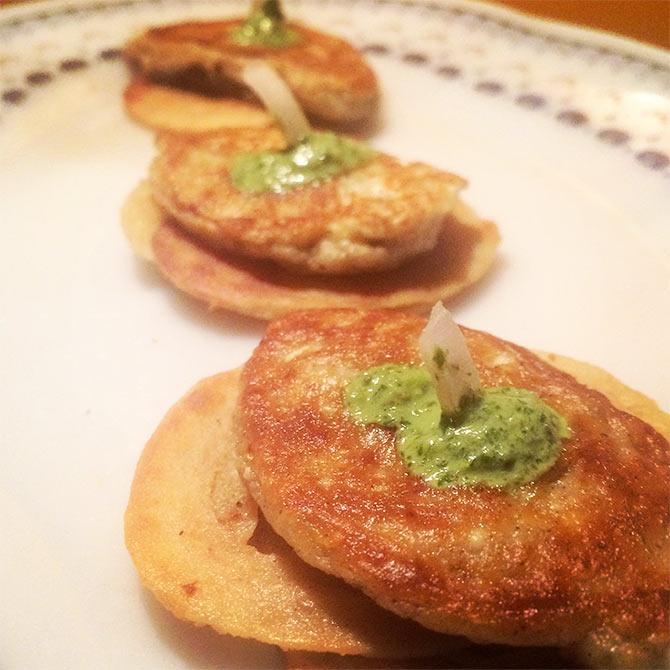 IMAGE: Sandalwood Kebabs Photograph: Kind Courtesy Tute Consult
Ingredients
3 cups hung yoghurt
1 small sandalwood stick
100 gm paneer (crumbled)
1 tsp ginger garlic paste
10 to 12 saffron strands (soaked in 1 tbsp warm milk)
2 green chillies (chopped)
1 tsp red chilli powder
Freshly ground mix of 4 cloves, 8 peppercorn, 1 tsp jeera, 1 inch cinnamon and 4 small cardamoms
1 tbsp fresh mint leaves (finely chopped)
1 tbsp maida
1 tbsp cornflour
1/4 cup finely powdered dry fruits (cashew, almonds, pistachio)
1/2 cup breadcrumbs
3 tbsp ghee
Salt to taste
Method
Take hung yogurt in a bowl.
Add crumbled paneer, ginger garlic paste, green chillies, red chilli powder, freshly ground spice powders, salt, dry fruits, chopped mint, saffron, cornflour and maida to it. Mix well.
Keep it aside for 15 minutes.
Make a small patty with the above mixture.
Coat these patties with bread crumbs.
Heat ghee in a pan and add grated sandalwood or the whole piece as it is.
Simmer for five minutes. Let it cook for 30 minutes so that the ghee absorbs the aroma of sandalwood. Strain it.
Once done, shallow fry kebabs in this sandalwood ghee.
Serve them hot with sheermal or any other Indian bread that you prefer.
---
Khajur ki Kheer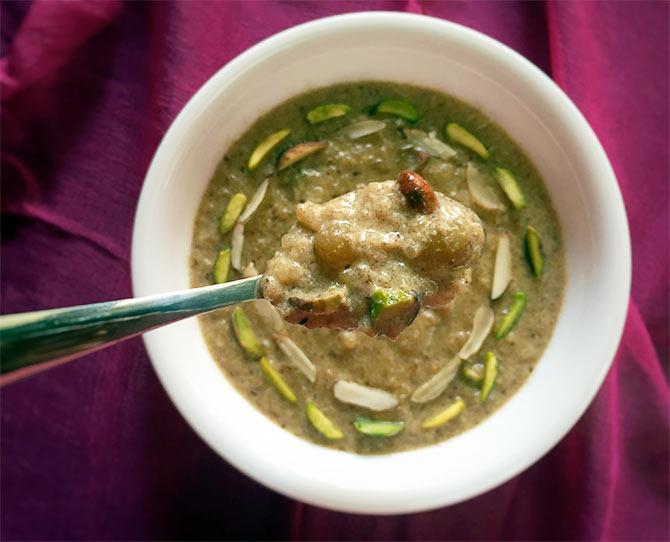 Photograph: Kind Courtesy Tute Consult
Ingredients
50 gm basmati rice
500 ml cow's milk
1 and 1/2 to 2 tbsp ghee
3/4 to 1 cup date puree
A handful of mixed dry fruits (raisins, almonds, pistachios)
Slivers of almond and pistachio (for garnish)
Method
Boil the dates adding a cup of water till it's soft and can be easily pureed.
Remove the seeds if not using seedless dates and puree the dates using very little water.
Pick, wash and soak rice for an hour.
Drain the rice and keep it aside.
In a deep pan, heat some ghee and add rice.
Stir the rice for a minute or two. Add warm milk.
Lower the flame and add roughly chopped nuts and raisins.
Simmer till the rice is cooked and the starch is released.
When it's almost cooked, add date puree according to the desired level of sweetness.
Remove it in bowls.
Garnish with slivers of almond and pistachio. Serve.
Note: You may add more milk depending upon the consistency you are looking for.
Do you have interesting Ramzan recipes to share?
E-mail your recipes getahead@rediff.co.in (subject: Ramzan Recipes) along with your NAME, LOCATION and a brief description of the recipe. We will publish select recipes on Rediff.com and India Abroad.
ALSO SEE
Ramzan recipes: Want to make Lab-e-Shireen?
Ramzan special: 5 yummy chicken recipes
Ramzan recipes: Mutton patties, chicken shawarma and more