Bring in the New Year with these easy to make recipes.
Harnoor Channi Tiwary shares some interesting recipes you can make in 30 minutes or less.
Here's how to make Kathi Rolls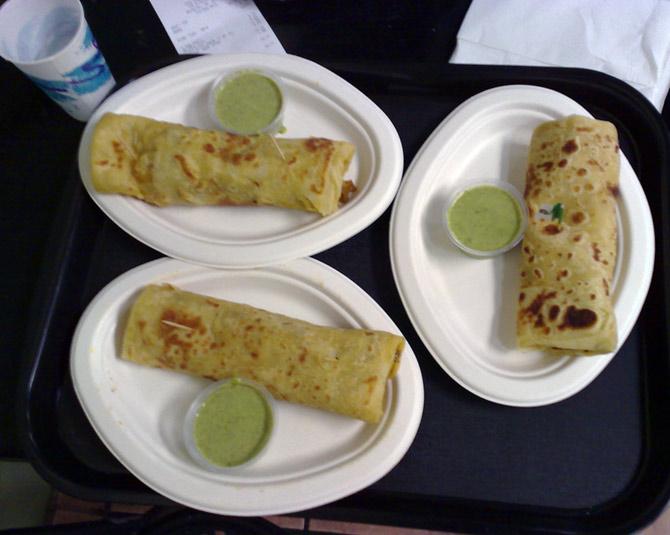 Photo credit: Rahul Nair/Creative Commons
Makes 6 rolls. You can cut each into 3 to 4 pieces and serve as starters.
Time taken: 20 minutes
Ingredients
200 gm paneer diced
3 onion chopped lengthwise
2 tomatoes finely chopped finely
1 capsicum chopped lengthwise
6 eggs
Salt to taste
1 tsp red chilli powder
1/2 tsp turmeric powder
Tomato ketchup
1 tbsp oil
Wheat flour dough to make six rotis
Method
Heat one tbsp oil in a kadhai. Add onions and saute.
When the onions turn transparent, add tomatoes and capsicum and cook.
Add salt, 1/2 tsp red chilli powder and turmeric powder.
Keep stirring so that it doesn't stick to the bottom of the pan.
When it leaves oil, add paneer and cook for another three minutes.
Remove from fire and cover.
In a bowl, crack open an egg and beat with salt and a pinch of red chilli powder.
Roll the dough into 6 large rotis. Ensure that they are thin.
Heat a non-stick pan with a few drops of oil. Put the roti on the pan. When cooked on one side, flip and cook on the other side. Keep aside.
Spread the beaten egg on the pan and place the roti on top.
Pat on the roti with a flat spatula so that uncooked egg comes out on the side. Flip once and remove on a plate.
In the centre of the roti, in one straight line, place some paneer mixture, add chopped onions and top with ketchup.
Roll from both sides and secure with a toothpick. Repeat the procedure to make six rolls.
Serve hot with ketchup and coriander chutney.
Non-vegetarian version
For the non-vegetarian version, replace paneer with cooked seekh kebabs (cut into pieces).
---
Sausages with Caramelised Onions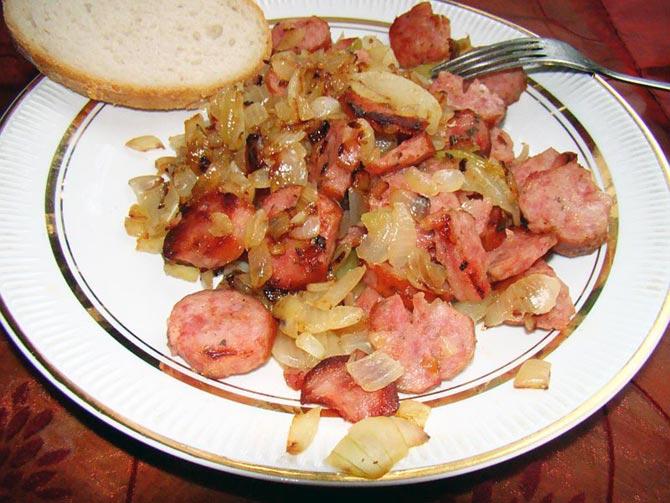 Photo credit: Silar/Creative Commons
Serves: 6 to 8
Time taken: 10 minutes
Ingredients
10 chicken frankfurters each chopped into 6 to 8 pieces
2 onion chopped lengthwise
1 tsp worcestershire sauce
1 tbsp tomato ketchup
8 garlic cloves finely chopped
1 tbsp oil
Method
Heat the oil in a kadhai or non-stick pan.
Add garlic and fry on medium heat for 30 seconds or till the raw smell goes.
Add onions and saute. When the onions turn transparent, add sausages.
Fry on medium heat till sausages are crispy on the edges (around 3 to 4 minutes). Add ketchup and worcestershire sauce and mix.
Cook for a minute and remove.
Serve with toothpicks.
---
Methi Chicken
Photo credit: James/Creative Commons
Serves 8 if accompanied by other dishes
Time Taken: 20 minutes
Ingredients
100 gm methi leaves plucked and washed
2 onion finely chopped
1 1/2 tsp ginger garlic paste
2 tomatoes finely chopped
1 kg chicken cut into 16 pieces
2 green chilli split lengthwise
1/2 tsp coriander powder
1/2 tsp cumin powder
1/ tsp red chilli powder
Salt to taste
2 tbsp oil
Method
Heat oil in a kadhai and add ginger garlic paste.
When it turns golden brown, add onions and fry till golden brown.
Add tomatoes and green chillies and cook till the masala leaves oil.
Add the rest of the ingredients including the chicken and mix well.
Cover and cook on medium heat, stirring occasionally, for 15 minutes. If it starts to dry, add a little water for cooking.
Remove and garnish with coriander leaves.
Serve hot with roti, bread or rice.
---
Kerala Prawn Curry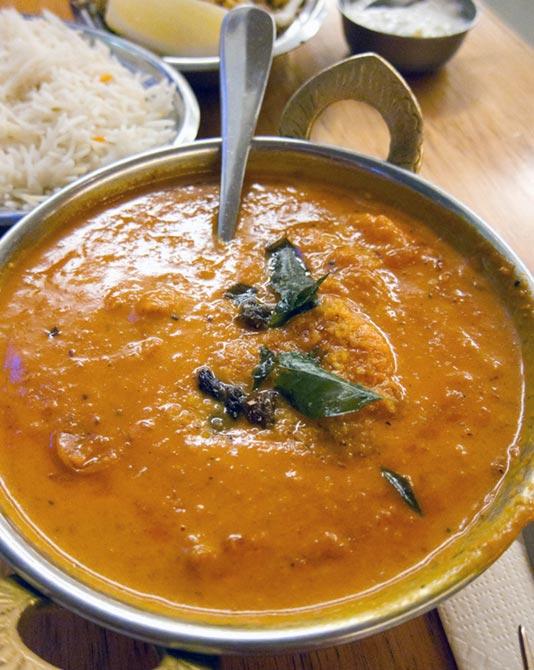 Photo credit: Charles Haynes/Creative Commons
Serves: Two
Time Taken: 30 minutes
Ingredients
500 gm tiger prawns, shells off and de-veined
1 tbsp lemon juice
3 tbsp sunflower oil
1 onion grated
1/2 tsp ground turmeric
6 whole cardamom pods lightly crushed to split open
1 tsp chilli powder
1 cinnamon stick
3 garlic cloves finely grated
1/2 tsp ginger grated
Small bunch fresh coriander
175 ml coconut cream
Salt to taste
Method
In a shallow non-metallic dish, toss the prawns with lemon juice and let them marinate as you make the sauce/gravy.
Heat a heavy-based pan with two tbsp oil and add onion.
Cook for 2 to 3 minutes until they soften. Before it changes colour, add turmeric, cardamom pods and chilli powder. Cook for 1 to 2 minutes until fragrant, stirring constantly.
Add the remaining oil into the pan along with cinnamon, garlic and ginger. Cook for another 1 to 2 minutes until garlic and ginger soften and are cooked through.
Reserve a few coriander sprigs for garnish and blend the remaining with the coconut cream in a mini food processor.
Add this to the pan with the onion and spice mixture until well combined, then bring to boil.
Reduce the heat and simmer for 1 to 2 minutes, then stir in the marinated prawns and season with salt.
Continue to simmer for 1 to 2 minutes until the prawns are just cooked through and tender, stirring constantly.
Garnish the curry with the reserved coriander sprigs.
Serve hot with rice or chapati.
ALSO SEE