Want to know about the best street food in Delhi? Take a look at this list!
Don't forget to take the poll given below and vote for your favourite street food.

---
Paratha
Photograph: Kind courtesy Nordindien/Wikimedia Commons
If you haven't eaten the deep-fried golden Aloo Parathas from Gali Paranthe Wali in Old Delhi, then you have surely missed out the best Delhi has to offer!
The list of parathas available here is endless -- aloo, besan, methi, nimbu-pudina, bhindi, gaajar, etc. You'll also find a banana paratha, which can be ordered as a dessert.
Chole Bhature
Photograph: Kind Courtesy MaharajaMandy/Wikimedia Commons
A popular Punjabi dishes, Chole Bhature can be found almost all over Delhi.
The dish is a combination of chana masala (spicy white chickpeas) and bhatura, an Indian fried bread.
If you happen to be in Delhi and are hoping to savour Chole Bhature, visit Chache Di Hatti, one of the oldest joints, which lies in the heart of Delhi University's North Campus.
Golgappa
Photograph: Kind courtesy Fairo Kanwar/Wikimedia Commons
This is probably one of the only street food which is served with different names across India -- the preparation style also differs as you move from Kolkata to Mumbai.
In Mumbai it is called Paani Puri, while in Kolkata it is called Puchka.
However, in the northern parts of India it is referred to as Golgappa.
One of the best places to have it in Delhi is Chandni Chowk.
Aloo Chaat
Photograph: Kind courtey Sonia Goyal/Wikimedia Commons
You will find Aloo Chaat at every nook and corner of Delhi.
Prepared by frying potatoes in oil and topping it off with spices and chutney, it's a snack which is usually eaten in the evenings.
Rajma Chawal
Photograph: Kind courtesy Ekabhishek/Wikimedia Commons
Rajma Chawal as the name suggests is a curry which can be eaten with rice -- it is mostly eaten in the afternoon or for dinner.
Rajma is prepared with kidney beans, onions, garlic and other spices.
Chole Samosa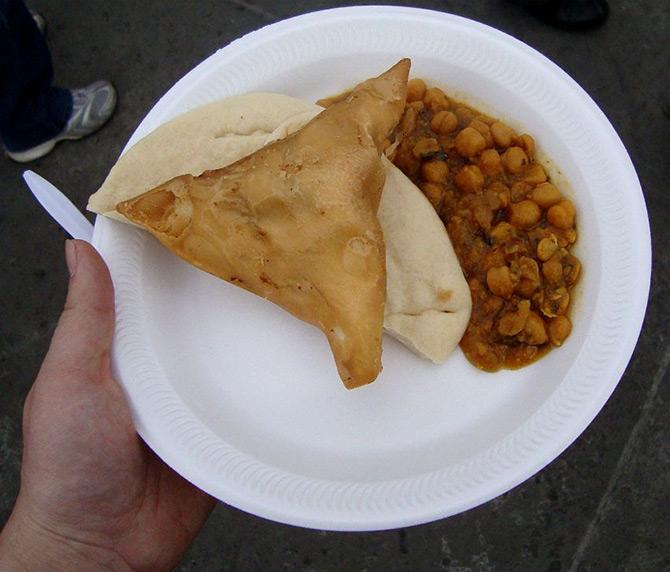 Photograph: Kind courtesy John Bell/Wikimedia Commons
Like Chole Bhature, Chole Samosa is also famous in Delhi.
The mixture of chickpeas, which is cooked in a pool of rustic spices, is served along with a samosa.
Aloo Tikki
Photograph: Kind courtesy Anwesha394/Wikimedia Commons
Aloo Tikki is a popular snack served across North India.
It is made using mashed potatoes, spice powders and other basic ingredients.
Chole Kulcha
Photograph: Kind courtesy Nitin Badhwar/Wikimedia Commons
When it comes to Delhi, chole can be served with various combinations. One such variation is Chole Kulcha.
This spicy chickpeas mixture is served with Kulcha, an Indian flatbread.
Rabri Falooda
Photograph: Kind courtesy Akshay Sanjay Agrawal/Wikimedia Commons
This dessert is difficult to resist when in Delhi.
The creamy and chilled kulfi is available in different flavours and is served with rabri, which is made of boiled milk, cream, sugar, nuts and cardamom.
The best places to have Rabri Falooda is Gianis Di Hatt at Chandni Chowk.
Besan Ka Chilla
Photograph: Kind courtesy Vivekprasad97/Wikimedia Commons
A common street food, Besan Ka Chilla is a healthy snack to munch on.
A thin layer of gram flour (besan) stuffed with chopped vegetables serves as an appetiser for many foodies.
Dahi Bhalla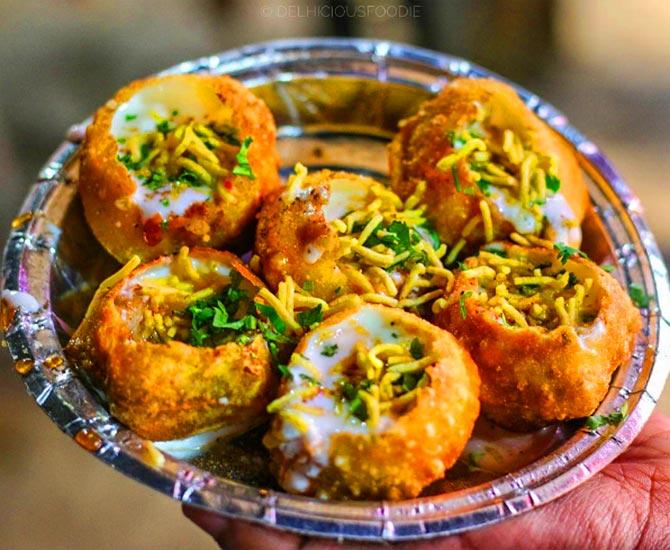 Photograph: Kind courtesy Delhicious Foodie/Instagram
A famous chaat of Delhi, it is garnished with dahi, green saunth chutney and spices and tastes awesome.
---
Dear readers take the poll given below and vote for your favourite street food from Delhi.