We invited you, dear readers, to share your most memorable meal pictures with us.
This is what our readers sent; you can share your experience and food pics too!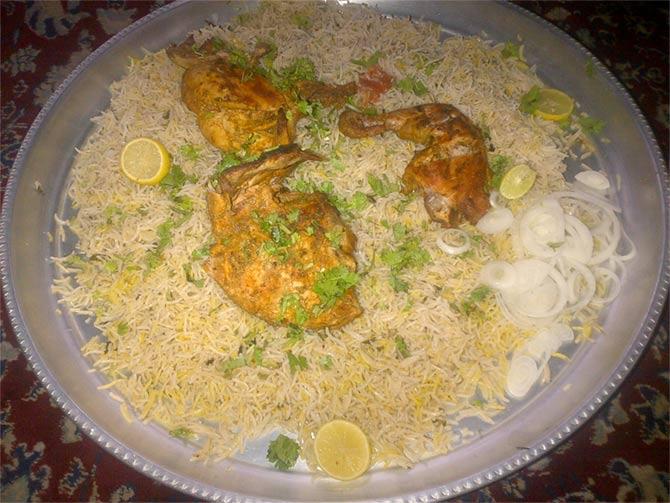 Photograph Courtesy: Gurpreet Singh
Gurpreet Singh from Hyderabad says, "Mandi is basically a Yemeni dish. I had this with my friends in a remote part of Old City Hyderabad in a restaurant called Yum Yum Tree (Near Peelee Dargah, Salala, Barkas, Chandrayanagutta). It is by far one of the best meals I had in my life.
"It's a rice preparation with a lot of flavours. It has nicely fried chicken pieces and dry fruits, and is served with tomato chutney. The flavors just explode in your mouth. Trust me you need to try this dish to have the ultimate experience of life."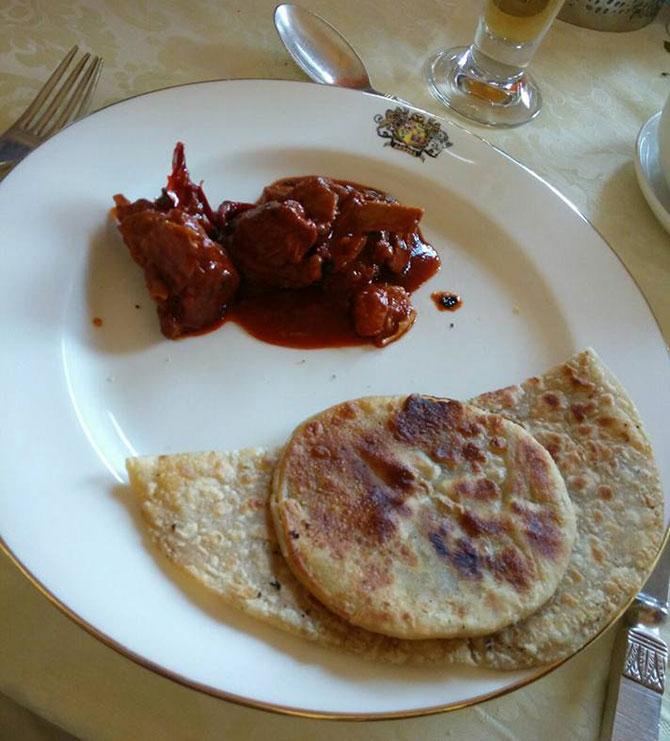 Photograph Courtesy: Neena Thomas
Neena Thomas shared her experience too!
She says, "Rajasthan is known for its Laal Maas, and a friend asked me to have it at 1135 AD, a restaurant in Amber Fort in Jaipur. The thought of eating in a fort was exciting, and I decided to pay a visit to the restaurant.
"The experience was simply awesome as the restaurant is situated inside the fort. The ambiance with the royal chairs, silver cutlery and paintings of famous maharajas give you a taste of royalty.
"I ordered for Laal Maas (Rs 650), a Rajasthani delicacy of lamb cooked with regional chillis, with Dudhiya Roti (milk bread). Although it was really spicy, the Laal Maas was delicious, and the meat was so tender. It was the best Laal Maas I have ever had and the ambiance just added to the experience."
Have a similar experience to share? Then write to us and tell us about your special meal -- it could be something you ate at a roadside dhaba or a meal you were introduced to during a trip -- if possible we would want to hear how it's prepared.
We are asking you, dear readers, to share memories of the most memorable meal you had, with a short description of the dishes and the place you had it from.
If you have pictures, send us those as well. Mail us at getahead@rediff.co.in (subject: Memorable meal) and we will feature the best entries on Rediff.com and India Abroad.
Don't forget to mention your NAME, AGE and the place where you LIVE.