Rediff reader Shebin Shukkoor from Trivandrum, Kerala sent us this recipe. You can share yours too!
This ginger tamarind pickle is an Onam Sadya special. The chilli powder and jaggery flavours give Inji Curry or Puli Inji (Puli meaning tamarind, Inji meaning ginger in Malayalam) a spicy sweet kick.
Here's how to make Inji Curry: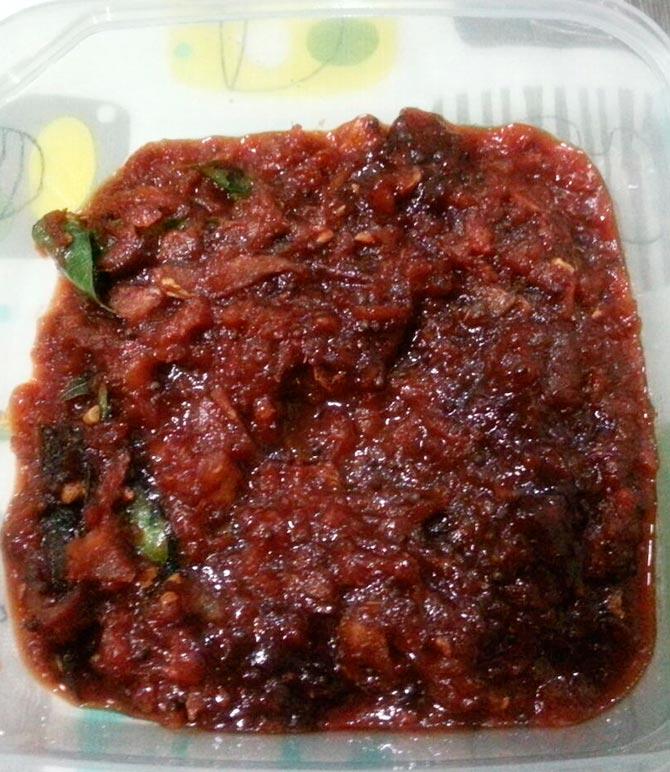 Ingredients
100 gm ginger, finely sliced
A lime sized tamarind ball
2 tsp chilli powder
3 tsp coriander powder
Jaggery (size of a gooseberry)
1 tsp mustard seeds
A few curry leaves
Salt as required
1 tsp fenugreek powder
Coconut oil
Method
Heat coconut oil in a pan. Add ginger.
Crush the fried ginger with a mortar and pestle. Keep aside.
Add 1 tbsp of water to tamarind and make a pulp.
Add chilli powder, coriander powder, jaggery and salt.
Mix well and add crushed ginger.
Add 1/2 cup of water and mix well.
Heat oil in a pan. Add mustard seeds and let them splutter.
Add curry leaves and the tamarind, jaggery mixture. Allow it to boil till it becomes thick.
Add fenugreek powder and mix well.
Image: Shebin Shukkoor
ALSO SEE
> More recipes and food features here
Want to share your favourite Onam recipe? Simply e-mail it to getahead@rediff.co.in (subject line: Onam recipe) with your name, hometown and any interesting details about the origin of the recipe, along with a photograph of the recipe, if possible. We'll publish the best preparations right here on Rediff.com.