Maharaj Bhuralal from JW Marriott, Pune shares his special Navratri recipes.
Kuttu Ki Puri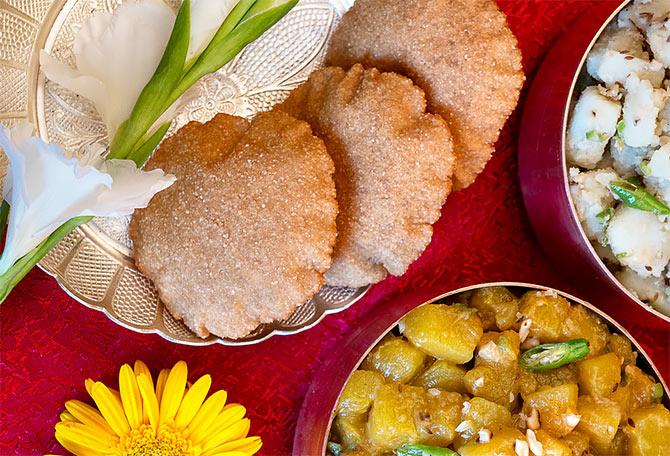 Ingredients:
250 gm buckwheat flour
5 gm cumin powder
5 gm rock salt
Peanut oil, for frying
Method:
Take the buckwheat flour in a mixing bowl. Add cumin powder and rock salt. Add approximately 1 cup of boiling water to the mixture and knead into dough.
Shape the dough into round, smooth medium-sized balls. Flatten each ball with a rolling pin. Heat peanut oil in a frying pan and fry the puris.
---
Vrat Chawal Ka Pulav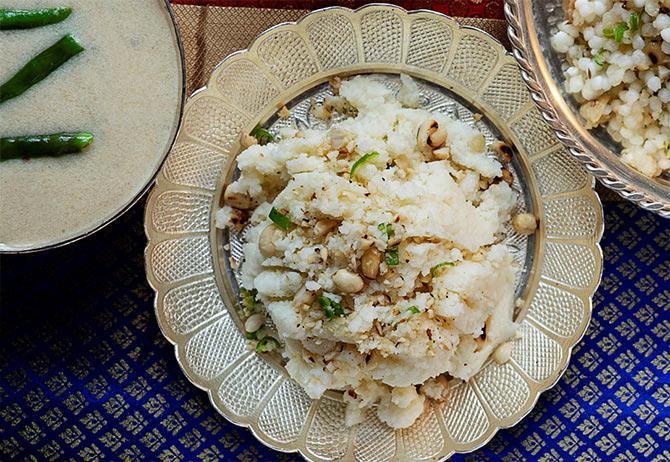 Ingredients:
100 gm baghar (barnyard millet)
20 gm potato
5 gm green chilly
5 gm ghee
2 gm cumin
2 gm rock salt
Method:
In a pan, add ghee and cumin seeds on medium heat. As the cumin crackles, add chopped green chili and diced raw potatoes.
Saute the mixture and add 4 cups of water and bring to a boil.
Add rock salt and using a ladle add the baghar slowly to the boiling water. Keep stirring the mixture. Cover the pan with a lid and cook on a slow flame till the water dries up and the baghar is fully cooked. Serve hot.
---
Kacche Kele Ki Barfi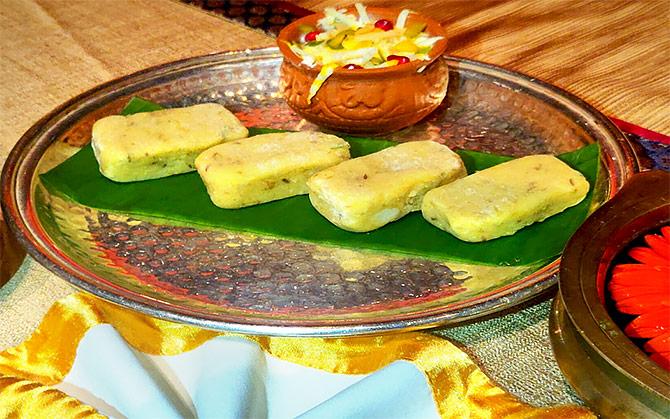 Ingredients:
150 gm raw banana
40 gm sugar
40 gm mawa
20 gm ghee
2 gm cardamon powder
Method:
Boil the raw banana and peel the skin. Grate the banana evenly.
Take a pan, keep it on medium heat and add ghee. Let it heat then add the grated banana and cook till it become soft and is slightly brown in color.
Add sugar, grated mawa and cardamom powder to the mix. Cook the mixture in a slow flame till the excess water dries up and forms into an even lump. Place the mixture on a tray and flatten it. Allow it to cool, cut it into cubes and serve it.
---
Shakarkand Ki Chaat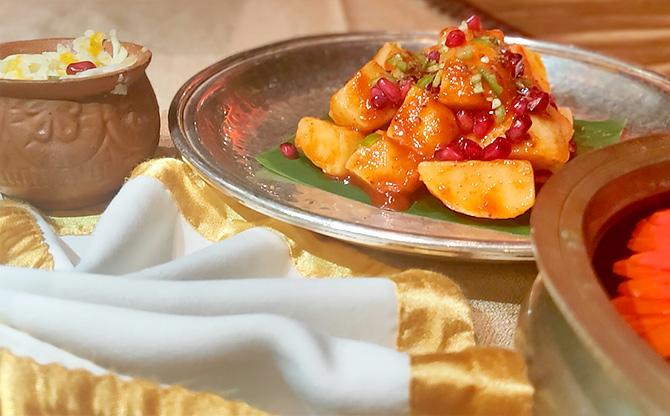 Ingredients:
150 gm sweet potato
100 gm dates
40 gm sugar
2 gm rock salt
2 gm jeera powder
2 gm anardana powder
5 gm green chillies
Method:
Boil sweet potatoes until soft. Peel and dice the boiled potatoes into cubes.
Heat peanut oil in a frying pan and deep fry the potatoes.
For the date chutney:
Boil dates with sugar, rock salt and cumin powder for 30 min till it becomes a pulp. Make a fine puree of the pulp using a mixer and leave aside to cool.
To finish the dish, place the sweet potatoes on a plate and pour the date chutney on top. Garnish with chopped green chili, cumin powder and serve.