Chef Karan Bane of Kaitlyn's Beer Garden, Mumbai shares two special monsoon recipes.
You can share your favourite monsoon recipes too!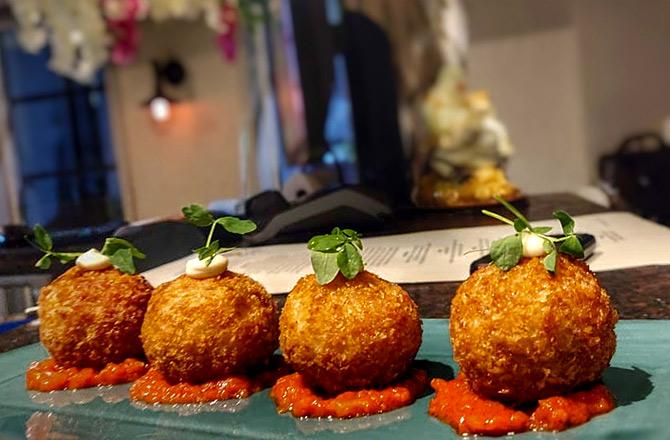 Smoked Tomato and Scamorza Arancini
Ingredients for one portion (4 pieces)
120 gm risotto rice, cooked
15 gm sun-dried tomatoes
2 gm fresh basil
12 gm scamorza cheese
10 gm parmesan cheese
5 gm refined flour
20 gm panko bread crumbs
20 gm tomato sauce
Salt to taste
A pinch of black pepper
Method
In a pan add some butter.
Once it melts, add the risotto rice and saute.
Add some water, sundried tomatoes and cook.
Add basil, parmesan cheese and seasoning.
Cook until the risotto mixture is tight and cool it down.
Once the mixture has cooled, make round balls of 30 gm each, and stuff them with scamorza cheese.
For the coating
Coat the risotto balls in refined flour.
Dip the risotto balls in batter (make a thin batter of refined flour and water).
Coat them with bread crumbs and make sure it is equally coated.
Deep fry until golden brown and serve with tomato sauce.
---
Edamame and bacon soup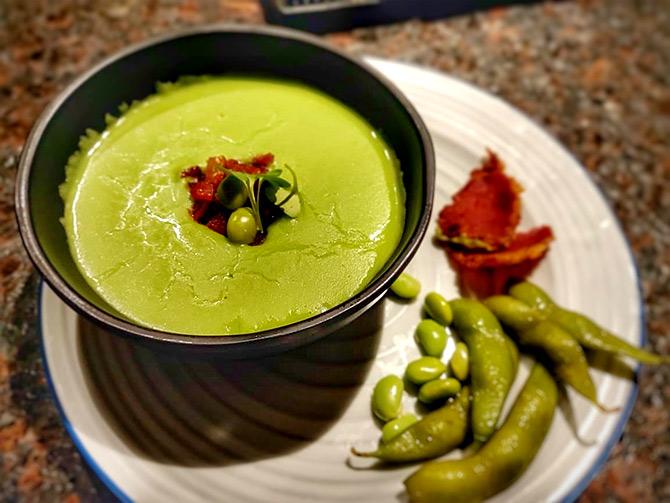 Ingredients
150 gm edamame beans
50 ml veg stock
10 ml cooking cream
5 gm butter
5 gm refined flour
10 gm bacon strip
Salt to taste
White pepper powder to taste
Method
For the edamame puree
Blanch edamame and remove the beans.
Blend the beans together with some water until it's a fine puree.
Strain for smooth consistency.
For the soup
In a pan add some butter and melt it.
Add refined flour and saute.
Slowly add the veg stock and keep whisking while making sure no lumps are formed.
Add the edamame puree to the pan.
Cook on low flame and finish off with some cream.
Grill the bacon strip until crispy.
Finely chop it and add to the soup.
Add the seasoning and serve hot.
Tip: Bacon strips are already salty, so be careful with the amount of extra salt to be added.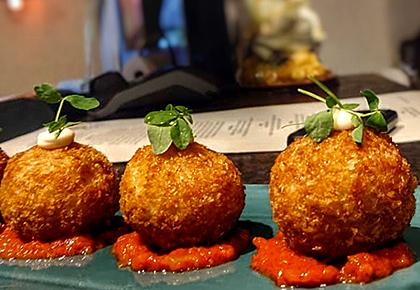 What is your favourite monsoon food? Tell us about it in the messageboard below!