Welcome the monsoon with these special rainy treats.
Maharaj Jodharam Choudhary, corporate chef, Khandani Rajdhani has shared some special recipes for you to try at home.
All recipes: Kind courtesy Khandani Rajdhani
Makai Jalapeno Pakoda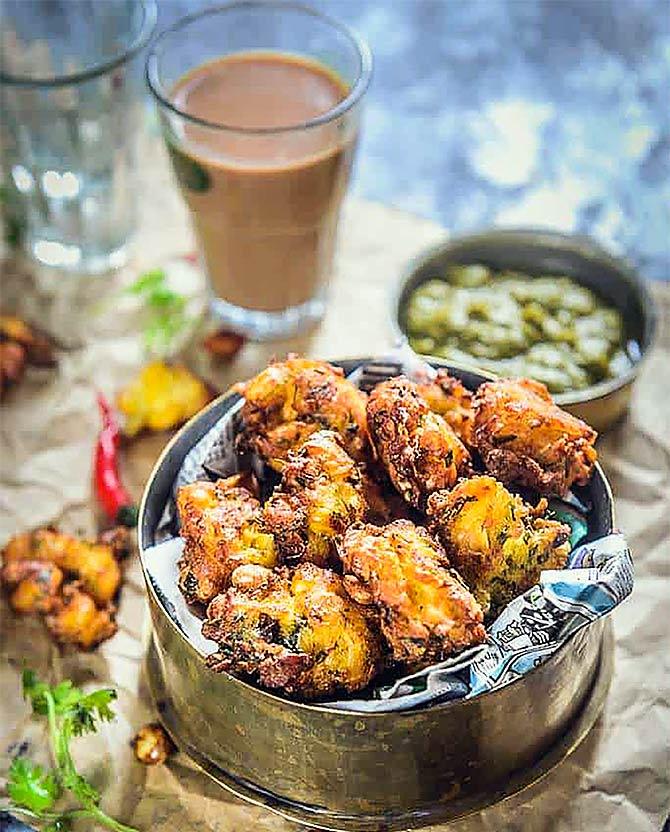 Ingredients
1 cup American corn
A few jalapenos sliced
1 cup finely chopped onion
1 cup finely chopped capsicum
1 tbsp corn starch
50 gm finely chopped coriander
Salt
50 gm chopped spring onions
A pinch chaat masala
Method
Boil corn and refresh in cold water.
Chop the jalapeno, capsicum, onion (add only if using the same day), coriander very finely.
Mix all the ingredients in a bowl with salt and give it a good rub, allow the veggies to leech out the moisture.
Now add water little by little to get the mixture to a thick consistency.
Take sufficient oil in a kadhai; bring it to 180 degrees C.
Leave small pakoda size portions in the oil, deep fry till crisp and golden brown.
Sprinkle chat masala and serve hot with green chutney/hung curd and garlic dip.
---
Mushroom Cheese Potlis
Ingredients
For filling
200 gm sliced button mushrooms
80 gm chopped onion
10 gm finely chopped garlic
5 gm finely chopped green chillies
50 gm paneer
30 gm grated processed cheese
Salt to taste
5 gm chaat masala
2 gm garam masala
10 gm chopped fresh coriander
2 gm Kashmiri red chilli powder
50 gm refined vegetable oil
For skin
Method
Heat oil in a non-stick fry pan; add the garlic, onion and green chillies. Sauté Til slightly brown.
Add garam masala, Kashmir red chilli powder an sauté at this stage.
Add the mushrooms and sauté till the most of the moisture from the mushrooms reduce.
Get the mixture to room temperature.
Add grated cottage cheese, grated processed cheese, chopped coriander and chaat masala and mix well.
Fill a small ladoo size ball of this mix in the centre of the wanton skin and pinch all the 4 sides to fold it like a money bag.
Tie the base of the fold with a spring onion green.
Deep fry the potlis and serve with green chutney.
---
Jamnagar Potli Kachori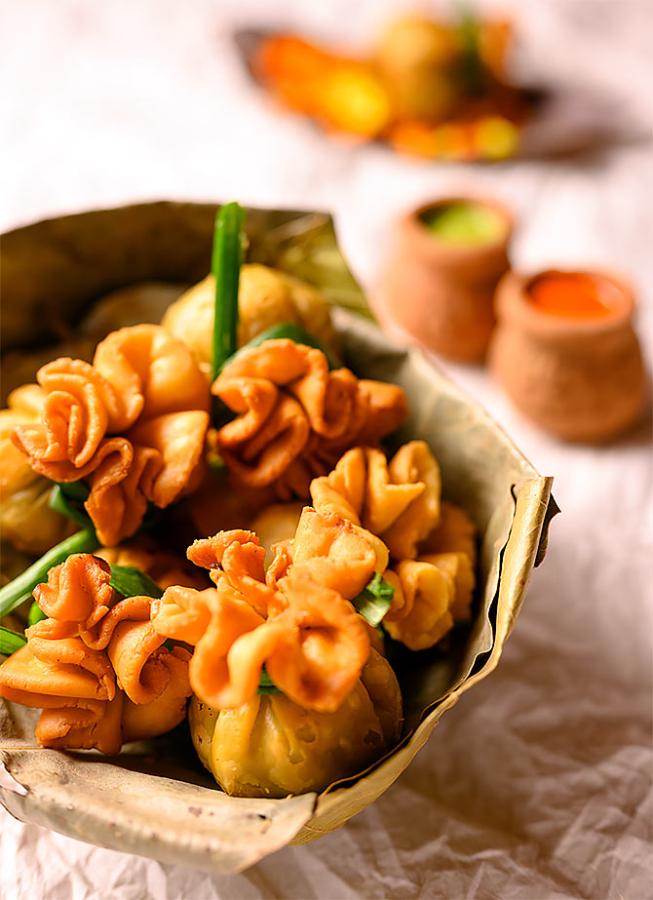 Ingredients
200 gm maida
150 gm moong dal
25 gm ghee
10 gm jeera
10 gm til white
5 gm ginger paste
15 gm chilli powder
2 gm haldi powder
1 pinch hing
1 tsp ajwain
A few drops of lemon juice
Oil for frying
Salt to taste
3 stems spring onion
20 gm spinach paste

For dough
Divide dough into three parts.
Dough 1: Mix maida, ghee, palak paste and salt
Dough 2: Mix maida, chilli paste, ghee and salt
Dough 3: Mix maida, ghee and salt
For the stuffing
Ingredients
150 gm moong dal boiled
25 gm ghee
10 gm jeera
10 gm til white
5 gm ginger paste
15 gm chilli powder
2 gm turmeric powder
A pinch of hing
1 tsp ajwain
1 tsp lemon
Method
Stuffing masala
Take a thick bottom kadhai and add the ghee and oil.
Add jeera, ajwain, ginger paste, chilli powder, turmeric powder and hing.
Add boiled moong dal and cook till the mixture becomes dry.
For the dough
Make three different dough mixes as mentioned above.
Take equal portions of this dough and roll them into small chapatis.
Add some of the stuffing as required in the small roti and make into a potli (bag).
Take a strip of spring onion leaf and tie it around the mouth of the potli to secure it.
Deep fry the potlis in medium hot oil.
Serve hot with green chutney.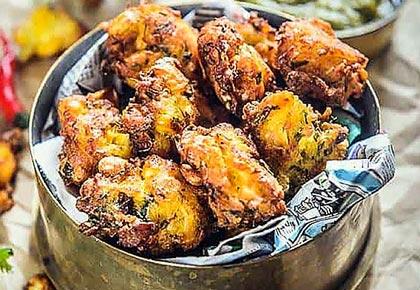 TELL US: What's your favourite monsoon snack? Share your comments in the messageboard below.