The world famous Colombo eatery, run in partnership with Sri Lankan cricketing legends Mahela Jayawardene and Kumar Sangakkara -- is ready to debut in India soon.
Neeta Lal finds out more from chef Munidasa over his Yodha Crab curry.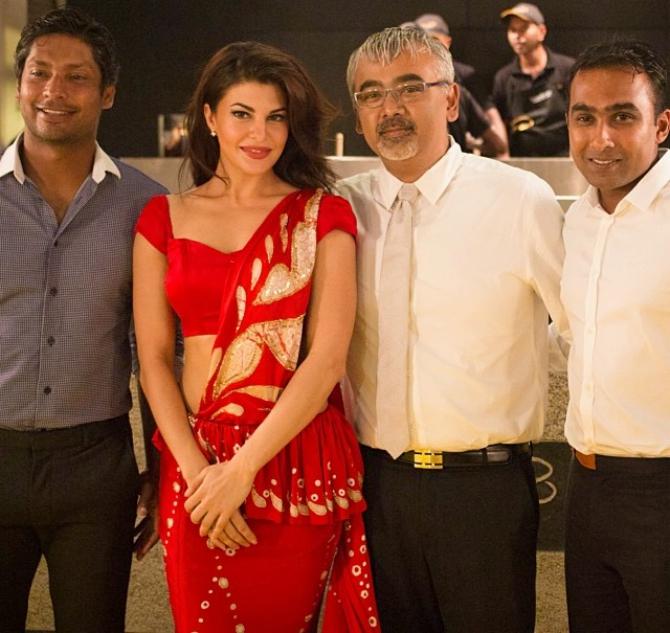 (From left) Former cricketer Kumar Sangakkara, actor Jacqueline Fernandez, chef Dharshan Munidasa, and former cricketer Mahela Jayawardene.
While Sangakkara and Jayawardene are partners in Ministry of Crab, Fernandez is a partner in Kaema Sutra.
Photograph: @dharshanmunidasa/Instagram.
As a chef with no formal training, Dharshan Munidasa's entry into the world of food was serendipitous.
Just months before the Sri Lankan culinary maestro was to graduate from Johns Hopkins University, USA, with a double degree in Computer Engineering and International Relations in 1994, and take up a coveted corporate job in Tokyo (his birthplace), his father died.
Forced to return to his family in Colombo under these tragic circumstances, Munidasa jettisoned the idea of returning to the university to complete his degree. Instead, he stayed on and began toying with the idea of converting his passion -- cooking -- into his vocation.
Barely in his 20s, Munidasa took the entrepreneurial plunge and launched Nihonbashi ("bridge" in Japanese), his first restaurant in Colombo in 1995. Though the city's dining-out scene was nascent at the time, it helped that the metropolis was getting its energy back at the end of a long and dark civil war.
Leveraging his dual heritage (Sri Lankan father, Japanese mother), Munidasa created inventive dishes employing Japanese cooking philosophies that soon had the chatterati eating out of his hands.
Last year, Nihonbashi featured at number 38 on the prestigious San Pellegrino Asia's 50 Best Restaurants list.
"Actually, what really spurred my interest in cooking was the bad food at Johns Hopkins," recalls Munidasa, 47, as I tuck into his garlicky Yodha Crab curry at the Ministry of Crab (MoC) in Colombo, a veritable shrine to the crustacean.
The eatery features at number 29 on the San Pellegrino Asia's 50 Best Restaurants list and is run in partnership with Munidasa's buddies -- Sri Lankan cricketing legends Mahela Jayawardene and Kumar Sangakkara since 2011. It only serves "export-quality" crab, with sizes ranging from a diminutive 500g up to "crabzilla", which tips the scales at over 2 kg.
Offering me the eatery's delicious signature peach iced tea (crafted from the local arak), Munidasa recalls that in his final year at university, he started experimenting with dishes in his dormitory that he'd seen his mother and sisters cook. Soon the delicious aromas emanating from his room had his peers flocking there.
In no time, Munidasa had a tiny Japanese-style restaurant going in his dormitory. To help cash-starved students, he accepted only ingredients as payment instead of dollars for the effort he invested in cooking for them.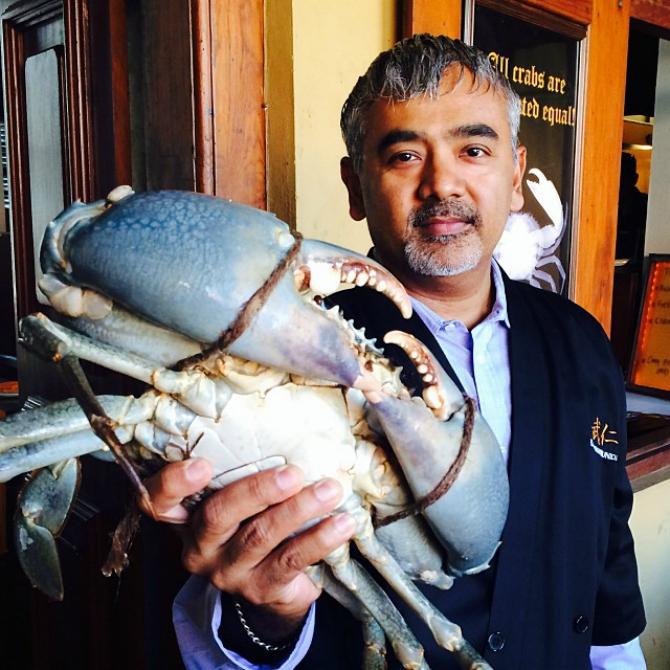 'A 2.5kg #crabzilla in the house.'
Ministry of Crab only serves 'export-quality' crab, with sizes ranging from a diminutive 500 gm up to crabzillas that tip the scales at over 2 kg.
Photograph: @dharshanmunidasa/Instagram.
Munidasa is today recognised as one of Asia's most celebrated chefs, straddling a slew of restaurants -- apart from MoC and Nihonbashi -- there's also The Tuna & The Crab in Galle and the recently launched Kaema Sutra at the Shangri-La Colombo in partnership with Bollywood actor Jacqueline Fernandez.
His contribution to Sri Lanka's café culture is Alexandra & Ward in Colombo, which re-imagines traditional café favourites including bespoke burgers that employ Sri Lanka's rustic street bread, kade paan.
Munidasa has also crafted Japanese degustation menus at various establishments (The Conrad, Four Seasons and Six Senses resorts in the Maldives) as well as at the members-only International Food and Wine Society in India.
A strong ingredient focus and employing fresh local produce alongside Japanese culinary principles remain his hallmarks.
"We follow the no-freezer policy at all our restaurants, emphasising the use of fresh produce and guaranteeing the quality of all our dishes," he explains. "Though that's anti-technology, it means going back to the roots of what a restaurant should and can be. Sometimes old school is better than new school."
Adhering to the same ethos, the mint-fresh Kaema Sutra -- accoutred with folksy Sri Lankan masks -- draws from a groundswell of traditional Sri Lankan foods.
There's the Sri Lankan version of tapas in dishes such as the Porksicle, a slow-cooked pork spare rib wrapped in roti, and Manioc Floss, with strings of fried manioc root and sprinkled with chilli salt. There's also a unique spin on the local favourite -- kottu -- a delicious mess of godhamba roti, meat, spices and egg.
Lamprais, which owes it provenance to the island's Dutch colonisers, shows up in the form of rice with six curries wrapped in a plantain leaf.
The signature dessert is "What The Hopper", a crunchy honey hopper topped with whipped cream and freshly chopped strawberries, and finished with a drizzle of kitul treacle.
Innovative cocktails -- using local tropical fruits and spices -- offer lingering flavours.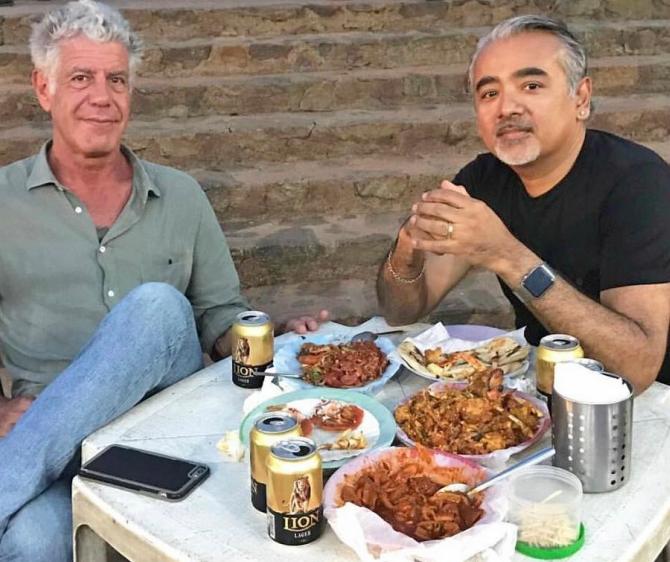 Anthony Bourdain's program 'Parts Unknown' has featured chef Dhardhan Munidasa.
Photograph: @dharshanmunidasa/Instagram.
Munidasa's unique approach to cooking fuels his two other pet projects --The Taste Lab and Chef's Shack.
The former is a kitchen-laboratory in his office where his staff watches and learns from him. "Recipes get written here. We have tasters and testers and photography is prohibited," he explains.
Chef's Shack is a bed and breakfast that doubles up as a brainstorming space. Here, Munidasa invites chefs from around the world who come to Sri Lanka to live under his roof and cook in his kitchen.
"The philosophy is about a restaurant owner sharing his home with another chef. It's not about making money," he says.
From creating original dishes to sourcing ingredients, Chef Dharshan's meticulous attention to detail has ensured the consistently high standards of his restaurants. Perhaps that's also what has delayed the entry of his much-awaited restaurant MoC into Mumbai's culinary scene.
"India has been on my radar for years, but it was a question of the right partner. My food is simple and ingredient-specific, so I required a partner to understand the passion and stubbornness about it. With Gourmet Investments Private Limited, I found great partners to work in India and look forward to our opening in Mumbai in May 2018."
The enthusiastic response to his pop-ups at the Four Seasons Hotel in Mumbai and other places convinced him that India was ready for his food.
"I've been cooking in India at pop-ups for the past 10 years. I would bring back ingredients from Japan. I almost got arrested for bringing in whale meat and wagyu once!" Munidasa laughs.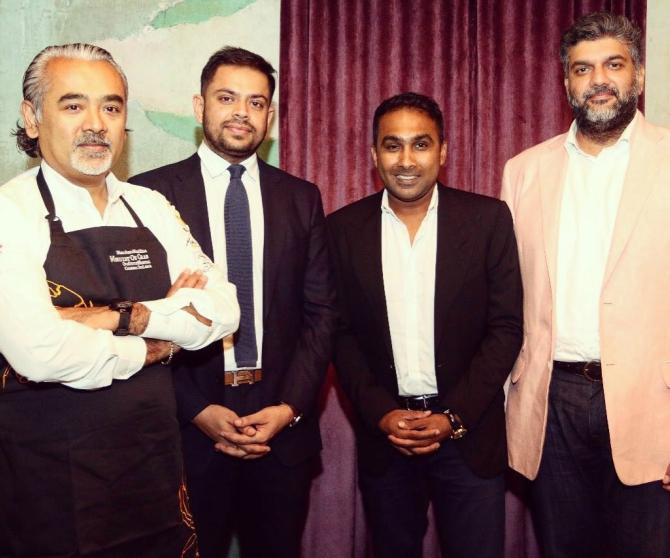 Ministry of Crab has partnered with Gourmet Investments Pvt Ltd to open restaurants in Mumbai and Delhi. Chef Munidasa and Jayawardene flew out to Mumbai to sign the franchise agreement.
Photograph: @dharshanmunidasa/Instagram.
The chef reveals he has been to the Sassoon Docks in Mumbai at the crack of dawn.
He often visits the Negombo fish market in Colombo to select the best of Sri Lanka's export quality tuna before it is shipped to the famed Tsukiji fish market in Tokyo.
His signature Black Pepper Crab and Chilli Crab at MoC will find a place in the menu of the Mumbai edition too.
"We will source export-quality crabs along India's coast and bring them to Mumbai. The Mud Crabs will be sourced from Southeast and Southwest of India. The menu will be exactly the same in Mumbai. Only a few dishes will be added as a nod to India's large vegetarian audience," he elaborates.
The chef insists that a restaurant needs a menu with integrity. "You will be nowhere if you keep changing the menu to accommodate everyone," he says.
Pushing 50, health is increasingly on Munidasa's mind.
He recently launched his own bottled green juice using gotukola (a local herb) as its primary ingredient. Gotukola juices have been part of the Sri Lankan culinary tradition for long. The chef's drink is called Centella after its scientific name and contains no water, added sugars or artificial sweeteners.
As I sip the juice, the affable chef shows me photos of his chubbier self on his iPhone, barely recognisable from his current slim avatar.
"I lost 24 kg in six months by going off carbs. It was tough, but I was determined to do it."
Make no mistake, behind that gentle exterior lurks a steely determination.