Malaika Arora's mother Joyce shared her recipe for Punjabi kadhi pakora. Scroll down for the recipe.
'It is thick, creamy and bursting with robust flavours,' she wrote on Instagram. 'A spoonful of the kadhi is like a savoury version of an ice cream -- creamy and spicy. The key is slow cooking.'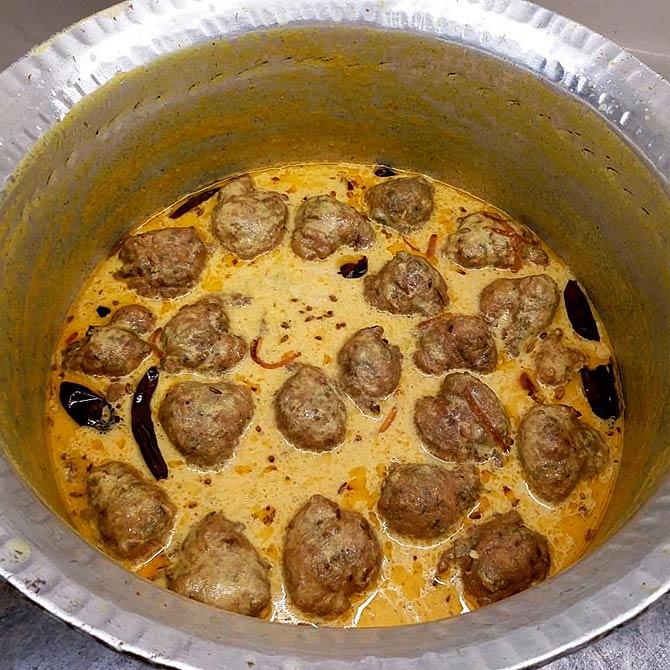 Punjabi Kadhi
Ingredients:
For the kadhi:
400 gm sour curd
1 cup besan or gram flour
1½ litre water
1-2 medium onions, made into a paste
1 tbsp ginger-garlic paste
1½ tsp haldi powder
1 tbsp red chilli powder
1 tsp garam masala
1 tbsp coriander powder
3 tej patta (bay leaves), broken into 2 pieces
3 whole red spicy chilli, broken into 2 pieces
¼ tsp methi (fenugreek) seeds
½ tsp hing
For the pakora:
1 cup fresh besan
4 green chilli, spicy ones
½ cup chopped coriander leaves, fresh
1 medium onion, chopped fine
½ tsp ginger-garlic paste
1 tsp garam masala powder
1 tsp haldi powder
1 tbsp, coarsely crushed whole coriander seeds
1 tsp baking powder
Salt as per taste
Water for binding the pakoras
2 cup oil for frying
For tempering:
One large onion, cut into half and sliced thinly
3 Bedgi chilli, broken into 2 pieces
1 tsp ajwain
2 tsp jeera
3 tsp oil
Method:
For the kadhi:
In a blender, add sour curd, besan, dry spice powders and pulse till well blended. Don't over blend.
In a large, deep vessel, heat oil. Add hing, tej patta and whole red chillies. Fry for 30 secs. Add onion paste and fry for 2 mins till lightly brown. Add ginger-garlic paste and fry for one min.
Add the curd-besan mixture. Stir and mix well.
Add 1½ litre water, stir well and let the mixture come to a boil, stirring in between to not let the mixture stick to the bottom.
Once the mixture comes to a boil, reduce the heat to low and slow cook for 2 hours.
After an hour of cooking, taste the kadhi and if it is not sour enough, add some lime juice.
Add lime juice, 1 tbsp at a time. Keep in mind that when the kadhi reduces, the sourness will intensify.
Remember, the longer you cook on slow flame, the better the kadhi tastes. The kadhi should come out thick and creamy.
Once the kadhi has boiled for 1½ hour, add the pakoras. This will make them nice and soft and the kadhi will be absorbed in them. If you like the pakoras a bit hard, add them to the kadhi at the time of serving. Once the kadhi has cooked for two hours, add the tempering and switch off the flame. Mix well, cover the vessel with a lid and let it rest for 10 mins. Serve hot with jeera rice.
For the pakoras:
Mix all the ingredients in a bowl. Add little water at a time and mix so that you have a thick mixture. Cover and let the mixture rest for 15 mins.
Heat oil and drop small lime size balls of mixture into it. Fry the pakoras on medium heat till golden brown. Once done, remove and drain on a kitchen paper towel. Set aside.
For the tempering:
Heat oil in a tempering pan. Once hot, reduce the flame. Add ajwain, jeera and whole red chilli. Once the seeds splutter, add the sliced onions. Fry onions till nice dark brown.