Here's our list of what you should eat when you are in Ahmedabad. Don't forget to take the poll given below and vote for your favourite.
Who doesn't like good street-food?
If you're ones of those who loves to explore the streets of Ahmedabad, scouting for great breakfast or lunch options, then you must be familiar with the food on this list!
Presenting Part 1 of our series on famous street foods from cities across India.
Take the poll given below and let us know which is your favourite street food from Ahmedabad.
At the end of the series, we'll reveal the top five street foods based on the audience poll.
Have you taken this poll! Vada pav or samosa pav: Vote for your favourite street food!
Pav Bhaji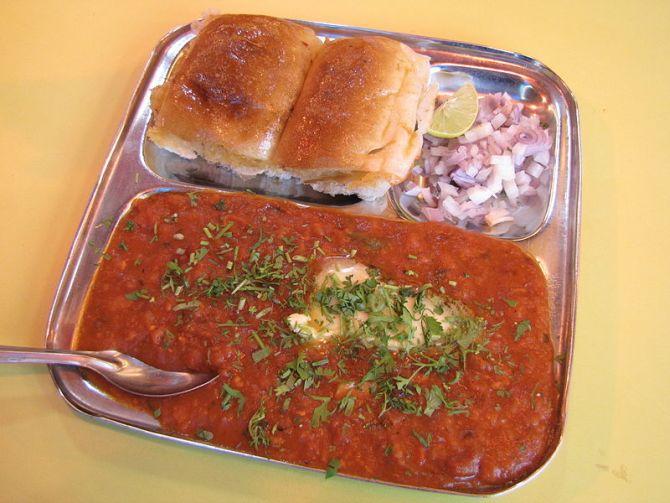 Photograph: SwingingUvula/ Wikimedia Commons
No brownie points for guessing why Pav Bhaji tops this list! The spiced mixture of mashed vegetables cooked in a thick gravy, and served with a white buttered bread, is a favourite among Gujaratis.
Want to know the place that serves the best Pav Bhaji in Ahmedabad? Try the stalls at Law Garden.
You'll definitely find lip-smacking Pav Bhaji that's impossible to ignore.

Khaman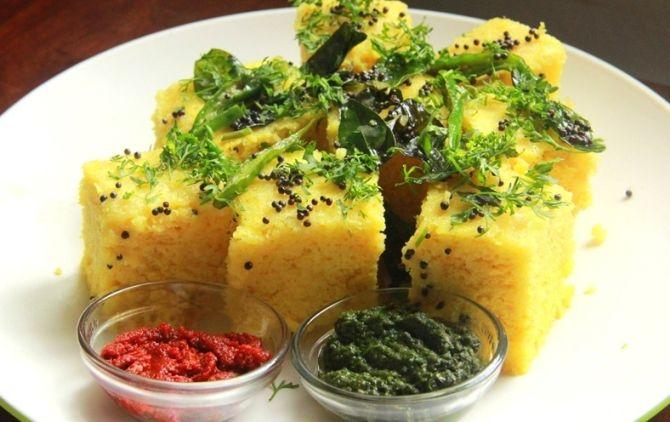 Photograph: Dhananjai11/Wikimedia Commons
The most popular variety is the Das Surti Khaman.
Made from soaked and freshly ground channa dal or besan, this a famous street food from Gujarat, has found its way on the streets of Mumbai too.
Dal Wadi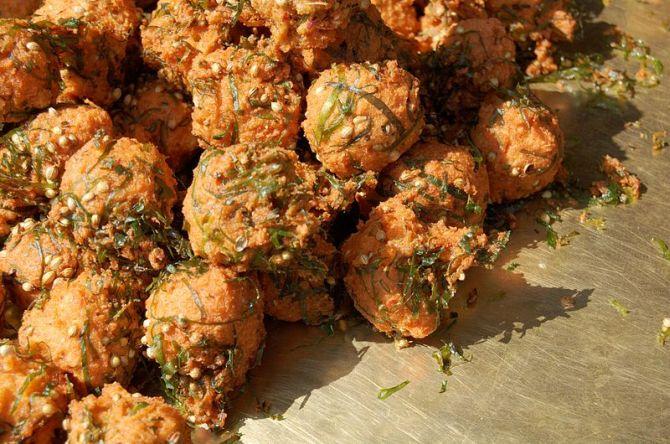 Photograph: Ekabhishek/Wikimedia Commons
Dal Wadi -- commonly known as Pakora in Mumbai -- is a favourite street food snack.
These are fried fritters are made from yellow moong dal and then deep fried in oil.
Dabeli
Photograph: Aparna Rao 72/ Wikimedia Commons
How can one forget Dabeli, when we talk of street food in Ahmedabad?
A mixture of mashed potatoes mixed with special Dabeli masala, it is served in a pav and garnished with a generous helping of peanuts.
Just the thought of it makes us drool!
Fafda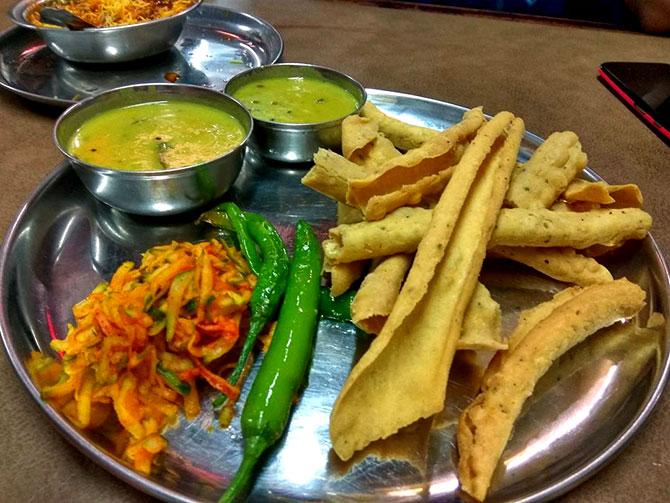 Photograph: Anita Aikara/Rediff.com
Aah, this street food is mostly famously synonym with character of Jethalal Champaklal Gadha in the TV serial Tarak Mehta Ka Ooltah Chashmah. This is also a popular Gujarati snack made with chick-pea flour. It is fried crisp and served with chutney.
Jalebi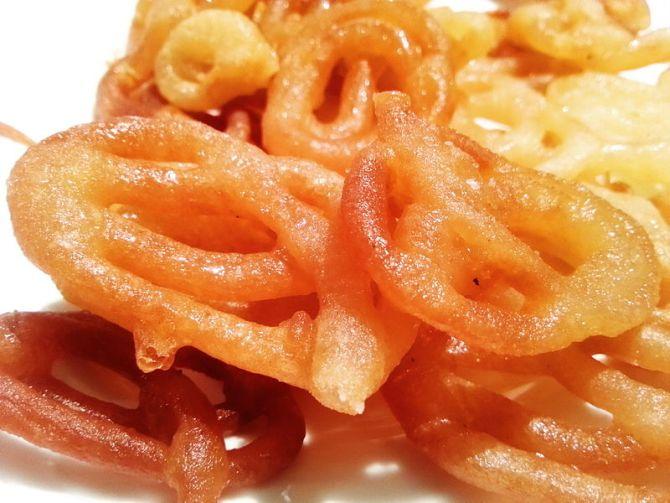 Photograph: Mohammed Tawsif Salam/ Wikimedia Commons
If you have heard about Fafda, then surely you must have heard about Jalebi too.
This sweet dish is meant for people with sweet tooth.
Jalebi is crisp, crunchy, syrupy and juicy dish made with refined flour and yogurt batter and the spirals are laden in saffron sugar syrup before serving.
Dhokla, Khandvi and Patra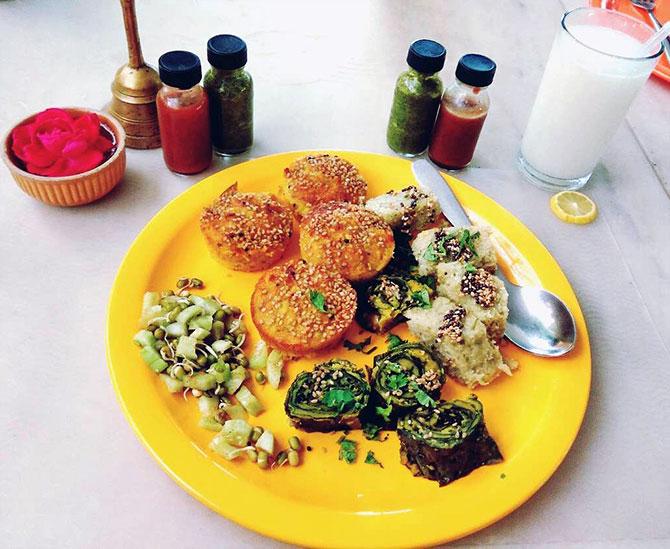 Photograph: Anita Aikara/Rediff.com
Trust us when we tell you, nobody does farsaan like a Gujarati!
Khakra
Photograph: Rediff archives
If you haven't tried Induben's khakra in Ahmedabad, then you haven't tried the best khakra as yet!
There is no better way to eat these crunchy hand-made crackers than with a bowl of dahi or a small serving of pickle.
Tawa Pulav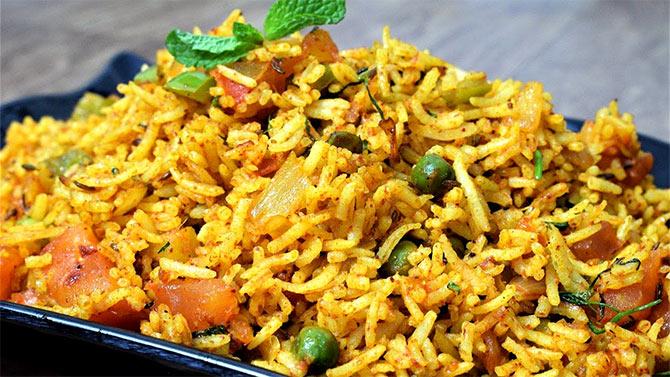 Photograph: Rediff archives
You must be thinking what is this famous street food of Mumbai doing on this list!

One trip to Ahmedabad's Manek Chowk and all your doubts will be put to rest.

A favourite street food consumed during lunch time, it is for people who are looking for a quick lunch to grab.
Puri Shak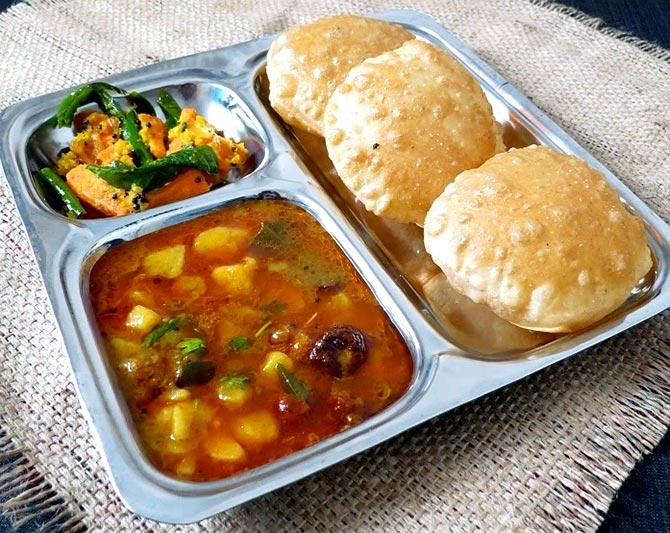 Photograph: Kind courtesy maayeka.com
We end with Puri Shak, a traditional breakfast dish.
Dear readers, take the poll given below and vote for your favourite street food.