Spoiler alert: Expect glorious pics of idiyappam, paniyarams, jigarthanda on this food trip.

You think the food in Chennai is all about dosas, idlis, vadas and more vadas?
Then these 10 foodies from the Tamil Nadu capital will pleasantly surprise you!
Presenting our fourth installment of foodies in India.
@sukanyakaur.insta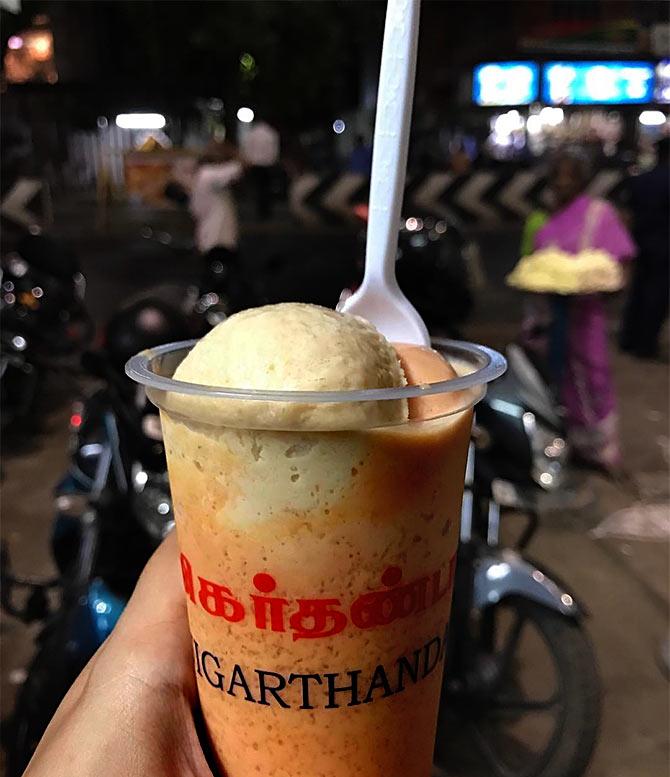 IMAGE: A pic of jigarthanda (a popular thick shake) from Murugan Idli Shop.

Sukanya Kaur wears many hats -- architect, book worm, dancer, fashionista and architect. She calls herself 'a typical Chennai ponnu (girl)' and is a big time foodie.
She documents her food journey across Chennai and will tempt your taste buds with her amazing photographs of cheese paniyaram, egg appam, elaneer payasam, mutton kola urundai (deep fried mince meat), etc.

Followers: 1,401

Photograph: Kind courtesy

Sukanya Kaur/Instagram
@thefarmchennai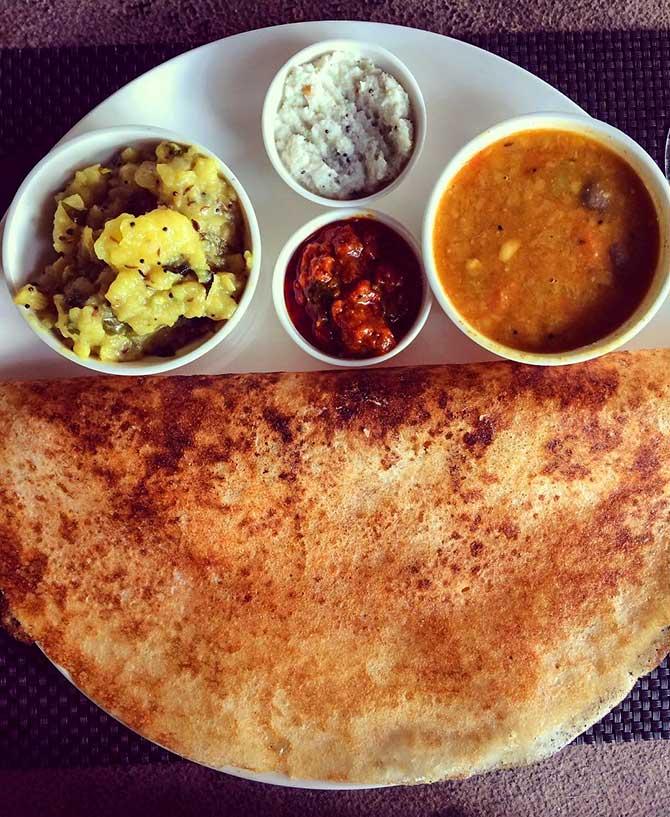 IMAGE: This dosa is made from rice grown on the farm and sprinkled with podi made in the kitchen. The lentils in the sambar, coconuts in the chutney, potatoes are all grown on the farm.

The Farm Chennai is all about a life on the farm -- you'll be reminded of the children's novel Charlotte's Web.
Follow them to get a sneak-peep into a farm life in Chennai with abundant organic farm-to-table food. The food is made with organic ingredients grown in their farm.
If you love cheese, you'll be amazed by their sheer variety of farm fresh buffalo mozzarella. They have three varieties of buffalo milk labeh -- red chilly flakes and oregano; Malabar black pepper; green chilli, garlic and coriander.

Followers: 4,066

Photograph: Kind courtesy The Farm Chennai/Instagram
@chennai_foodie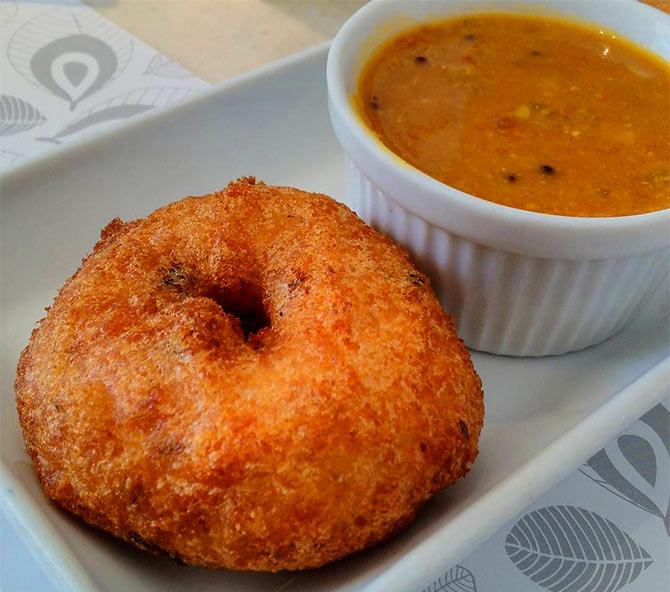 IMAGE: Vada and sambar.

Meet this anonymous Chennaiite with 'a sudden obsession for baking'.
Go on a food trail with some amazing and tempting food pics of non-local eats available at Chennai like special chicken biryani Hyderabadi style, spicy Bangkok rice bowl, Mumbai's gulkhand kulfi and Kolkata paan ice cream, etc.

Followers: 901

Photograph: Kind courtesy Chennai Foodie/Instagram
@divya_srini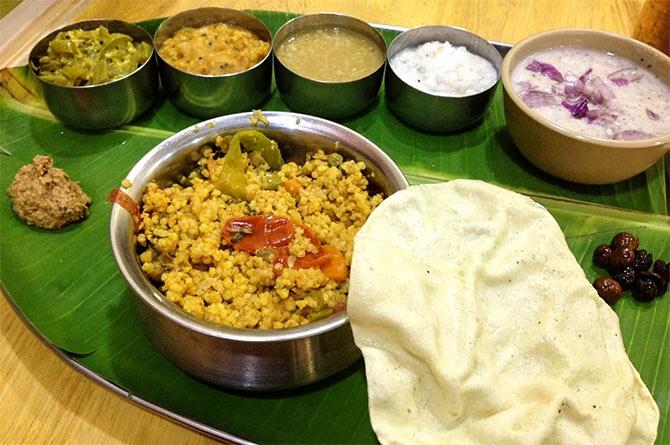 IMAGE: A south Indian thali at Thirukural Unavagam, Adyar, Chennai.

Divya Srinivasan is a die-hard foodie and her page is filled with scrumptious food pics of kanchipuram ildi, pongal, vadas, onion dosa, kasi halwa, keera vadai, and much more local delicacies.
Divya adds value to her page but accompanying food reviews and also includes the cost of the meal.

Followers: 1,146

Photograph: Kind courtesy

Divya Srinivasan/Instagram
@chennaisoru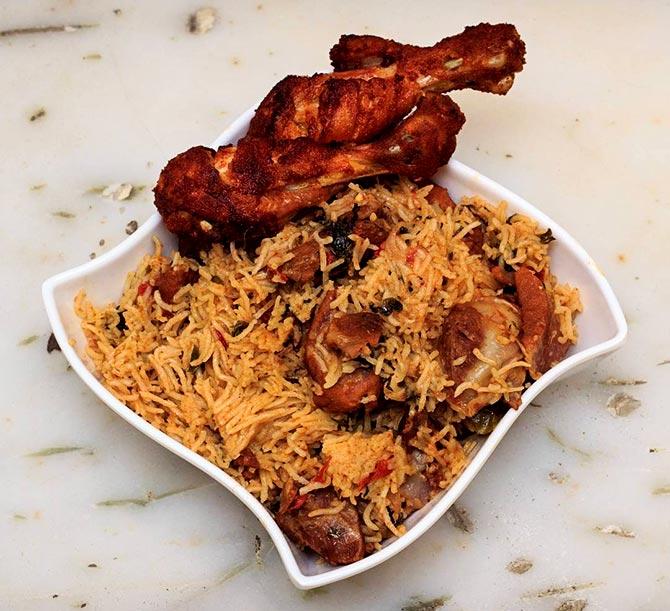 IMAGE: Homemade mutton biryani with succulent chicken 65.

Chennai Soru aka Shadir

Bughari

is a blogger, dentist, foodie and techie -- wonder how he manages so many roles in one go!
The love for food runs in his family -- his grandfather was a well-known hotelier in Chennai.
Apart for uploading some lip-smacking good food pics, he also reviews restaurants on his blog, which goes by the same name. From midnight snacking to deadly chocolate indulgence, local delicacies to exotic meals in Chennai, he has it all covered.

Followers: 1,742

Photograph: Kind courtesy Shadir

Bughari

/Instagram
@ajit.induchudan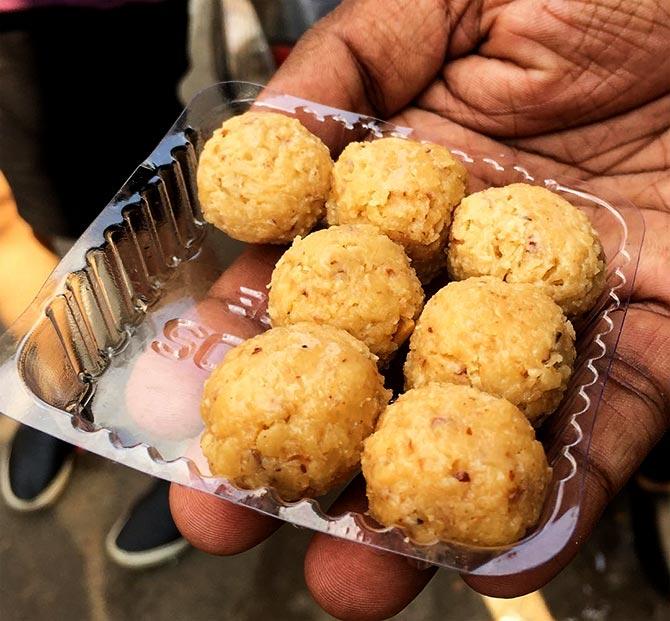 IMAGE: Coconut laddoos at Mylapore.

Ajit Induchudan is a finance professional who also doubles up as a food and travel blogger.
He juggles between economical meals and high-end restaurant outings -- following him will give you the best of both worlds. He has a knack of hunting down 'good-looking' food.
You will be spoilt for choice just looking at his page -- the breakfast menu includes kara bath, benne masala dosa, idli and chow chow bath, bonda with gheti chutney, bread bhaji, podi idli, etc. Phew!

Followers: 898

Photograph: Kind courtesy Ajit Induchudan/Instagram
@judejegan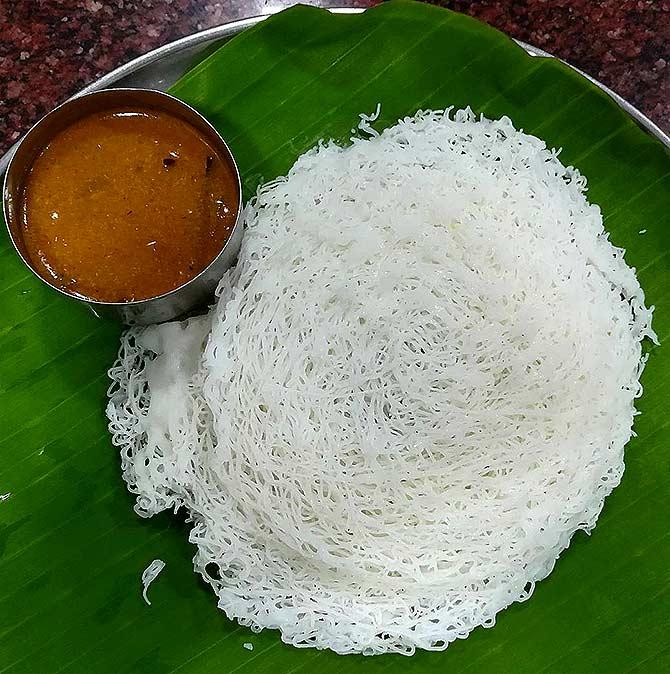 IMAGE: Idiyappam and fish curry.

A chemical engineer from Chennai, Jude cares about eating and photographing delicious food. From parottas of Tuticorin to idiyappam and fish curry, cold boost (a yummy milkshake) to the 'great South Indian thali', he loves his food more than anything in the world.
Follow him if you are a fan of frugal gastronomical adventures in Chennai.

Followers: 794

Photograph: Kind courtesy judejegan/Instagram
@food_pecker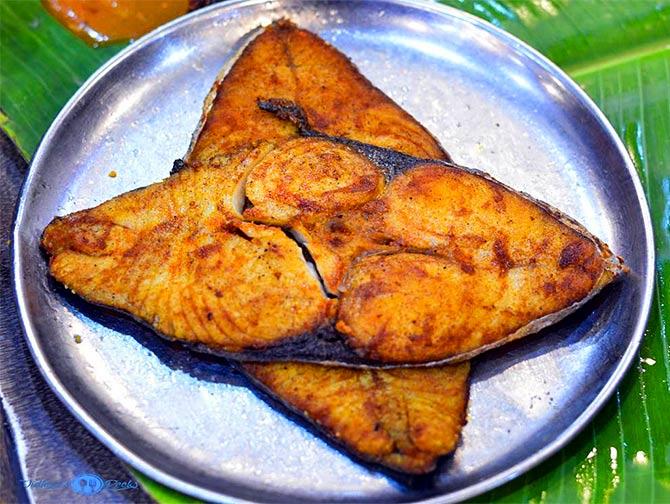 IMAGE: Fish fry from Nair Mess.

Vidhya Chandrasekaran believes in 'eating today, dying tomorrow and repeating the routine every single day'. She calls herself a Chennaivasi and her page has '99.99 per cent food pics'.
Her page is about the food views and her experiences of the restaurants she visits in Chennai. Follow her and salivate on the pics of pepper prawns, mutton sevai, thattu idli, etc.

Followers: 547

Photograph: Kind courtesy

Vidhya Chandrasekaran/Instagram
@eatwitheyes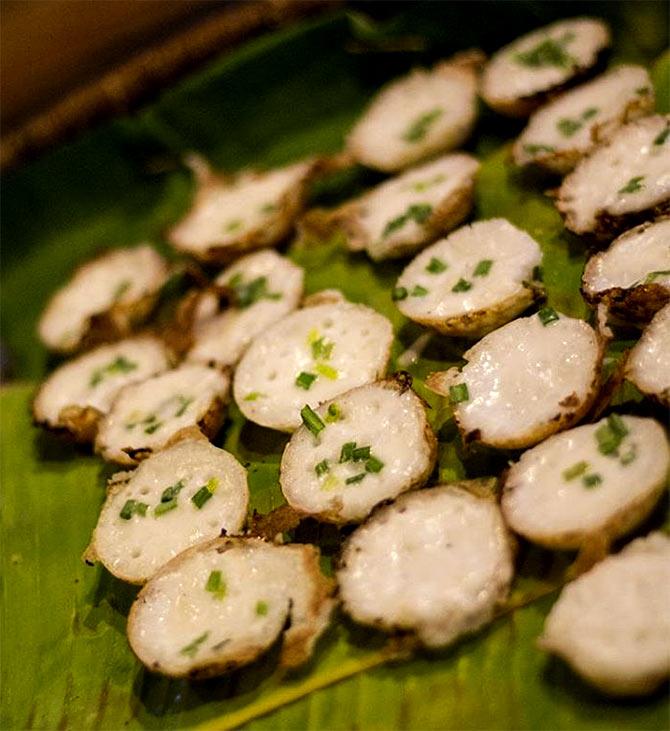 IMAGE: Sweet pudding or half paaniyaram.

Eat With Eyes has food views and reviews from in and around Chennai. The delectable food pics and fascinating photography will surely make you hungry. There's more to the page than just local delicacies like sweet pudding or half paaniyaram, mysore pak, country roast chicken south Indian style, etc.
You'll also stumble upon non-local yet yummy food like Vietnamese seafood baskets, fried ice cream, tuna cutlets and pandan chicken wrap, just to name a few.

Followers: 545

Photograph: Eat With Eyes/Instagram
@shmoozies
IMAGE: Ice cream cake with buttered walnut candy and Belgian chocolate .

Be prepared to drool seeing pics of mouth-watering desserts. They make the best handcrafted ice creams in Chennai -- which are vegetarian and essence-free. You will be introduced to some delicious recipes and also get a dekho of the toil and sweat that goes into making hand-crafted ice creams.

Followers: 830

Photograph: Kind courtesy Shmoozie's Hand Crafted Ice Cream/Instagram
---
Follow this link to post the best of your food pics and we will publish them right here on Rediff.com!
Share your food pics along with a short description of the food and the place you clicked it.
Steps to upload pic on ZaraBol:
1. Click on 'Add Image' option on the left side of the #RediffFoodies page.
2. Upload an image from your computer/phone.
3. Write a small description for your image in the box above.
4. Hit post and see your image on ZaraBol.