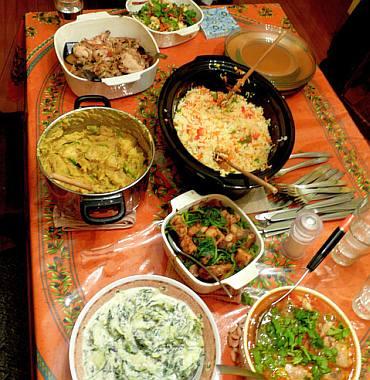 Celebrated chef Gaggan Anand answered readers' queries on June 9.
For those who missed the live chat, here is the unedited chat transcript.
shital purav: Which is your favorite sea food?
---
Gaggan Anand: puchka in kolkata, gol gappa in delhi, and pani puri in mumbai
shital sorry i read your sea food as street food hahaha see how unprofessional i am in this chat things... well to you knowledge its crab meat
Meenakshi-Sundaram: what is your philosophy in cooking a great dish?
Gaggan Anand: check out the CNN show at 3 pm IST u will know.
hitansh: How would you handle disagreements between team members?
Gaggan Anand: silently listen o them and motivate them to understand the reasons behind and sometimes if they are right agree to them, even if they are wrong I let them do the mistake as that's learning for them and me.
Aditya-J: Do you agree with the perception of Indian food on the world level, referred to as "spicy". Surely, Indian cooking's more than that. What's your take on this?
Gaggan Anand: completely Aditya i think our cuisine is very badly represented globally. We don't even have tandoors in our home kitchens. my grandmother didn't knew chicken tikka masala but that's the reality. so slowly the perception is changing and in future u will have more chefs from india creating waves with indian food globally.
naman: When you design a menu, what are the 4 key things you think about?
Gaggan Anand: 5 key elements: A 5 S philosophy -- sweet, salty, spicy, sour and lastly SURPRISE
RKM: I have read reviews that your food tastes just like home food? If that's true, then you are basically targeting non-indians, because for house style i would eat the same in my house :)
Gaggan Anand: RKM well i am happy that my food tastes like home as the love our moms in india put in cooking is amazing and that's what we do here; the only thing is how we cook here can't be cooked at any home in india ;-)
Aditya-J: What is the best way to deal with a Kitchen Nightmare? How do you go about starting your day in the kitchen, to ensure efficiency in work with a cool mind?
Gaggan Anand: keep your CALM and create a nice team who supports u in good and bad times; make kitchen your family; the team is like your life and they will do anything to get all of us out of difficult situations.
RKM: how is your Dal as compared to Bhukhara dal?
Gaggan Anand: Dal bukhara is a legend; we don't serve dal often but if like now it's in veg tasting menu, we also serve home style with no butter no ghee and no cream...
rakesh: When you become a head chef, what type of kitchen would you want?
Gaggan Anand: a kitchen where there is happiness, harmony and enough space to work freely and no interference so u can cook what u want to, and lastly no one asks you for food costs.
kavita bavekar: what would you do if one of the ovens stopped working
Gaggan Anand: well find the next best source available to you, depends again what ur planning to cook. i think a charcoal oven is more dependable in grilling and tastier; if cakes or bakery switch to a pressure cooker without the seal so u can at least steam it; if cookies then BAD LUCK ;-)
rittika negi: If you have a function for 200 chicken dishes and only 180 was delivered this morning and was signed for by the breakfast chef, what would you do?
Gaggan Anand: hahhaha well it's all about managing the situation with a cool head; add some other ingredients to compliment the dish which will cover those 20 less chicken, this is what i would do.
Sai: When do we see you in Mumbai, chief/chef? Hope you won't make us wait too long!
Gaggan Anand: sooner than people anticipate. give us a few months we will give u morning headlines
Rajesh Ojha: How can you balance a same dish between people who love very spicy & low spicy ???
Gaggan Anand: our food is not very spicy. we use spice as flavour like vanilla or cinnamon which are used as sweet spices. we don't have garam masala in our kitchen. shocking but that's how we are.
shahin: what kind of style discipline do you use in your kitchen?
Gaggan Anand: enjoy, play and party. while you cook must have the music on loud with a good playlist.
shital purav: Which is your favorite maharashtrian dish ??
Gaggan Anand: mutton kolhapuri
kunika: Can you give an example of a hard situation you had to handle?
Gaggan Anand: oh was very recent. on 15th may the whole glass in the kitchen shattered 5 mins before we opened so we couldn't serve food for 2 hours. had to prep everything from fresh and making guests wait for hours was a nightmare. u can see in our instagram 3 weeks back post of me breaking the glass but the day ended well.
tushar: What do you want to learn in the next 5 years?
Gaggan Anand: so much i think i have yet to explore india completely goa, andhra, kashmir, mangalorean cuisines is something in next 2-3 years and to decode them. also want to travel to south america extensively sometime soon.
Aditya-J: If you had only five ingredients to choose from; which will these be? In other words, what are 5 ingredient with which no good chef can go wrong?
Gaggan Anand: salt, pepper, green chilly, haldi, date, sugar
Rajesh Ojha: Which is your favorite rajasthani dish ??
Gaggan Anand: Ghewar... love the technique taste and art
parin shah: which are your other favourite restaurants in bangkok (besides gaggan, where ive been a few times!) ?
Gaggan Anand: hey Parin thanks for loving us well i am street food lover but if ur veggie then i recommend thai brasseries like greyhoud cafe, coffe beans by dao, they are almost in every mall serving great fusion thai bristo food, for japanese sushi if u love fish then its sushi ichi ginza
jinny: Do you play sports? if so which
Gaggan Anand: my sport is my kitchen. hahaha... the games we play there is amazing... we play catch-catch with lemons and tomatoes... have u played cricket in a kitchen? we do that sometimes without a bat hahahah
Aditya-J: In all the wide-variety cuisines available in India, from South to East, North to West which one is your favorite and any specific delicacy that comes to mind?
Gaggan Anand: the list is too long... ur asking me which child is ur Favourite but i am a big fan of bengali food -- the most underrated cuisine of India.
yasmin: Outside of work, what do you enjoy doing?
Gaggan Anand: music rock concerts, and travelling to street food nations, I have a EATING DISORDER... can't stop me from eating hahaha a professional MUNCHER
Aditya-J: How hard is it as a successful chef to stand upon the expectations of your customers! Does it ever get tiring or is it the motivation to simply get better?
Gaggan Anand: well we didn't know we will be so famous the blessing has come from our guests... we still now haven't spend a penny on PR yes but the challenge is to meet people with these expectations that's fun when they come with that element and we surprise them and wow them with our daring approach, some leave unhappy we can't do much about that but if 90% are happy i am happy and that keeps the innovation alive.
kaushal: Do you prefer working on your own or within a team, and why?
Gaggan Anand: TEAM most important Kaushal i am just a coach the teamwork is really important, my team is 47 people for a 55 seater restaurant and we will soon become 55 for 55 seater with 11 nationalities from south americans to europeans to south asian and Indians and not to forget the Thais.
Rahul Nair: Gaggan..Any plans of opening up a restaurant in Kolkata?
Gaggan Anand: i wish Rahul but Gaggan won't travel as a restaurant to anywhere except where my name hangs which is in bangkok. if we do projects in India they would be new concepts with new heroes, kolkata needs to improve on infrastructure and food need to be more adventurous for us to think.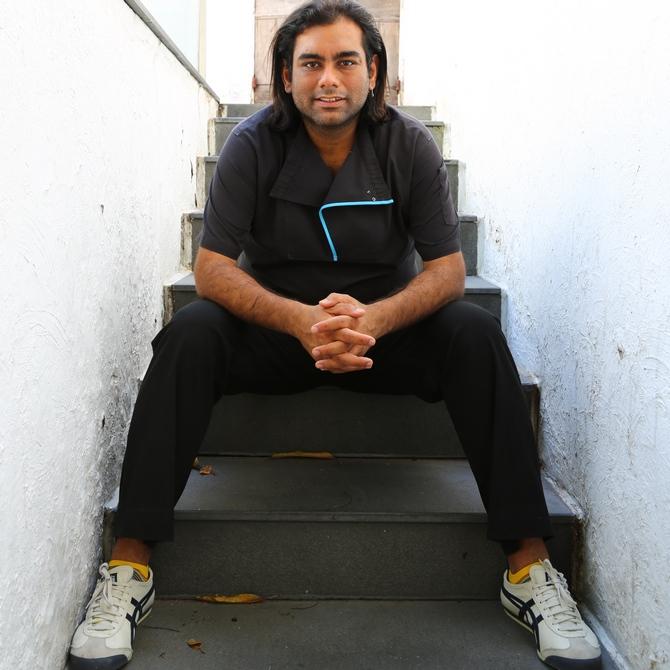 Meenakshi-Sundaram: Thanks for your informative replay, any suggestion on the European cooking schools and to start with i am going to write a food blog, what would be the best way to reach you for any guidance?
Gaggan Anand: if u wanna do a blog then why learn instead travel the world and EAT EAT AND EAT !!! and never tell where you are eating that you are a blogger that's makes u more professional and focussed.
sona: what is the Bangkok food scene like?
Gaggan Anand: soon its rocking look we have made all indians travel to bangkok just to eat at gaggan, now we have more options for indians especially veggies, also there is a big shift where there is sudden book in young chefs doing there stand alone restaurants
alex: Did Rahul Gandhi eat at your restaurant when he was in Bangkok?
Gaggan Anand: hahahaha no afraid maybe he didn't find us interesting if u know him personally please recommend next time hahaha
Jeswal: What would you tell someone who is wanting to become a cook?
Gaggan Anand: just keep cooking don't follow glamour learn everything that inspires u and try to learn cooking from home or women who have secret recipes they are the hidden treasures which no restaurant will teach you, if u are into other international cuisine then travel to ur fav cooking country and try getting a stage... a stand alone restaurant that should help u cook and think better but remember ur a COOK
vaishali: What is better in your opinion, morning shifts working breakfast and lunch, lunch and dinner shifts, or dinner only restaurants?
Gaggan Anand: well totally a personal choice but yes i love dinner on weekdays and Sundays are for brunch, again it is what type of restaurant and type of cuisine you are looking for.
dananjaypuri: Although every profession has its own set of irritants, you label anything the 'worst' part of your job because there are things that you knowingly accepted as part of the struggle to achieve your culinary goals. to be diplomatic, i am straight forward blunt person and that people perceive as arrogance. well that's what i try to improve since now being known i am always judged with my actions.
Meenakshi-Sundaram: Hi Gagan,I have been in software industry for more than 15 years, since my school days i've been dreaming to get into hardcore professional cooking, that is where my heart lies. If you ask me to cut bags of onions i would happily do it over and over again. how shall i make it big in professional cooking. want to become a chef. i am 41.
Gaggan Anand: go with ur instincts. its never to late to start cooking as profession cooking is like singing -- not time or age bounded. best is to start cooking domestically and if you can afford try doing some cooking courses in Europe where u get different professional culinary application which will open and expose your mind to new highs.
Gunjal dhage: What do you cook for yourself at the end of a long day?
Gaggan Anand: spaghetti with olive oil lots of chillies and garlic and don't forget to add dhania leafs
suman singh: What are your favourite food films?
Gaggan Anand: jiro i dream of sushi
MrKhurshidAlam: Gagan it takes me more than an hour to mellow the mutton in kadai. Although am marinating with curd overnight. If i use pressure cooker or boil the mutton before cooking then it's having a raw smell and also flavors of the masalas are not entering into it. So, is there any way i can reduce the cooking time and also make the mutton mellow enough and flavorful?
Gaggan Anand: dear khurshid rome was not built in a day why do we need to cook things that take time faster that's the fun and effort we need to show towards cooking that's why all we chefs are now forcing our techniques to slow food movement where time gives great results. i personally never try to shorten a process rather elaborate as long as possible
Anand Kumar: HI any new receipe
Gaggan Anand: sure follow us on instagram and u will know whats cooking at gaggan
Photographs: Emily/Creative Commons