Your friends and family will rejoice at the sight of these culinary treats by Chef Shyam Rai, Chief Culinary Designer, Pullman and Novotel New Delhi Aerocity.
Mint White Chocolate Mandarin Mousse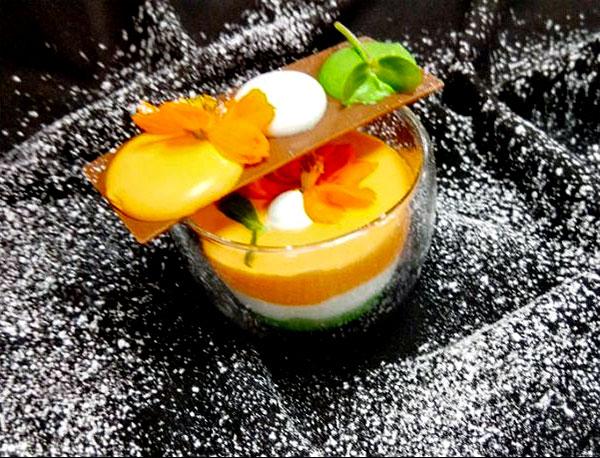 Ingredients:
150 gm white chocolate
75 gm fresh cream
150 gm whipped cream
10 ml lemon juice
5 nos egg yolk
30 gm sugar
50 gm mint puree
50 gm Mandarin puree
Edible flowers for the garnish
Method:
Boil cream in a pan. Add white chocolate and sugar. Stir it nicely and let it cool. Add whipped cream and lemon juice to the above mixture and chill. Divide the mixture in three parts.
Cook mint puree and Mandarin puree separately with egg yolk on double boiler. Add cooked purees to white chocolate mousse.
Layer the mousse, one by one, and refrigerate. Garnish with edible flowers.
---
Pickled baby cucumber, honey poached palm heart, puffed amaranth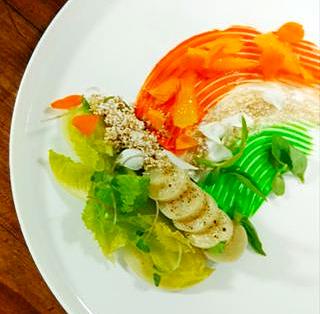 Ingredients:
For the pickled baby cucumber:
200 gm baby cucumber
20 ml white wine vinegar
Salt to taste
100 gm sugar
5 gm star anise
2 gm bay leaf
2 gm peppercorn
10 gm coriander seeds
For the honey poached palm heart:
200 gm fresh palm heart
100 gm honey
20 gm fennel seeds
200 ml water
Salt to taste
For the puffed amaranth:
100 gm puffed amaranth
20 ml olive oil
Salt to taste
2 gm cracked pepper
For the carrot coulis:
250 gm orange carrot
200 gm sugar
Salt to taste
30 gm liquid glucose
For the mint puree:
200 gm fresh mint
100 gm mayonnaise
10 gm Xanthan gum
Method:
For the pickled baby cucumber:
Make a brine with all the ingredients, except the cucumbers. Boil the mixture and keep it aside. Cut baby cucumbers into half, lengthwise. Steep cut cucumbers in cold brine and keep it refrigerated for 24 hours.
For the honey poached palm heart:
Make poaching liquid with water, honey, fennel seeds and salt. Lightly poach the palm heart in the poaching liquid and allow it to cool down.
For the carrot coulis:
Make a carrot coulis by pressure boiling the carrots to retain the colour and blend it at a slow speed by adding liquid glucose to it. Add salt and sugar.
For the mint puree:
Blanch mint leaves for few seconds and blend the leaves with ice cold mayonnaise, adding a pinch of Xanthan gum for extra body and texture.
Dress the puffed amaranth with olive oil, salt, pepper. Plate all the components beautifully on the plate.