Celebrity chef Rakhee Vaswani shares her recipes. You can share yours too!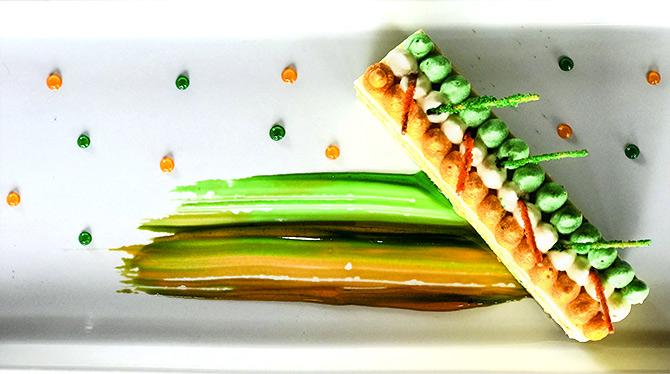 Ingredients:
For the Almond Dacqoise
85 gm almond flour
125 icing sugar
20 gm corn flour
140 gm egg whites
40 gm castor sugar
Sugar syrup
For the Swiss Meringue Buttercream
210 gm egg whites
400 gm castor sugar
340 gm unsalted butter
Vanilla paste, to taste
Orange gel food colour
Green gel food colour
For the decorations
8 sticks of uncooked spaghetti
6 tsp castor sugar
Orange gel food colour
Green gel food colour
Method:
For the Almond Dacqoise
Beat together the egg whites and castor sugar until soft peaks have formed.
In another bowl, combine almond flour, icing sugar and corn flour.
Fold the dry ingredients into the egg white mixture.
Spread batter into a thin layer on a tray lined with a silicon sheet.
Bake in a 170°Celsius oven for 15 to 20 minutes.
For the Swiss Meringue Buttercream
Over a double boiler whisk the egg whites and castor sugar until sugar has completely dissolved and the mixture has reached a peaky consistency.
Take this mixture off the heat, whisk at a medium-high speed using a hand mixer or a stand mixer until peaks are formed.
To this gradually add butter, once the buttercream has reached the right consistency add vanilla paste to taste.
Divide the buttercream into three parts.
Add food colour to two parts of buttercream to give equal amounts of orange, white and green buttercream.
For the decorations
Add three teaspoons of castor sugar to two small bowls, each.
To this add two drops of food colouring to each bowl: one green and one orange, and combine.
Dip four spaghetti sticks into water and coat with orange castor sugar and place on a silpat over a baking tray.
To the same with the remaining spaghetti sticks and green castor sugar.
Dry the sticks in a 180-190 degree oven for 5 minutes.
Remove and cool.
For the assembly
Cut the Almond Dacquoise into rectangles of equal dimensions.
Create a pastry of 5 layers; place one Dacquoise layer down first.
Soak the sheet with sugar syrup using a brush.
Follow this by spreading a layer of green buttercream on the first Dacquoise sheet.
Place another Dacquoise sheet atop the green buttercream layer, soak with sugar sugar and spread orange buttercream over the Dacquoise.
Repeat process alternating between green and orange frosting.
The final Dacquoise sheet should have orange buttercream under it.
Soak the topmost Dacquoise sheet, over it spread a layer of white buttercream.
Clean and sharpen the edges using a pallet knife.
Add all three butter creams in separate piping bags.
Over the pastry pipe dots of buttercream following the pattern of the Indian flag.
Or alternatively; use orange and green food colour to tint neutral gel. Add a few small dollops of coloured gel to white buttercream layer of pastry. Spread using a pallet knife to create a marble effect.
Add coloured decorations in desired pattern.
---
Have a tricolour recipe to share? Just email it to getahead@rediff.co.in (subject: Independence Day Recipe) along with your NAME, AGE, LOCATION and a photograph of the recipe, if possible. We'll publish the best ones on Rediff.com.