Here's a cheeselicious chicken recipe from Reshma Aslam. Happy cooking!
How to make Cheesy Chicken Sticks: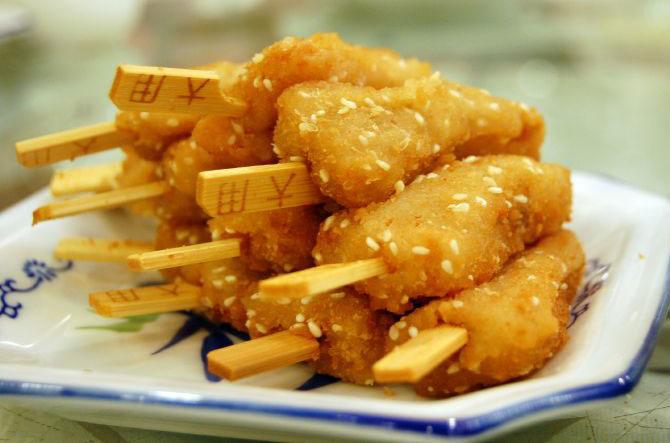 Ingredients
200 grams chicken kheema (minced chicken)
100 grams paneer (cottage cheese)
2 cubes amul cheese
2 tsp rice flour
2 tsp kaju powder (optional)
1 tsp green chilli paste
1 tsp ginger garlic paste
1 egg
1 cup breadcrumbs
½ tsp red chilli crushed
1 tsp black pepper powder
8 to 9 satay sticks
Salt to taste
Oil for deep frying
Method
Wash the minced chicken, drain excess water.
In a big mixing bowl add the minced chicken, egg, salt, ginger garlic paste, green chilli paste, kaju powder, rice flour and mix well keep aside for 2 hours.
In another bowl grate paneer and cheese. Add crushed chilli and black pepper powder. Adjust salt as cheese is already salty. (I don't add salt)
After 2 hours make small balls of paneer and cheese and spread like a seekh on the satay sticks.
Now make small balls of kheema and coat the paneer which is on the sticks. You will get a double layer like a chocobar ice cream.
Now coat the kheema with bread crumbs and refrigerate for around 15 minutes.
Heat oil in a pan for frying.
Deep fry the sticks in hot oil till they turn golden brown.
Your cheesy chicken sticks are ready.
Serve hot with chutney or sauce whichever is more preferable.
Note:
In case satay sticks are not available you can use ice cream sticks. You just have to soak the sticks in cold water for 10 minutes so the sticks can hold the mixture well and do not absorb more oil.
The above mentioned quantity of chicken makes up to 8 to 9 pieces of cheesy chicken sticks.
Photograph: ulterior epicure/Creative Commons
Liked this recipe? Click here for more interesting recipes and food features!
Want to share your favourite recipe? Simply e-mail your recipes to getahead@rediff.co.in (subject line: My Fav Recipe) with your name, hometown and any interesting details about the origin of the recipe, along with a photograph of the recipe, if possible. We'll publish the best preparations right here on Rediff.com.