Madhur Jaffrey made Indian food a household name in the UK; Atul Kochhar's restaurants made it gourmet in UK and beyond.
Neeta Lal meets the Indian chef with two Michelin stars to his credit.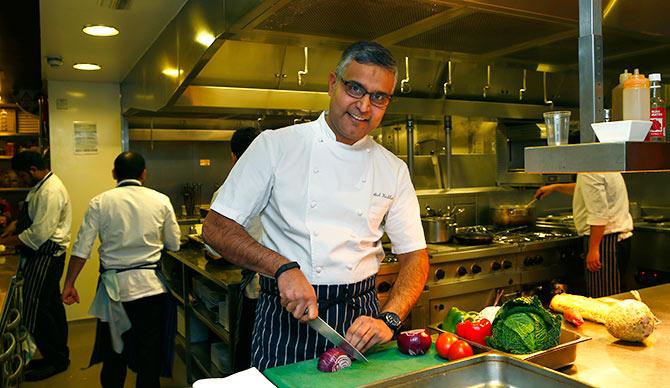 Chef Atul Kochhar, the first Indian chef to receive a Michelin star, at his Benares restaurant in Mayfair, London.
Photograph: Eddie Keogh/Reuters.
Like the man, his restaurant too, is understated.
I'm at Benares Restaurant & Bar, on 12a Berkeley Square House in London's spiffy Mayfair, which won its India-born, British-based owner-chef Atul Kochhar his second Michelin star in 2007.
Handcrafted furniture, water features and glowing lamps populate the 80-seater discreetly. An elegant bar occupies a sizeable section of the eatery. Waiters bustle about. Fragrant masala chai soon materialises at my table.
As I sip the brew, the man saunters in. "Hi, I'm Atul!" says Kochhar, pulling up a chair across from me.
He is a two-Michelin-star chef, presiding over a culinary empire of 15 restaurants across three continents, but fame sits lightly on the chef-entrepreneur. He's soft-spoken and charming, urging me to try at least one meal at Benares.
When I apologetically mutter "very busy, next time", he actually looks disappointed. He nevertheless gifts me a signed copy of his bestselling cookbook Benares, which contains 80 recipes from his acclaimed restaurant.
Kochhar's journey -- from shy Jamshedpur boy to chef of global acclaim -- is a classic tale of hard work and ambition rewarded with achievement.
"My grandfather was a baker and my father had a small catering business, so I was surrounded by food and grew up experimenting with it! When my friends were scrambling to become engineers and doctors, I opted for hotel management and, luckily, my father supported my ambition."
Kochhar's career kicked off in 1993 at The Oberoi New Delhi, where as a sous chef, he helmed a team of 18.
Working with iconic restaurants like Kandahar, Baan Thai and La Rochelle taught him the nuts and bolts of running a fine-dining kitchen.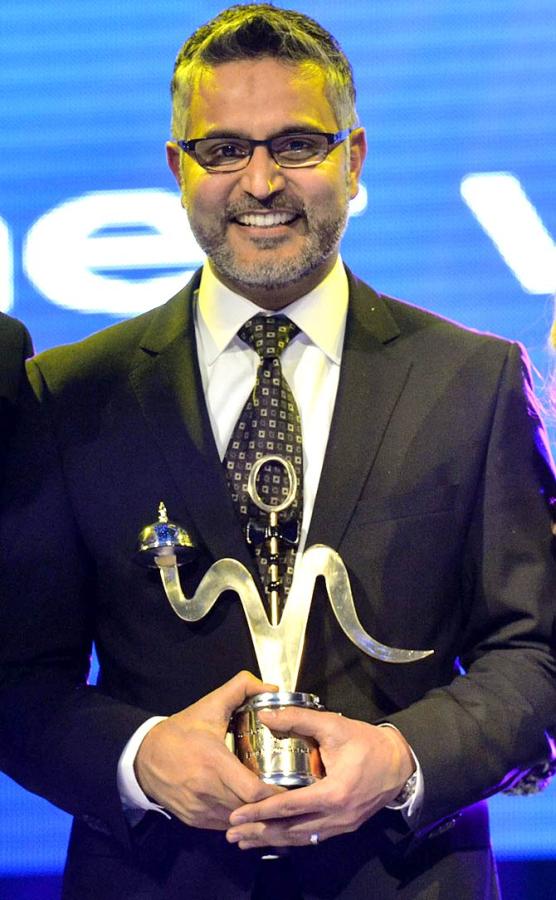 This propelled his shift to London in the late 1990s where he was hired for Tamarind, an already established Indian cuisine restaurant.
Kochhar introduced a quirky new menu at Tamarind, which soon had London's chi-chi set eating out of his hands, so to speak. The food redefined the perception of Indian cooking in Britain.
Kochhar was invited to meet the Queen and cook for Prince Charles at St James' Palace. Effusive praise from pernickety food critics like Tom Parker Bowles did not hurt either. 'Kochhar is not only one of the pioneers of high-end Indian food... but he's also the grandmaster of spice, more magician than mere cook... He does things to the taste buds that make them blush with lusty delight,' wrote Bowles.
In 2001, Kochhar became the first Indian chef to bag a Michelin star as Tamarind's head chef.
In 2002, he struck out on his own with Benares.
The restaurant received a Michelin star in 2007 and has retained it since.
The chef has since constantly expanded his business interests, combining his understanding of the mercurial F&B market with a knowledge of customer tastes.
In 2012, he launched India Essence, a neighbourhood restaurant in Kent, followed by fine-dining restaurants in Mauritius and Dubai.
In November 2014, he launched Sindhu in Marlow (Buckinghamshire).
Benares Madrid made its debut in September 2015; NRI (Not Really Indian) and LIMA in Mumbai in 2016; and, earlier this year, Hawkyns Bar and Restaurant, Amersham.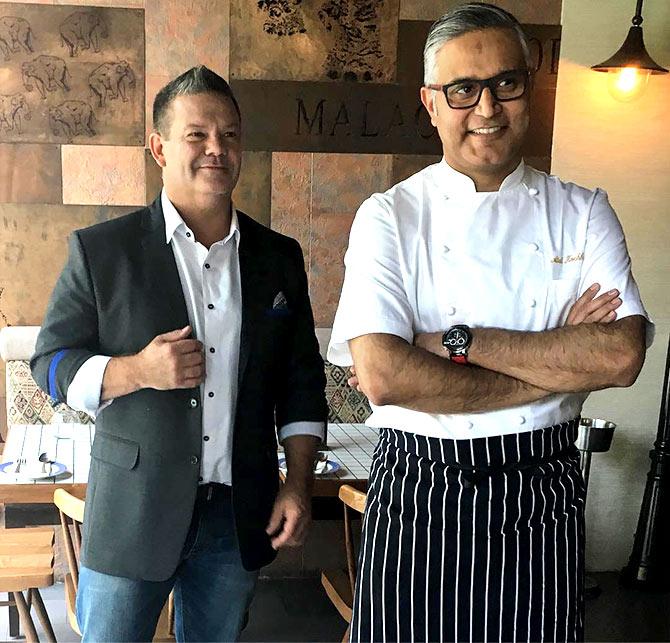 Chef Kochhar at NRI, one of his restaurants in Mumbai's posh Bandra Kurla Complex.
He says, 'Since my main area of focus is modern Indian cuisine, I ensure that I visit the country at least once every quarter.'
Did you know? NRI is one of the best places in India to have chai!
Photograph: @chefatulkochhar/Instagram.
With so many restaurants to manage across diverse geographies, how does Kochhar ensure that his food remains exciting?
"Since my main area of focus is modern Indian cuisine, I ensure that I visit the country at least once every quarter. My travels around India and the world have helped me deconstruct traditional Indian dishes to improve and modernise them, whilst retaining the original flavours that made them so enticing in the first place."
Whenever he travels, Kochhar says he also makes it a point to scour the local markets for new ingredients.
"I also try to eat with local chefs and take notes when I see something new or a cooking technique that intrigues me. I was taught at the Oberoi School that one should learn everything about ingredients, and that if I did that, my food would always connect with people. So, you could call me a lifelong researcher of new ingredients," he explains.
In a cut-throat industry, does he feel the pressure to retain his Michelin stars?
"I've always cooked for my customers and only incorporated dishes that I wanted to cook. If I were to change my style of cooking just to please the Michelin inspectors or for fearing of losing my stars, then I won't be doing justice to my craft," shrugs the 48-year-old author of six cookbooks.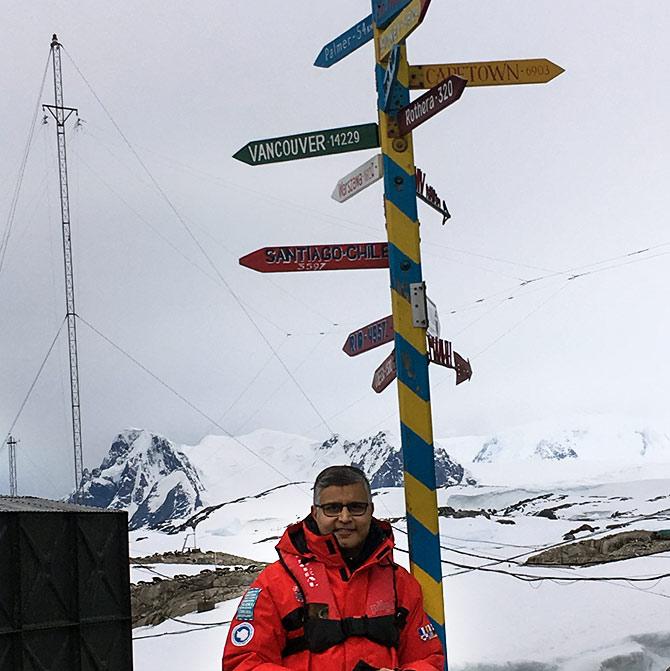 Chef Kochhar in Antarctica. He has
curated a special menu for an Antarctica expedition with a luxury cruise liner.
Dishes like Prawn Sukka, Peas Pulao, Chicory Apple Salad, Murg Malai Tikka, Heirloom Tomato Salad and Garlic Chutney are on offer.
Photograph: @chefatulkochhar/Instagram.
His perspective on food has also been shaped by a finicky father.
"During my early days at Tamarind," recalls Kochhar, "my dad visited and asked me to cook a three-course meal. So, I made goat curry, bhaji and dal. But he wasn't happy. When I asked him why, he said: "Where's India on your plate? I can't see it. All I see are these distinctly northern Indian dishes with no representation from your rich and diverse country!'"
The rebuke marked a turning point in Kochhar's career. It made him reflect on his approach to food, making him more mindful of his environment.
Driven to get a better understanding of seafood, for instance, Kochhar signed up with a fishing company in Scotland as an intern.
"I learnt fishing, line dredging and how to catch crabs. I'd get up at 5am to go out with the fishermen into the stormy North Sea to look for fresh sea produce and then cook it in the kitchen. It made me look at seafood with new eyes."
Over the years, Kochhar has carved a formidable name for himself as a culinary entrepreneur.
Last year, he opened two eateries in Mumbai's new culinary epicentre, the Bandra Kurla Complex.
Recalls Kochhar, "I'd always dreamed of doing this. It needn't have been a money-making venture, but just the idea of taking restaurants back to India excited me."
Thus were launched NRI and Lima.
NRI showcases Indian recipes that travelled abroad decades ago and were reinterpreted locally. "Examples of such food are found in the Caribbean, Malaysia and the UK where dishes identified as "Indian" would be goat curry, murtabak bread or chicken tikka masala."
On Lima, he says: "I wanted to bring a new cuisine to Mumbai and we're proud to be the first to introduce that to India with Lima. Everything from our ceviche to empanadas are authentic."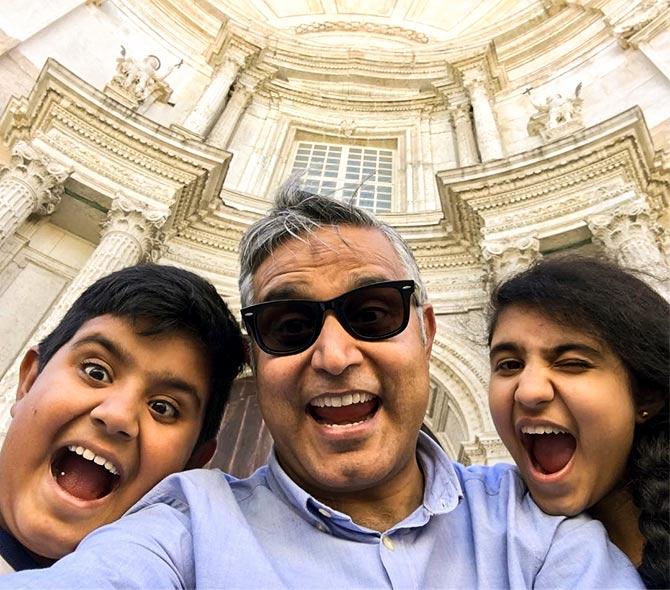 When not busy with one of his various projects, Kochhar enjoys spending time with his wife Deepti and their two children, Arjun and Amisha.
Photograph: @chefatulkochhar/Instagram.
Kochhar's prolific oeuvre also includes numerous TV appearances -- on The Great British Menu, MasterChef, Saturday Kitchen and Sunday Brunch.
When not busy with one of his various projects, the chef enjoys spending time at home in London with his wife Deepti and their two young children, Arjun and Amisha.
The chef is also busy curating a special menu for an Antarctica expedition with a luxury cruise liner. This month, about 200 travellers are embarking on an 11-day voyage, enjoying exotic fare put together by Kochhar.
Dishes like Prawn Sukka, Peas Pulao, Chicory Apple Salad, Murg Malai Tikka, Heirloom Tomato Salad and Garlic Chutney will be on offer.
"We want to offer vegetarians the same culinary journey of flavours with dishes like Vegetable Jalfrezi, bite-sized Vegetable Dim Sum and delicately spiced Vegetable Parcels."
Typically, the master of spices has every nuance in place to please the palate. Nearly anywhere in the world.