Holi is complete without delicious food.
Food blogger Siddhi Panchal of Cooking With Siddhi shares her recipes for malpua and thandai.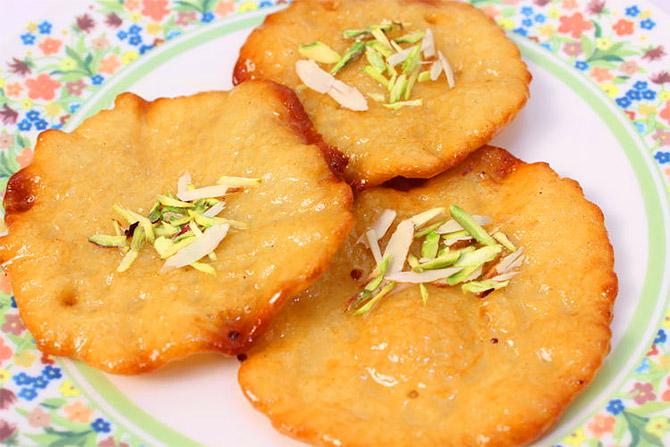 Malpua
Ingredients
1 cup milk
1 cup sugar
½ cup all purpose flour
⅓ cup milk powder
2 tbsp sooji
¼ tsp cardamon powder
Strands of kesar
Pistachio and almond flakes for the garnish
Method
For the batter
In a bowl add all purpose flour along with milk powder, sooji, green cardamom powder and mix these dry ingredients well.
Add milk in small batches to make a smooth semi thick batter. Set it aside for 4-5 hours. In case you want to make the dish instantly, you can add Eno and set it aside for 1 to 1.5 hours.
For the sugar syrup
After the set time, take a pan and place it on the stove.
Add sugar and one cup water to it.
Keep stirring continuously so that the sugar melts completely. Cook on medium flame for 8-10 minutes, stirring occasionally.
Add kesar and check the thickness of the sugar syrup.
Once you achieve the desired consistency, switch off the flame.
Frying the malpuas
In a deep bottom pan heat oil. Stir the batter and pour a spoonful of it directly into the pan. Let it cook for a minute on low flame.
Flip the malpua over. Cook on the low medium flame until light golden.
Take it out on a plate and dip it in the sugar syrup. Let it soak in the syrup for two minutes.
Garnish the malpuas with pistachio and almond flakes.
---
Thandai
Ingredients
1 and ¼ cup sugar
⅓ cup cashew
⅓ cup pistachio
⅓ almonds, peeled
¼ cup saunf
¼ cup mask melon seeds
1 tbsp cardamom
½ tbsp black pepper
¼ tsp nutmeg
¼ tsp saffron
500 ml milk
Method
In a steel utensil pour milk and let it come to a boil on a low flame.
For the masala, in a grinding jar, add almonds, pistachio, cashew, muskmelon seeds, saunf, cardamom seeds and black pepper and coarsely grind them.
Grind it in pauses for a few seconds, remove lid and with help of spoon mix it. Repeat the process.
Once you have a coarse mixture, add sugar, nutmeg, kesar and grind it. The masala is ready. You can store it in an airtight container in the fridge.
When the milk boils, add 3 tbsp masala and mix well. On a medium flame, stir continuously and cook for a minute. After a minute the mixture will thicken. You can now turn off the flame.
Cool in room temperature and refrigerate it.
Garnish with pistachio and kesar. Serve chilled.