Chennai-based food blogger and Rediff reader Vidya Srinivasan shares an interesting recipe with us.
Cracked wheat is an excellent ingredient for breakfast.
Rich in fibre and nutrients, there's a host of recipes you can try using this ingredient.
Here's a healthy twist of Rava Idli using cracked wheat.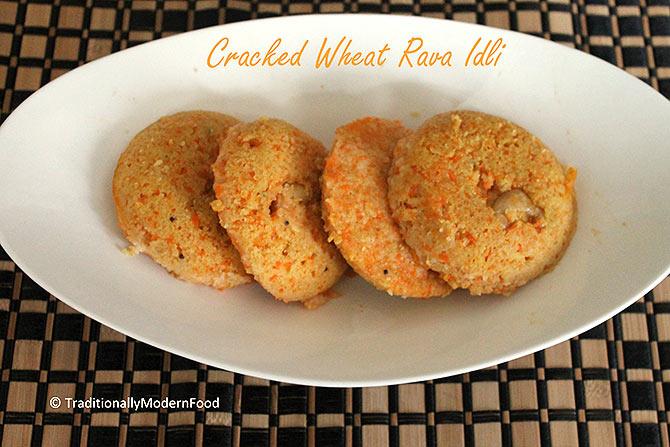 Preparation time: 10 minutes
Cooking time: 10 minutes
Serves: 3
Ingredients
1 cup fine ground cracked wheat
1/2 cup thick yogurt
1 carrot chopped/grated
1/3 cup water
1/2 tsp heaped baking Soda/Eno salt (I used baking soda)
Salt as needed
1/4 tsp mustard seeds
1/2 tsp urad dhal
1/2 tsp chana dhal
Cashew nuts as required
1/2 tsp oil to grease
Method
Heat a pan and add some oil.
When the oil is hot, add mustard seeds, urad dal and chana dal. Let them splutter. Set aside.
In the same pan, add remaining oil and cashew. Roast them till golden brown and set aside.
Add cracked wheat to the pan and saute for a minute, and let it cool.
Pulse them in a blender till they are finely ground.
Add yoghurt, salt, carrot, tempered stuff and baking soda to the cracked wheat powder and mix well.
Add water to get the desired idli batter consistency. Allow it to set for 10 minutes
Set the idli steamer ready and grease the idli mould with oil.
Pour a ladle full of batter in each pit and cook for 15 minutes or until done.
Serve hot with any chutney or sambaar.
Photo: TraditionallyModernFood
Also See
Reader Invite
Do you have an healthy food recipe that you'd like to share with us?
Simply write in to getahead@rediff.co.in (subject line: 'Healthy recipes') with your name and home-town, along with a photograph of the dish.
We will publish the best ones right here on Rediff.com and India Abroad.