Rediff reader Chitra Ganesh sent us this quick recipe of stir fried veggies.
Do you know an interesting and healthy recipe? E-mail it to us!
For those looking to follow a healthy diet, a combination of stir fried crunchy veggies makes for a delicious option.
Relish the goodness of veggies tossed in a yummy sauce; try the Vegetable Stir Fry today.
Here's the recipe: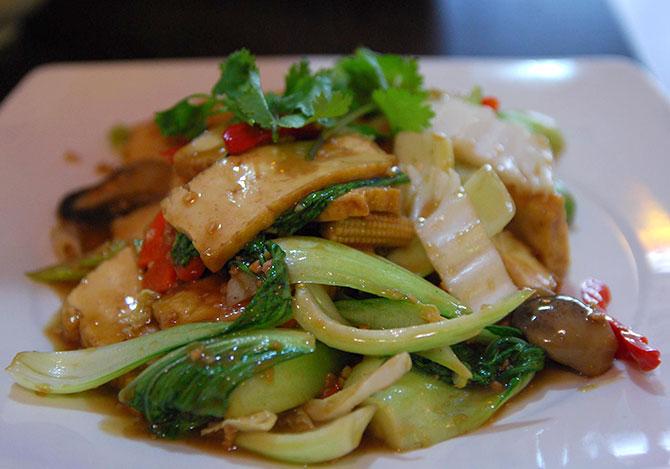 Ingredients
1 block of tofu cut in cubes
1 bunch spring onion
1/2 red onion
1 carrot
1 small green pepper
10 small broccoli florets
Almonds (optional, coarsely chopped)
Peanuts (optional, coarsely chopped)
Edamame (optional)
2 garlic pods
Stir fry sauce (from House of Tsang or Chings)
Method
In a wok, put some oil. Add chopped garlic and sliced onions and saute.
Add peanut, almonds and edamame and saute.
Add carrot, green pepper, broccoli and cook under medium flame for about 10 minutes.
In a separate flat bottomed pan, add some oil. Add tofu.
Spread it evenly so the oil enables the tofu to become slightly crisp and golden brown.
Turn the tofu pieces so that it turns brown on all sides.
Switch off the flame.
Once your veggies are cooked to 80 per cent and look crunchy, add tofu cubes and the stir fry sauce.
Mix all the ingredients and cook for 5 minutes till the sauce gets to a boil.
Garnish with spring onions.
Salt is usually added in the sauces, so check the bottle of your stir fry sauce before adding any extra salt.
Serve with brown rice or noodles.
Photograph: Alpha/Creative Commons
Also See
Reader Invite
Do you have an healthy food recipe that you'd like to share with us?
Simply write in to getahead@rediff.co.in (subject line: 'Healthy recipes') with your name and home-town, along with a photograph of the dish.
We will publish the best ones right here on Rediff.com.