What does a perfect day of eating look like?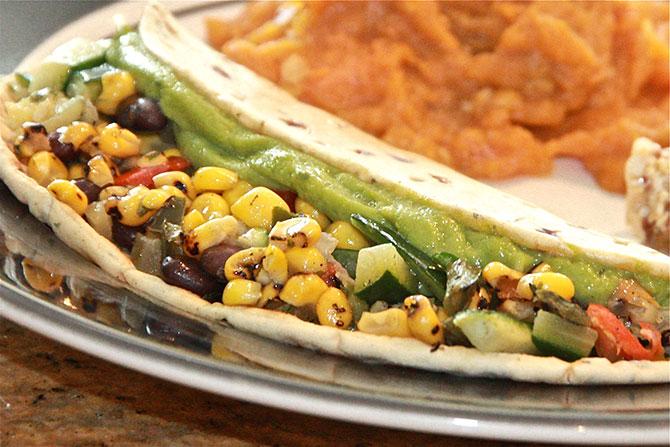 Here's a day's worth of healthful menu with recipes.
Read on and get cooking!
Please note that this is not a weight loss menu, but one that includes well balanced, healthy meals for everyday living.
Breakfast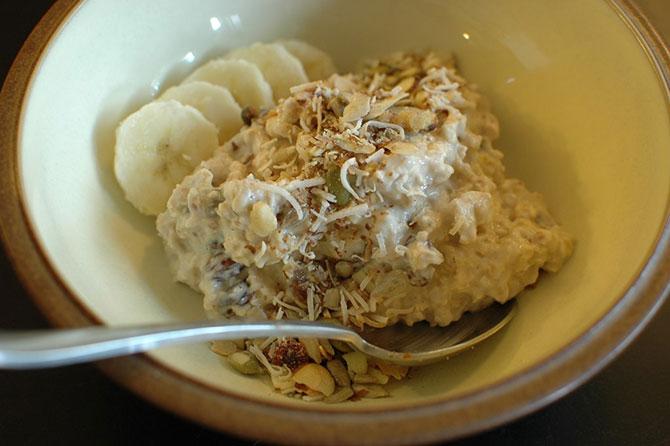 Photograph: The Hippie Triathlete/Creative Commons
Bircher Muesli
A cool, creamy and wholesome way to eat your cereal. Prepare this the night before. Pop it into the refrigerator and wake up to a ready breakfast.
Ingredients

For 1 bowl of Bircher Muesli
1/2 cup low fat yoghurt beaten smooth
1/2 cup oats
2 tablespoons orange juice
1/4 of an apple, shredded
A few raisins and chopped almonds
A dash of powdered cinnamon (optional)
Honey to taste
Method
Mix all the ingredients in a bowl, cover and refrigerate.
Have a freshly squeezed juice of your choice.
---
Mid morning perk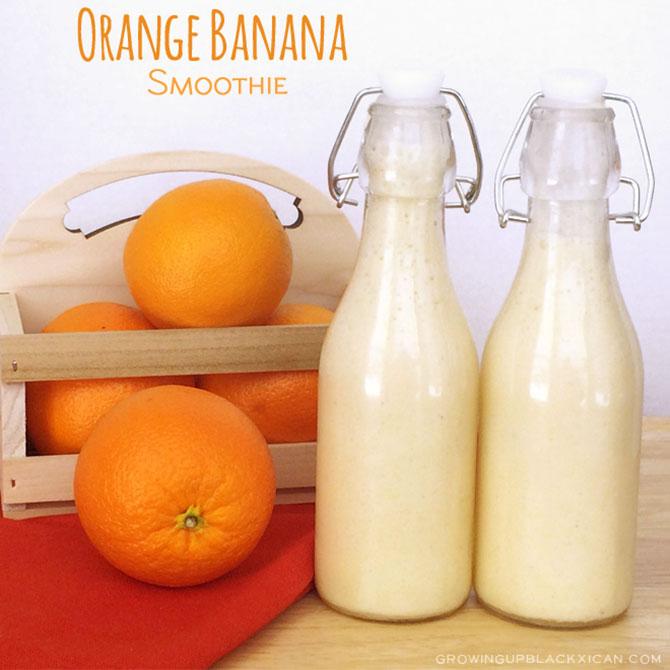 Photograph: Ruby DE/Creative Commons
Banana and Orange Smoothie
Ingredients
For one glass of smoothie
1/2 small banana
1/2 orange peeled and seeded
1/2 cup skimmed milk
1 teaspoon chopped almonds
Ice
Method
Dump everything except the almonds into a blender and mix till smooth and frothy.. Pour into a glass. Sprinkle the almonds over and drink right away.
---
Lunch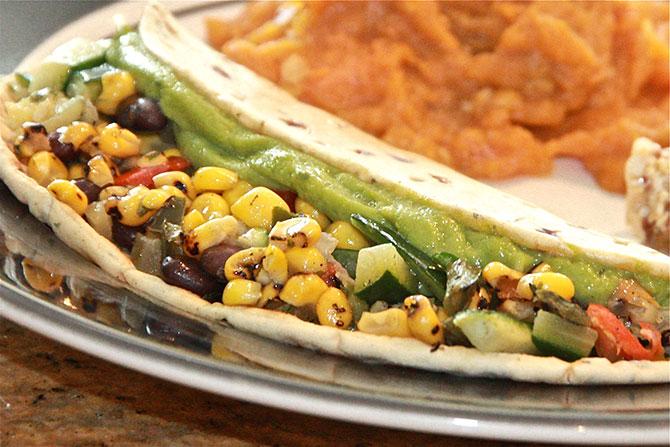 Photograph: TownePost Network/Creative Commons
Mixed Vegetable Wrap
Ingredients
For 2 wraps
2 whole wheat rotis
1/2 cup of carrots, capsicum, onion, cabbage -- jullienned
1/4 cup corn kernels
3-4 mushrooms, thinly sliced
3-4 tablespoons of tomato ketchup
A low fat spread of your choice -- mayonnaise, guacamole, cream cheese
Salt & pepper to taste
Olive oil to sauté corn kernels
Method
In a pan, heat some olive oil and sauté the corn kernels and mushrooms. Add the salt and pepper.
Turn the heat off and then add the ketchup and julienned veggies. Give it a mix and set aside.
Layer roti with your choice of spread.
Top it with half of the veggie. Roll it to make a wrap.
These wraps can be parceled into your lunch box.
---
Tea time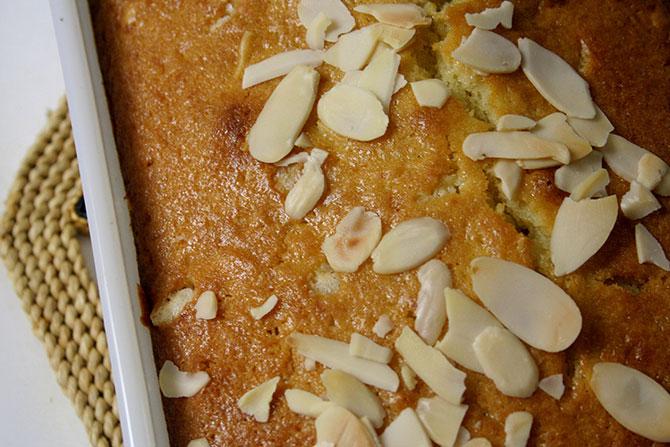 Photograph: Valerie Lam/Creative Commons
Honey Almond Cake
If there is ever a delicious AND healthy cake, this is it!
Though it is a fairly easy and quick to prepare cake, you may want to make this cake a little while before you actually want to eat it.
Ingredients
1 1/2 cups roasted almonds, finely ground (powdered, but not paste-y)
3 large eggs at room temperature. Put the yolk and white in 2 separate bowls.
1/2 cup honey
1/2 teaspoon vanilla essence
1/2 teaspoon baking soda
1/2 teaspoon salt
For the Topping
2 tablespoons honey
1/4 cup sliced toasted almonds
Method
Heat the oven to 180 degrees Celsius. Line and grease an 8x8" baking tin.
Beat egg yolks, honey, vanilla, baking soda and salt till well blended and creamy. Fold in the ground almonds with a spoon.
In another bowl beat the egg whites on medium speed until very foamy white and doubled in volume but not stiff.
Fold egg whites into the almond mix carefully until just combined.
Pour into baking tin and bake for approximately 25-30 minutes. Let it cool in the tin for 10 minutes.
Transfer it onto a serving plate and drizzle with honey and sprinkle the sliced almonds.
---
Dinner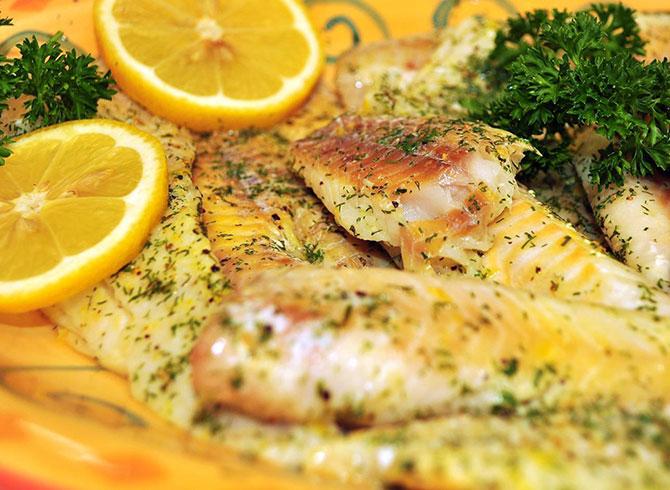 Photograph: Valerie Lam/Creative Commons
Baked Lemon Fish/ Cottage Cheese
You can make this citrusy, herby dish with either fish or cottage cheese.
Ingredients
Serves one
2 de-boned fish (of your choice) fillets of approx 150 grams each OR 300 grams of cottage cheese (paneer) sliced into 2, horizontally
1/2 cup cherry tomatoes, halved
1 tablespoon of mixed dried herbs
1/2 cup of sliced spring onion
6-7 cloves of garlic, finely sliced
2 tablespoons of sliced olives
1 tablespoon of balsamic vinegar
Juice of 1 lemon and grated zest
Freshly ground black pepper
Salt to taste
Handful of fresh parsley
Olive oil
Method
Heat the oven to 180 degrees Celsius.
Grease a wide baking tin with some olive oil.
In a bowl, mix all ingredients except the fish/paneer and parsley. Use some olive oil to thin out the mix and make it spreadable.
Spread out some of the mix on the baking tin.
Lay the fish fillets/ paneer over it and then smear the rest of the mix on top.
Bake till the fish is cooked through. It should be opaque and flaky when cut. The cottage cheese should bake until slightly browned.
Serve this with whole grain bread and Salad
Photograph: Russell James Smith/Creative Commons
Mixed Green Leaf salad with Yoghurt Dressing
This fresh salad with its creamy dressing goes perfectly with the above made bake.
Ingredients
Handful of mixed salad leaves
For Yoghurt dressing
2 tablespoons of yoghurt
1/2 clove of garlic grated
1/2 teaspoon of balsamic vinegar
olive oil
Salt and pepper
Method
Put all ingredients for the dressing in a jar. Give it a good shake till everything is blended. Pour as much as you need over the salad leaves and refrigerate the remaining.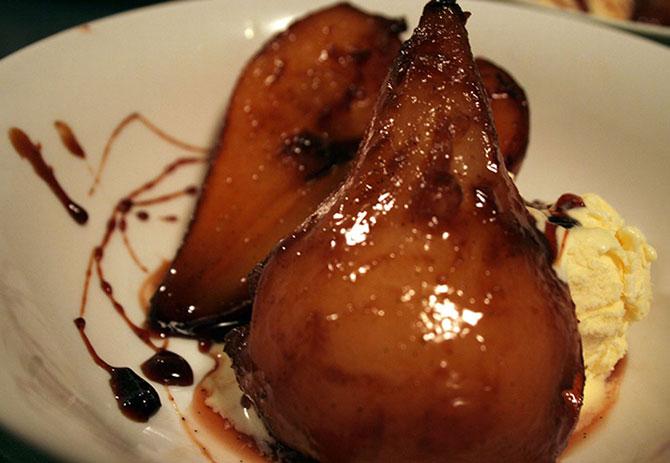 Photograph: Matt/Creative Commons
Poached Pears with vanilla ice cream
Ingredients
Serves one
A pear, peeled, cut in half and cored
1 tablespoon of sugar
1" stick of cinnamon
A squeeze of lime
3- 4 walnuts randomly broken
Water
Method
Fill a flat bottom pan with water till it comes up by about 1/2".a
Heat the water and add in the sugar, walnuts and cinnamon along with a squeeze of lime.
Drop the pears in, flat side down. Cover and allow to cook till soft.
Serve with a small scoop of vanilla ice cream
ALSO READ
> More recipes and food features here