Harnoor Channi-Tiwary visits the spanking new restaurant and returns impressed.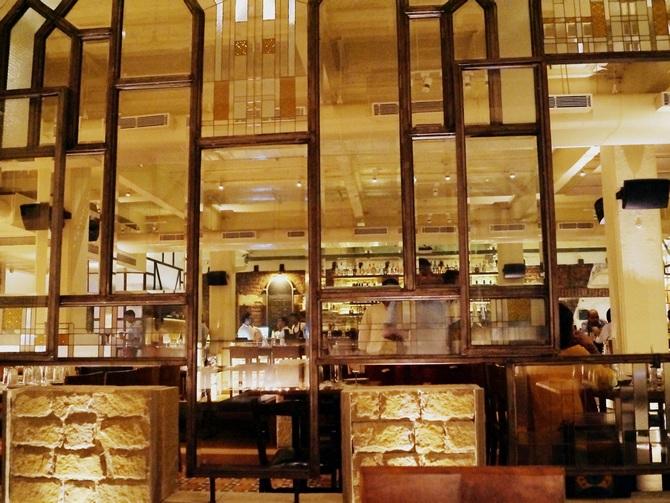 What do you say about a one-month old restaurant?
That it warms the heart and tantalises your taste-buds?
That it quite simply fills you with a sense of blissful contentment that you never want to come out of?
Like Erich Segal's Love Story, a meal in the restaurant evoked something deep inside and held on to my heart, refusing to let go.
Booked for dinner after a long and heady day, I wasn't in the best of moods when I entered.
And yet, something magical happened in those two hours and I left with a smile and a spring in my step. That is what Bombay Canteen can do to you.
The city is choc-o-block with restaurants and new dining concepts.
How does one enter such a crowded space and yet create something memorable?
Floyd Cardoz, Sameer Seth and Yash Bhanage did just that.
With decades of experience between them, both International and in the country, they conceptualised a dining experience that would parallel a visit to Disney Land, for your taste-buds and all your senses.
Bombay Canteen is not only about celebrating Bombay as is rumoured.
Undeniably, the decor is all about recreating the Bombay that existed years before Mumbai rose.
Stone walls, stained glass paintings and more do their bit in giving it a feel of an old Bombay bungalow (yes, I'm told they did exist).
But the food goes beyond the borders of the city and brings to your table, India in all its glory.
The menu manages a balance between applauding our heritage and marrying that with the modernity that allows places like Bombay Canteen to flourish.
The cocktail menu is intriguing with options like Tar-Booze (vodka based watermelon cocktail) and Dark Monsoon (Rs 325) which matches Old Monk with ginger and Angostura bitters.
I tried the Dark Monsoon which failed to please and was perhaps the only thing that let me down the entire evening.
With so many tempting dishes on the menu, it was almost impossible to pick and choose.
Thankfully, Sameer and Yash, partners at the restaurant, came to my rescue and were kind enough to customise a never-done-before Tasting Menu so that I could get a glimpse of their food-story.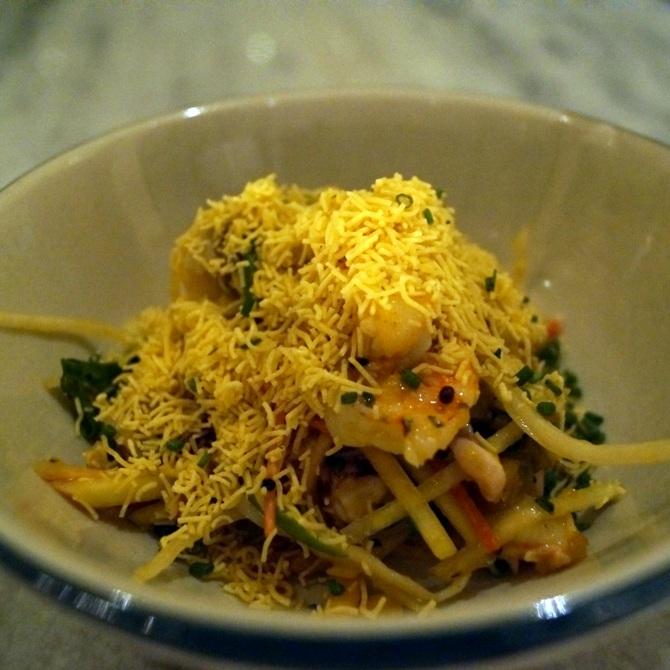 We started with the Chilled Seafood Bhel (Rs 300, above) and I was hooked at the first bite.
If you like your street food, this and the Arbi Tuk (Rs 150, below) are must haves.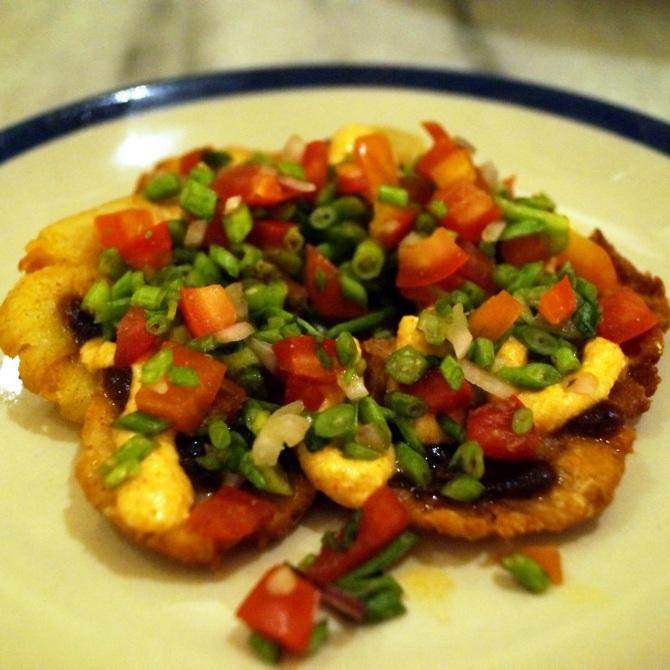 The bhel is a tossed up chaat with shrimp, calamari and kairi-date chutney topped with crunchy sev.
Tangy and delicious, it comes highly recommended.
They also do this interesting sev-puri replica with arbi roundels topped with a vegetable kachumber, imli chutney and chilli hung curd. Genius on a plate.
The much talked about Methi Theplas Tacos with Pork Vindaloo (Rs 250) failed to reach the high standards that the earlier two dishes had already set.
Redemption came in the form of Grilled Calamari (Rs 300, below). And how!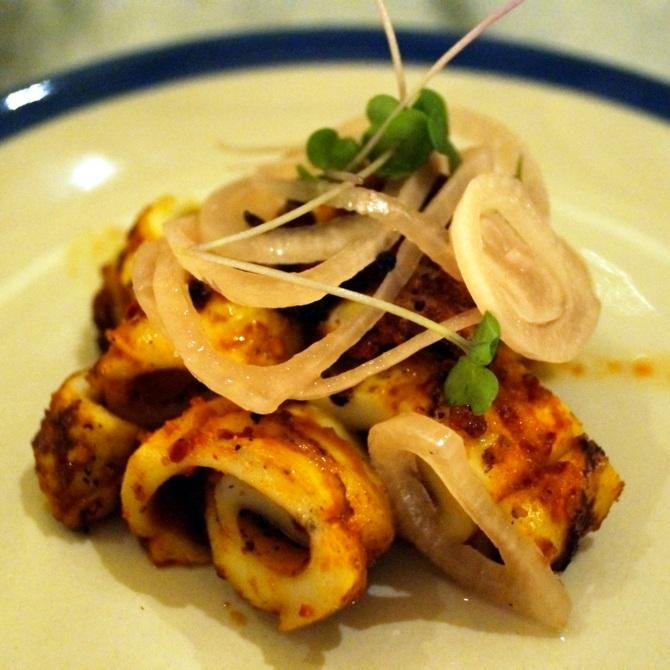 The calamari was marinated with a chilli paste and charcoal grilled to give it a smoky flavour.
Perfectly cooked, deliciously spiced and well paired with the pickled onions, this almost made it to the 'Star of the evening' award.
To go to Bombay Canteen and not try their Signature Dish, Kejriwal Toast (Rs 200, below), is but a mistake, I had been told.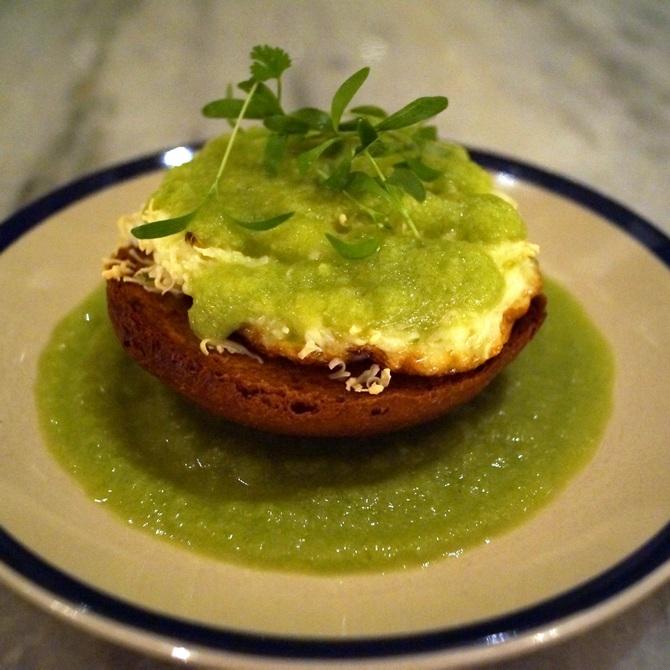 And I concur, the rumours were true.
I am a self-confessed Eggs Benedict addict and their dish draws its inspiration from the same.
A fried egg sits pretty atop half a bun (which was a tad bit hard to cut through) and is topped with melted cheese and green chilli chutney emulsified with coconut oil.
This is the kind of stuff that sets Bombay Canteen apart from the other restaurants in town.
The flavours worked perfectly with each other, complimenting and raising the dish to higher levels.
The whole is greater than the sum of its parts. I have never tasted another dish that could explain that concept better.
Already in love, hook line and sinker, they did not need to woo me further. Yet, they did. And the pièce de résistance was yet to come.
If you go to Bombay Canteen and have just one dish, let this be it (well, actually the seafood bhel and the calamari and the kejriwal too, but you know what I mean :-P).
The Tandoori Pork Ribs (Rs 550) are a little private party inside your mouth.
Cooked on the tandoor to give it a nice char, the meat perfectly juicy and succulent inside, it is served with a spicy jaggery glaze and green beans that add a crunch.
The Tingmo (Tibetan steamed bread, below) brushed with a chilli garlic paste (Rs 75) was even better than the one served at Yeti in New Delhi, the only other place where it stands out.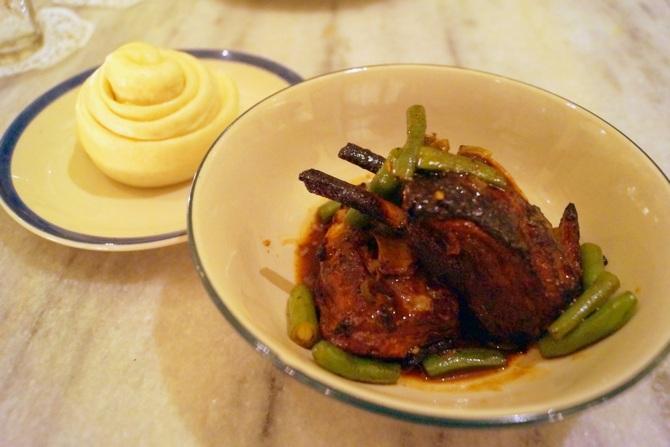 The dish is an example of how Chef Thomas Zacharias (formerly the executive chef of Olive Bar & Kitchen, Bandra) sets foot on paths un-trodden and takes each diner along on a magical gastronomical journey.
It takes courage and conviction to open a restaurant like Bombay Canteen.
It is not only about recreating an inviting space or cooking delicious food.
Many restaurants easily achieve that.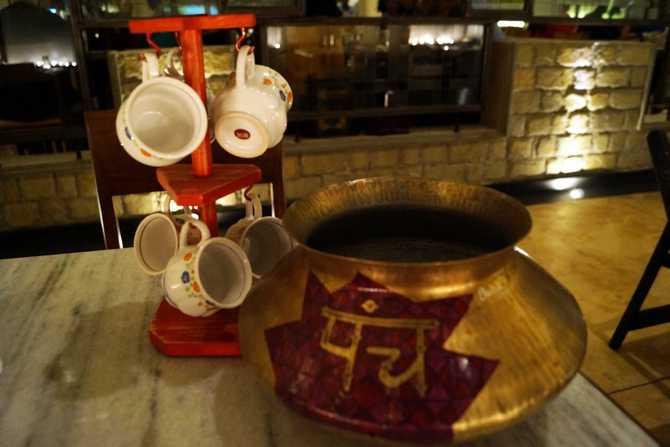 This one is about trying to push the boundaries further, stepping off the precipice and seeing if you can fly.
It can, and fly high it shall.
Reservations recommended. Currently open only for dinner (7 pm onwards)
Address: Ground Floor, Process House, Kamala Mills, Near Radio Mirchi Office, S.B. Marg, Lower Parel, Mumbai
Phone: 022 49666666
Meal for two: Approx Rs 2000
Photographs: Harnoor Channi-Tiwary