Because food is part of every celebration, and a great gifting option too.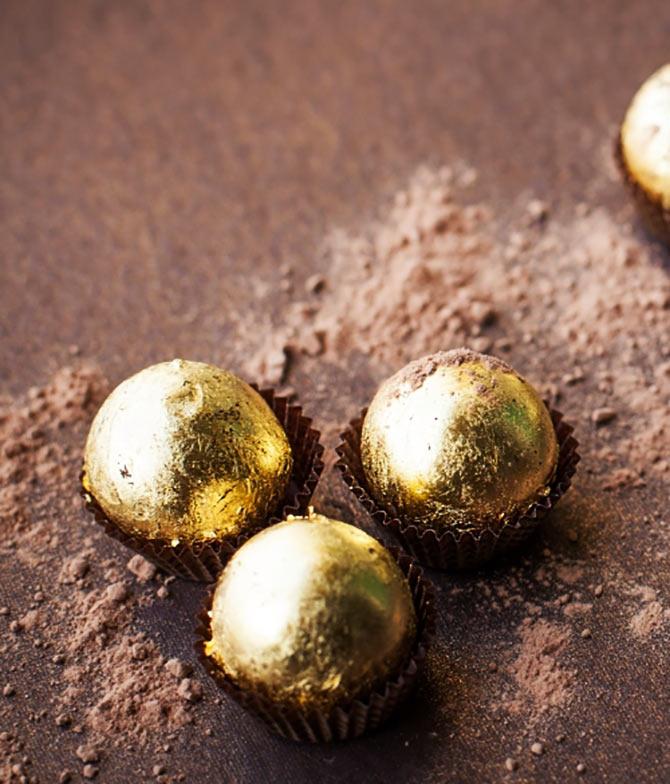 No matter which diet you're on, Diwali is when we all cheat (shamelessly) and later feel guilty (extremely!) about it.
One glance at a mootichoor laddoo garnished with saffron and pistachio makes you drool, doesn't it?
However, this Diwali, you don't need an excuse to cheat or end up feeling guilty. Simply opt for something healthy.
Sounds boring? Wondering how can a dessert be delicious without sugar, maida, flour and butter?
Well, these yummy desserts can.
They are definitely not made of sugar, butter or ghee. Instead they combine the goodness of healthy ingredients like whey protein, almond flour, oats, puffed rice, flax meal and natural sweeteners like jaggery and dates.
Home bakers across India are churning out healthy treats by the dozen. We present a select few.
Fitness Bakery, Mumbai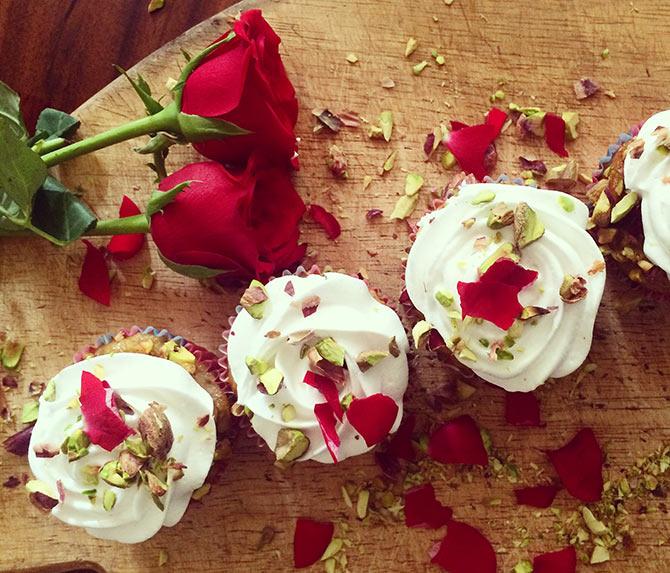 This is where Bollywood celebrities get their fill of protein bakes and guilt-free desserts. Fitness Bakery's cupcakes are grain-free, gluten-free, have no added oil or butter, and have no processed sugar. They use natural flavours and sweeteners.
From a variety of cookies like Double Chocolate, Peanut Butter, Mocha and Dark Chocolate Chip, to cupcakes, muffins and quick breads, name it and you'll find it at Fitness Bakery. They also let you make your order healthier by adding whey protein to any of the products (at an added price).
To ring in the festive season, they have introduced two new flavours: Rose and Pistachio, and Chocolate with Orange Cardamom.
Rose and Pistachio Cupcakes cost Rs 800 for 6 pieces.
Chocolate and Orange Cardamom Cupcakes cost Rs 800 for 6 pieces.
Call 7718918188 to place the order.
You can visit https://www.facebook.com/thefitnessbakery/ for more details.
V's Bake Shop, New Delhi
They have a plan: to make you fall in love with vegan food with 18 paleo vegan cookies lined-up for Diwali. Mind it! All these cookies are free of gluten, dairy products, sugar, grains and egg.
There's no dearth of flavours and variety here. From Orange Cookies made of almond meal, Dark Chocolate and Chia Cookies, to Chia and Flax Granola bars, and Almond Granola bars, they have it all.
Their Dark Chocolate cookies have allergy-friendly chocolate chips. All the ingredients used are organic and unprocessed.
Cookie trays cost Rs. 3000.
Organic baskets cost Rs. 2500.
Call 9899099333 to place the order.
You can visit https://www.facebook.com/vbakeshop/?fref=ts for more details.
Ovenderful, Bangalore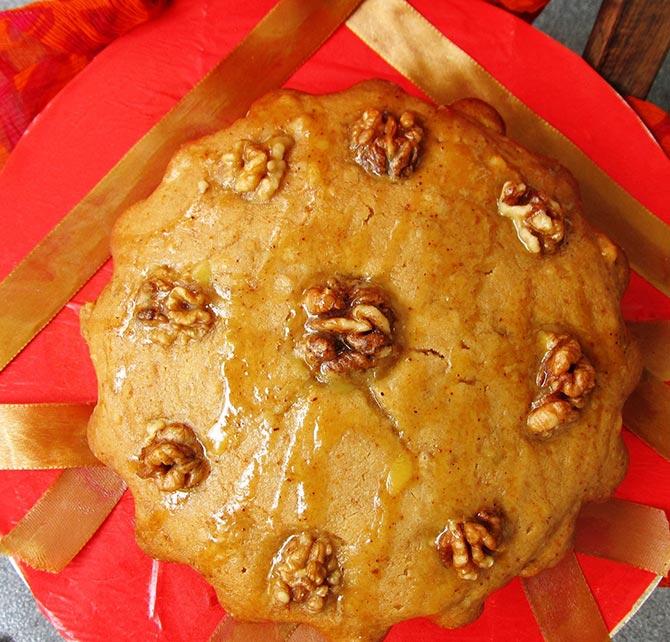 Their assorted healthy biscuits are loaded with the wholesomeness of whole wheat, ragi, oats and amaranth. And they are naturally sweetened with organic jaggery.
You can also opt for the vegan versions of the biscuits, made with nut-based milk and natural sweeteners like dates and fig purees.
The healthy cakes include the sugar-free Whole Wheat Honey Walnut Cake drizzled with a honey-butter glaze. It combines the flavours of honey and walnut with whole wheat.
Another sugar-free option is the Whole Wheat Spiced Jaggery Cake that has a strong flavour of organic jaggery. These products are free of added colours or preservatives.
Both the Whole Wheat Honey Walnut Cake and the Whole Wheat Spiced Jaggery Cake costs Rs 300 for 300 gms and Rs 500 for 500 gms.
Call 9740255588 to place the order.
You can also visit https://www.facebook.com/ovenderful/ for more details.
Nordic Kandie, Mumbai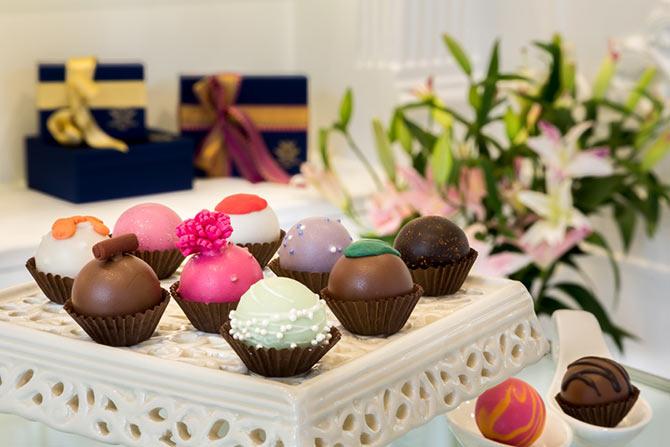 Taste one of her goodies and you'll know why she's called the 'Marzipan Queen'. An Estonian expatriate, Thea Tammeleht has been using her family's traditional recipes to create 'gourmet marzipans'.
Nordic Kandie's marzipans are rich, sweet confections made from almond and chocolate.
These pure vegetarian delights have absolutely no alcohol and are gluten-free and trans fat-free.
Some of their royal Indian flavours include almond, anjeer, rose and cardamom, chilli mango, nutmeg and cinnamon. You can also try out the edible gold and silver varieties.
Royal packaging box of 6 costs Rs 267 onwards.
Royal packaging box of 9/12/15/18 costs Rs 455 onwards.
Jar of chocolate dipped dried fruits costs Rs 425 for 150 gms.
Mini marzipans in attractive Nordic Kandie glass jars cost Rs 578 onwards. Flavours include anjeer, chilli mango, rose cardamom.
Diwali hampers start at Rs 2,350.
Call +91 9699641112 to place the order. Delivery: Across India
You can also visit http://www.marzepan.com for more details.
Available at: Mumbai: Shop # 1, Vasant Villa, 3 Peddar Road, Kemps Corner, Mumbai 400036
5 to 7 Baker, Chennai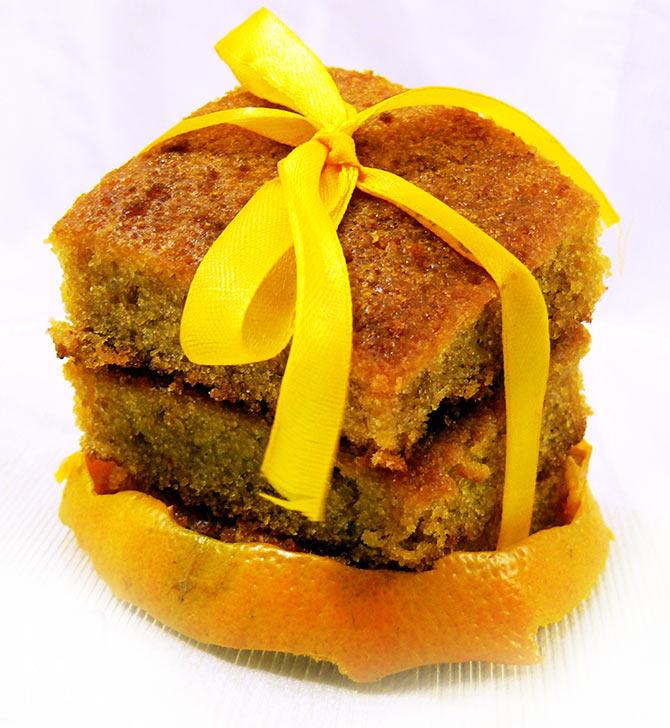 RadhikaAvinash of 5 to 7 Baker is often flooded with questions from friends and eager relatives on how they can have sweets on Diwali and not feel guilty about it. That's how she got the idea of creating guilt-free desserts.
A social media marketing specialist, Radhika bakes in the mornings from 5 to 7. Now you understand why the bakery is called 5 to 7?
At 5 to 7, refined sugar is a complete no-no. It is replaced with cane sugar, palm sugar and extracts from cashew nut as well! Ice cream and sorbets too are made with sugar replacements.
This Diwali, 5 to 7 Baker is offering a cheese cake with beetroot, red beans and dark chocolate. Nuts ground in coconut oil serve as the biscuit base and the cake will be topped with chocolate ganache, made of dark chocolate with 90 per cent cocoa.
The bright red 'rice flour cake pops' make for a colourful Diwali sweet. They get their colour from the red rice used, and are made using dates and jaggery as sweeteners. They are topped with desiccated coconut.
Radhika hopes to surprise South Indian patrons with a Vegan Adhirasam Panna Cotta cake with homemade coconut milk and coconut sugar. Adhirasam is a South Indian delicacy prepared during Diwali, and
Radhika has given the traditional sweet a twist with the panna cotta.
The sugar-free Beet and Red Beans Cheesecake costs Rs 150 for an individual serving.
6 pieces of the gluten-free Red Rice Flour Cake pops costs Rs 350.
Vegan Coconut and Adhirasam Panna Cotta costs Rs 120 for an individual serving.
Call 9003152774 to place orders.
You can also visit www.facebook.com/5to7baker/ or write to them at 5to7baker@gmail.com for more details.
Cupcake Noggins, Bangalore and Kerala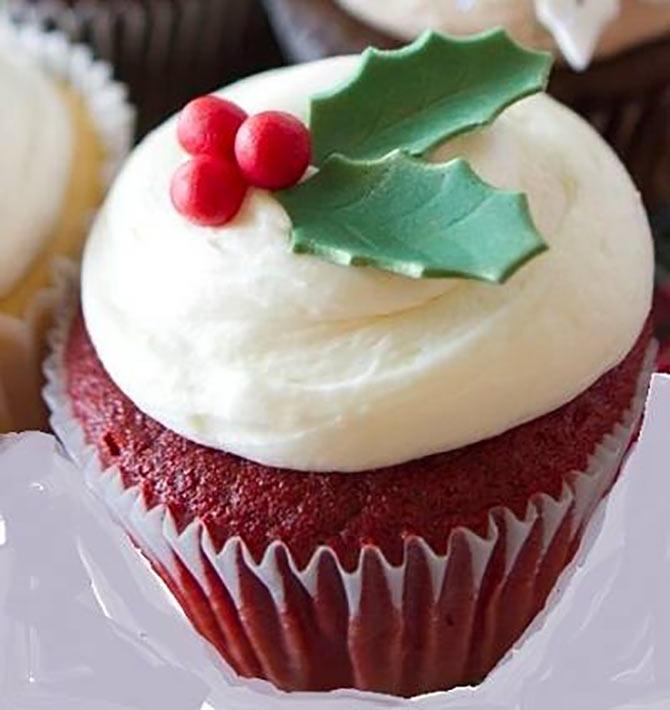 Their guilt-free cupcakes are a treat. The varieties include Beetroot, Carrot and Pumpkin Cupcakes. For the beetroot cupcakes, they use molasses instead of sugar.
Their carrot and pumpkin cupcakes also have low sugar and more molasses.
Here's a baker who cares about patrons with nut allergies too. Display cards at the store will warn you of the goodies you shouldn't be consuming just in case you have a nut allergy.
The cards specify if the cakes have nuts, and of which varieties.
The cupcakes cost Rs 70 each.
Visit their online store www.cupcakenoggins.com to place orders.
You can also visit https://www.facebook.com/cupcakenoggins/ for more details.
Available at: 8th Main Rd, Ooty Chocolates Road, Opposite Exide Showroom, Below Mahalakshmi Departmental Store, Koramangala 4 Block, Bengaluru
SEN Business Center, Cliff House Road, Nanthencode, Trivandrum
Back to the Basics, Pune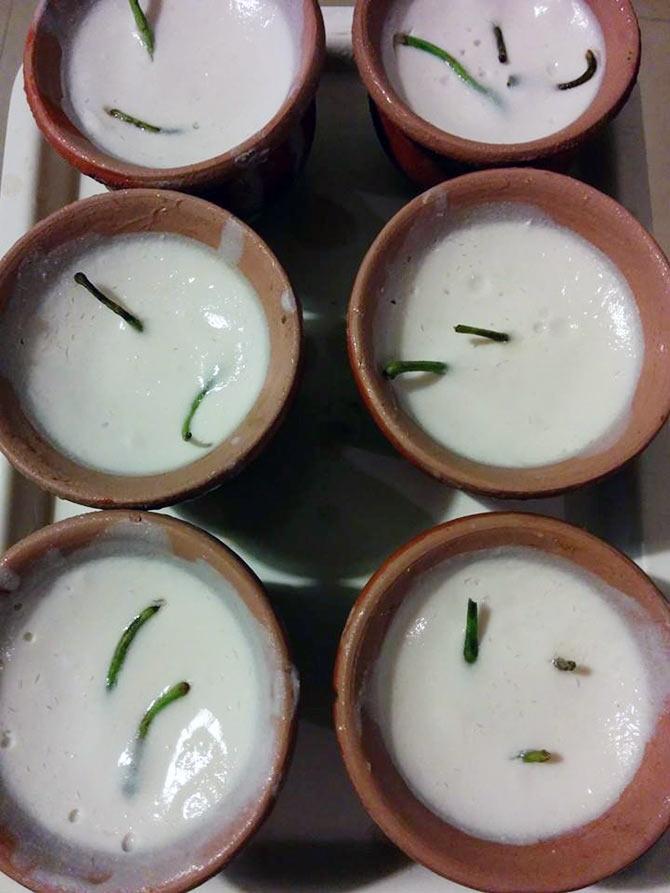 The trick is to experiment with food and who seems to know it better than Anuradha Sawhney of Back to the Basics. Anuradha, incidentally, is the author of The Vegan Kitchen: Bollywood Style.
Keeping up with the flavour of the season, she has planned corn daliya laddoos for Diwali. They resemble the traditional boondi laddoos, except that they are sugar-free and have added nutrition in the form
of corn daliya.
Other Diwali treats include the oil-free chevda with red rice flakes, cranberries and almonds. Their sugar-free, maida-free cookies are made using nachni and brown rice flour and are filled with dry fruits. Also
available are sugar-free energy bars, and gluten-free crackers.
Daliya laddoos costs Rs 300 per kg.
Oil-free chevda costs Rs 225 for a pack of 100 gms.
Cookies start at Rs 150 for 100 gms.
Sugar-free energy bars costs Rs 100.
Call 02065223569 or Whatsapp 8806177007 to place the order.
You can also visit www.Facebook.com/veganfoodpune for more details.