Leading chefs from across the country share their journeys to find exotic ingredients and techniques.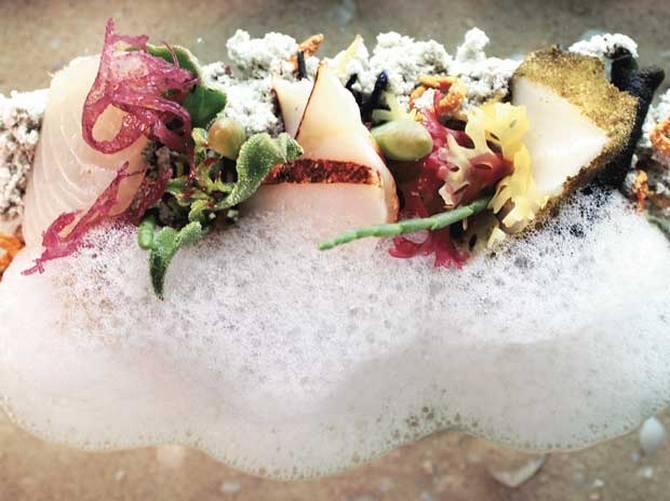 Diego Martinelli
Chef de Cuisine, Le Cirque, Leela Palace, New Delhi
"I don't do museums when I travel," smiles Diego Martinelli.
From Le Cirque, the signature restaurant at The Leela Palace, New Delhi, one can get a bird's eye view of the lush, rain-washed city.
What can be a better setting to talk about journeys, and that too journeys in search of honest, rich and wholesome flavours.
"I usually travel to find an eatery that I had been craving to try out for a long time.
You end up borrowing thoughts, colours and perceptions," he says.
Martinelli, who has worked across Europe, West Asia and Southeast Asia with hotels such as Bulgari Hotels and Resorts and The Fullerton, to name two, counts vegetable markets as one of his biggest inspirations.
Even though he has been living in the capital since the past three months, the INA market is already a favourite with him.
"Once a week, I take my staff there.
"We come back and play around with the ingredients sourced from there.
"For instance, I saw this guy grinding mountains of fennel seeds.
"Back in Italy, where I grew up, this ingredient wasn't easy to come by.
"I ended up buying kilos of it," says Martinelli who has introduced tuna with fennel seed dust at Le Cirque.
Another ingredient that took him by surprise during his travels around Indonesia, where he was based for a long time, was the ginger flower.
"It is widely used in northern Indonesia to prepare the sambal.
"It is also used in Japan to be paired with miso in fish dishes. Its taste is mild but persistent," he says.
Seared Yellowfin Tuna in fennel seed dust
Ingredients
400 g tuna loin
100 g fennel seeds
Juice of one lemon
40 ml extra virgin olive oil
Dill sprigs
Salt and pepper to taste
Method
Crush the fennel seeds and pass it through a sieve to get a fine powder.
Sprinkle the tuna on both sides with fennel seeds powder, salt and pepper.
Heat the oil in a frying pan over medium-high heat.
Sear the tuna on both sides until done to your liking, about two minutes per side for medium rare (still raw in the middle) or three minutes per side for medium (just pink in the middle).
Let the tuna rest for a few minutes.
Transfer to a chopping board and thinly slice with a sharp knife. Arrange the sliced tuna on serving plates.
Drizzle with olive oil, a touch of lemon juice and fresh dill sprigs.

Abhijit Saha
Founder and chef, Caperberry & Fava, Bengaluru
It was in 2008 that Abhijit Saha had a life-changing culinary experience.
He was travelling in the United Kingdom when he decided to have a meal at Chef Heston Blumenthal's Michelin-starred restaurant, Fat Duck.
It is considered impossible to find a table at the 42-seat restaurant and one needs to book three months in advance.
Accompanied by his chef friend, Karan, Saha took a train from Paddington to Maidenhead, and after a short taxi drive arrived in Brey (Berkshire), where the restaurant is located.
"I realised that the chefs were making use of a lot of new-age techniques. It made me look at ingredients and techniques differently.
"I discovered the usage of liquid nitrogen and then started using it in my restaurant as well.
"It was an important journey as a chef," says Saha.
It was interesting to see chefs collaborating with perfumers, food physiologists, biochemists and even industrial designers to extend the limits of molecular gastronomy.
The meal opened with a Nitro Green Tea and Lime Mousse.
The steward foamed out the mousse mixture from a whipped cream dispenser into a small bowl of liquid nitrogen, resulting in a small meringue.
In the mouth, the firm exterior collapsed to reveal chilled liquid foam.
He was also treated to Blumenthal's signature dish: snail porridge, joselito ham and fennel shavings.
"In another journey, during my travels around Spain, I discovered the use of edible flowers to lift the look and feel of a dish. We are now working with growers in India as well to use this in our dishes," says Saha.
"The other interesting thing I noted in Europe was the use of extra virgin olive oil in desserts."
White chocolate and olive oil pudding with cocoa crumble, vanilla ice cream and strawberry
Ingredients
For the white chocolate pudding
400 g white chocolate
300 ml cream
100 ml extra virgin olive oil
For the cocoa crumble
50 g unsalted soft butter
50 g castor sugar
50 g almond powder
50 g flour
10 g cocoa powder
8 scoops vanilla ice cream
8 fresh strawberries.
Method
For pudding
Roughly chop the white chocolate and set aside.
In a saucepan, bring the cream to boil.
Remove from heat, add chopped chocolate and olive oil.
Mix well with a whisk, pour into eight serving bowls and refrigerate for an hour.
For the chocolate crumble
Mix all ingredients, except the butter.
Rub in the softened butter.
Spread on a baking tray and bake at 170'c for 10-12 min.
Remove from the oven and cool.
Place a scoop of ice-cream on each bowl of pudding and sprinkle with cocoa crumble and strawberry.
Sujan S
Chef de Cuisine, Olive Bar and Kitchen, New Delhi
Sujan S spent most of his career in the United Kingdom.
Borough Market, one of the oldest and the largest food markets in London, used to be a favourite haunt of his.
"That's where I came across all sorts of truffle preparations -- truffle cheese, black truffle, white truffle and more.
"The smell and flavour emanating from them would take you to another world," says Sujan.
He believes that the ingredient can transform a simple dish to an elegant one.
It's extremely versatile as it goes well with meats, pastas and sauces.
"What impressed me was the way they cleaned and preserved truffles at the Market.
"A special brush was used to wash away the mud, after which the truffle was dried quickly.
"It was sometimes preserved in airtight jars filled with risotto rice," says Sujan.
The pill, when extracted from black truffle, can be put in red wine, which can then be used to make a sauce.
Truffle-scented celeriac custard
Ingredients
60 gm celeriac puree
6 eggs
100 ml milk
100 ml double cream
30 ml white truffle oil
Salt
White pepper to taste
Method
Heat milk, cream and celeriac puree in a saucepan, bring it to boil.
Remove from heat.
Blend the mixture at low speed.
Slowly add truffle oil, eggs and seasoning.
Strain the mixture into another deep pan and let the custard sit for a few minutes.
Skim off any foam risen on top.
Pour the custard mixture into eight small (200 ml) heat proof jam jars with lids.
Place those jars in a bain-marie or water bath and cook in a pre-heated oven of 275 degree F for 40 minutes, until set.
Cool before serving with toasted brioche and truffle butter.
> More food features and recipes here