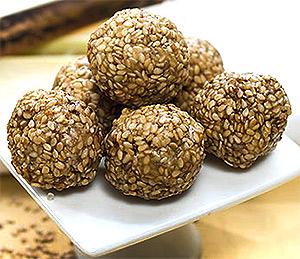 On the occasion of Sankranti/Pongal/Lohri, we bring you some traditional, easy to make recipes you can treat your loved ones to.
The harvest festival marks the onset of spring and is an occasion for Indians to celebrate.
No Indian celebration is complete without desserts and good food.
We bring you six festive recipes to relish and enjoy.
---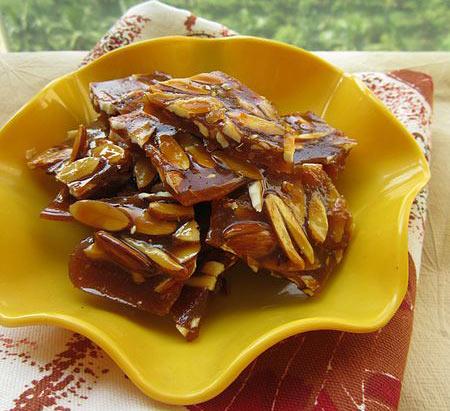 Photograph:
Divya Kudua/Wikimedia Commons
Ingredients
1 cup peanuts, cashews or almonds (roasted and skinned)

¾

cup sugar or jaggery

¼

tsp cardamom powder
Method
Melt the jaggery in a non-stick pan till it turns honey brown in colour.
Crush the peanuts and add it to the melted sugar with a pinch of cardamom powder.
Put this mixture immediately into a greased plate or tray.
Spread it to the desired thickness evenly using a rolling pin.
Immediately cut it with a greased knife.
After it cools, separate the pieces and store in air tight containers.
---
Til Laddoo
Photograph: Courtesy Zee Khana Khazana
Recipe by Chef Pankaj Bhadouria
Ingredients
1 cup sesame seeds
1 cup jaggery
1 tbsp ghee
½ tsp cardamom and sugar powder
Method
Roast sesame seeds in a pan.
Remove the seeds into a bowl and keep it aside to cool.
Take jaggery and some water in a pan and bring to a boil. Make the syrup a little thick.
Add roasted sesame seeds to this.
Add cardamom and sugar powder. Keep aside to cool.
Make laddoos out of the mixture and serve.
---
Sakkarai Pongal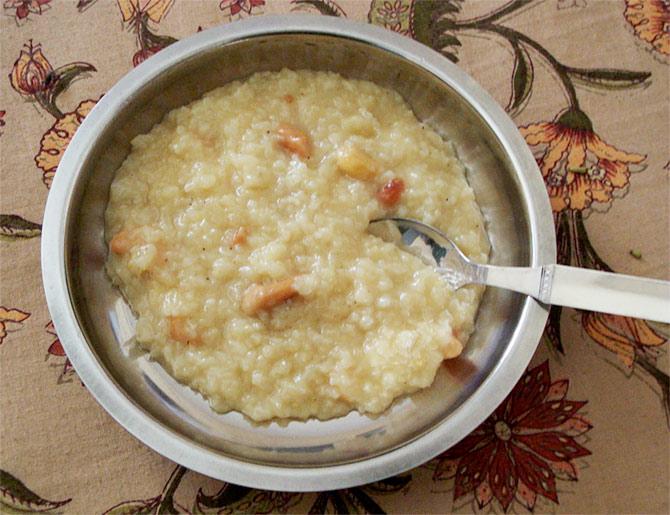 Photograph: Kind courtesy Mailz2kumar/Wikimedia Commons
Ingredients
200 gm raw rice
25gm moong dal
1 cup milk (boiled)
6 cups water (approx)
400 gm jaggery
2 tbsp grated coconut
6 to 7 cashewnuts
A few raisins

½

tsp cardamom powder
½ cup ghee
Method
Dry roast the moong dal for one to two minutes, till fragrant.
Wash and soak the raw rice for about 15 to 20 minutes.
Take a large pot or heavy bottomed pan, pour in the milk and water and bring to a boil. (Use an earthen pot for better flavour)
Add rice and moong dal to the boiling water and cook till the rice turns mushy. This may take 30 to 40 minutes depending on the rice.
Meanwhile, add ¾ cup of water to the jaggery and keep on low flame, till the jaggery melts. Cool and strain to remove any dirt particles.
Add the jaggery syrup, grated coconut and cardamom powder to the softened rice and mix well. Do not add jaggery until the rice is soft and mushy.
When the mixture starts to thicken, take it off the flame.
Heat the ghee, lightly saute the cashew and raisins and pour over the hot sweet Pongal.
---
Ven Pongal/Brown Rice with the traditional Pongal Sambar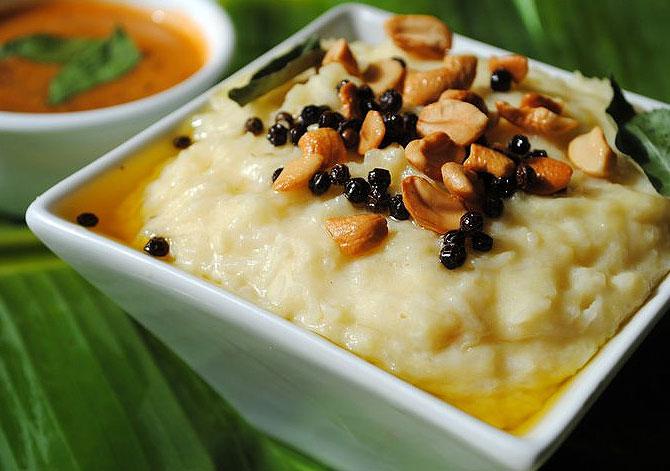 Photograph: Surabi Food/Creative Commons
Ingredients for Ven Pongal
1 cup raw rice
¼ cup moong dal
4 cups water
Salt to taste
For seasoning
2-3 tbs ghee
1 tsp pepper
1 tsp jeera
A generous pinch of asafetida
Curry leaves
5-6 cashews
Method
Dry roast the moong dal for one to two minutes, till fragrant.
Wash the rice and pressure cook along with the dal for about four to five whistles.
When the pressure goes down, open the cooker and lightly mash the rice
Heat the ghee, add pepper, jeera, asafetida, curry leaves and finally the cashew
Saute till the cashew is golden and pour over the Pongal.
Ingredients for brown rice
1 cup brown rice
2½ cups water
Salt to taste
Method
The only difference between cooking brown rice and white rice is the rice to water ratio. Because of the outer bran coating, more water and a slightly longer cooking time (approximately five minutes extra) is needed to cook brown rice.
Alternately you can cook the rice in a pot with lots of water and drain the excess water after the rice is cooked.
For sambar
2 cups arhar dal/toor dal
4 cups assorted vegetables (choose the vegetable and their quantity according to your preference; brinjal, carrot, drumstick, beans, radish, peas, different varieties of pumpkin, yam, etc)
Half raw mango chopped
1 tomato
5-6 green chillies
6-8 garlic pods
4-5 shallots (whole)
A pinch of turmeric powder
Lemon sized tamarind ball
2 ½ tbsp sambar powder
Salt to taste
For seasoning
3 to 4 shallots (chopped)
½ tsp mustard seeds
2 dried red chillies
A generous pinch of asafetida
Curry leaves
Coriander leaves
Oil
Method
Pressure cook the dal with the tomatoes, shallots, green chillies, garlic and turmeric powder in four cups of water for three to four whistles (seven to eight minutes).
Meanwhile, soak the tamarind in water for 10 to 15 minutes, and extract the juice. Keep aside.
Wash and chop the vegetables.
Pour some oil in a pan; add the vegetables and saute for a few minutes.
Add a cup of water and cook the vegetables for six to seven minutes.
Open the cooker, mash the dal well, and add the tamarind extract, the chopped raw mango, boiled vegetables and salt to taste.
Keep it back on the flame and allow it to boil.
Cook over low heat for four to five minutes.
For seasoning, heat oil in a pan, add mustard seeds, when it splutters, add chopped shallots, dried red chillies, curry leaves, asafoetida and sambar powder.
Saute for a few minutes and pour over the dal.
Garnish with lots of fresh coriander and your delicious sambar is ready.
---
Photograph: Rashmi Gupta/Creative Commons
R
ecipe by food blogger Smruti Shah

Ingredients for methi muthiya
1 cup wheat flour
¼ cup gram flour
½ cup chopped fenugreek leaves
Few sprigs of chopped cilantro
½ tsp sugar
1 tbsp salt
½ tsp red chilli powder
¼ tsp turmeric powder
1 tbsp chilli garlic ginger paste
1 tsp sesame seeds
1 tsp carom seeds
1 tsp oil
1 cup water
Method

Mix wheat flour with gram flour.
Add fenugreek leaves, cilantro, sugar, salt, red chilli powder, turmeric powder, chilli garlic ginger paste, sesame seeds, carom seeds and oil. Mix well.
Add water gradually, and knead into a firm dough.
Make either round or log-shaped muthiya.
Deep fry the muthiyas. You can also shallow fry to avoid excess oil. Keep aside.
Ingredients for the vegetables
½ cup lilva tuvar (green pigeon peas)
½ cup val papdi (Indian flat beans)
½ cup surti papdi
10 baby potatoes
½ cup purple yam
½ cup white yam (ratalu)
6 baby eggplants
½ cup sweet potatoes
Green masala
1 cup shredded coconut
¼ cup fenugreek leaves finely chopped
Method for green masala
To make green masala, blend

½

cup green chillies, 1 inch ginger piece, 5-6 garlic cloves, a bunch of green garlic shoots along with the garlic, 2 cup cilantro, a pinch of salt,

½

tsp carom seeds,

½

tsp cumin seeds, 1 tsp sugar in a blender.
Add as little water as possible and make a thick green paste. Keep aside.
Take the baby potatoes, de-skin them and slit them with a '+' shape on one side. Ensure it is not cut through the other side. Repeat for baby eggplants.
Cut the remaining vegetables into cubes, about the same size as the potatoes and eggplants.
Mix the green masala with shredded coconut and use ¼ of the masala to stuff the potatoes and eggplants.
Assembly
Heat 5 tbsp oil in a big and deep pan.
If the muthiya is to be shallow fried, use this oil to shallow fry and make the undhiyu in the same oil. This gives the oil an extra flavour.
Once muthiya is crisp and golden brown on the outside, remove from the oil onto a kitchen towel.
Add 1 tsp each of mustard seeds, cumin seeds, carom seeds, sesame seeds and a pinch of asafoetida in the oil.
Once the mustard seeds pop, add half of the remaining green masala and let it sizzle for a minute or two.
Add all the greens (lilva tuvar, val papdi and surti papdi) to the oil.
Sprinkle some salt and sugar on them, to avoid discoloration.
Layer the potatoes, yams and sweet potato.
Put the remaining green masala on the top and finally add the eggplants and muthiya.
Top the mixture with fenugreek leaves and some shredded coconut.
Make a mixture of 2 tsp salt, 1 tsp sugar and half cup water.
Sprinkle the mixture on top of the undhiyu and cover it. Cook for 30 to 35 minutes till the vegetables are soft.
Before serving, mix the undhiyu well, top with shredded coconut and cilantro and serve with puri or phulka.
---
Jalebis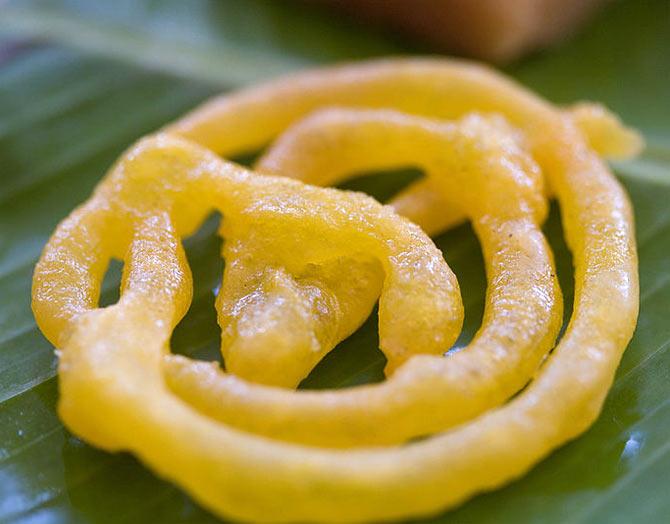 Photograph: Wikimedia Commons/Charles Haynes
Recipe by Rediff reader Sarani Tarafder
Ingredients
½ cup all purpose flour
1 tsp cornflour
¼ tsp lemon juice
1 tsp yogurt
½ tsp Eno fruit salt ( the regular one, easily available in Indian grocery stores)
6-8 tbsp water (enough to make a smooth pancake like batter)
A few strands of saffron (optional)
Food colour -- orange or yellow (optional) or a pinch of turmeric
Ghee or oil -- enough for frying (ghee will make it more flavourful)
For the sugar syrup
¾ cup sugar
1/3 cup water
A fat pinch of cardamom powder
½ tbsp lemon juice
Few strands of saffron (optional)
You will need a piping bag or a ketchup/mustard dispenser/squeeze bottle.
Method
In a small saucepan, heat the water, sugar and cardamom (plus one split cardamom) on medium heat till the sugar dissolves and it comes to a boil.
Add the saffron strands.
Lower the heat and let it simmer till the syrup reduces and thickens to a one-string consistency. Keep it aside.
Heat oil/ghee (or oil+ghee) in a pan (medium heat).
In a measuring cup (it will just be easier to pour into the dispensing bottle), mix the flour with yogurt and give it a whisk.
Add the cornflour, lemon juice, strands of saffron (pre-soaked in a tbsp of water) and mix well.
Add the water little by little till you get a thick and smooth batter.
Whisk in the food color or pinch of turmeric.
Lastly, add the eno fruit salt. The moment you add the eno fruit salt, the batter will start frothing. It is very important that you add the fruit salt last.
Pour the pancake-like batter (if it is too runny, it will not hold the shape while frying) into the dispensing bottle or piping bag.
Now pipe spirals of the batter onto the (medium) hot oil. Fry 2 or 3 at a time till they turn golden brown on each side.
Do not overcrowd the pan or else the jalebis will not be cripsy.
Drain excess oil on a paper towel and dunk the jalebis into the warm sugar syrup.
Let the golden-brown spirals soak in the sugary goodness before you serve these.
Note:
These remained crispy the next day as well. We just warmed up the jalebis a little before eating the next day.
Make sure you dunk the fried jalebis in the syrup while it is still hot (and the sugar syrup warm).
The batter should be thick and not runny.
The oil should be medium hot.