Enjoy these lip-smacking Eid specialities!
Reshma Aslam shares 3 traditional recipes on the holy occasion of Eid ul-Fitr, the festival marking the end of the fasting month of Ramzan.
Badshahi Gosht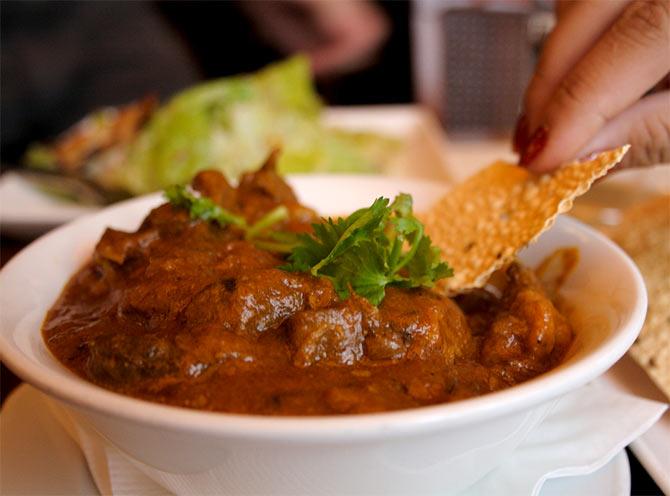 Ingredients
1 kg mutton, cut into 2 inch pieces
4 to 5 onions, chopped
1 cup tomato puree
1 cup thick yogurt
1 cup fresh cream
15 cashew nuts ground to a smooth paste (grind after soaking cashews in hot water for 10 mins)
1 tbsp ginger garlic paste
1 tbsp chilli powder
1/2 tbsp garam masala powder (all spice powder)
1 tsp turmeric powder
1 tbsp coriander powder
2 to 3 tbsp oil
3 to 4 green cardamoms
1 small piece of mace (jaavitri)
1 small piece of nutmeg powder (jaiphal)
Salt to taste
Method
Marinate mutton in a mixture of salt, chilli powder, coriander powder, turmeric powder, yogurt and tomato puree for 4 to 5 hours.
Heat oil and add mace and cardamom. Saute chopped onions until golden brown.
Add ginger garlic paste. Cook for a minute and add the cashew nuts paste. Mix well. Add a little water if paste sticks to the pan.
Add the marinated mutton. Mix well and cover with lid.
Cook till mutton is tender.
Add fresh cream, garam masala powder and nutmeg powder. Mix well.
Let it simmer for 25 to 30 minutes.
Serve with bread, roti or paratha.
Photograph: gahdjun/Creative Commons
---
Nawabi Biryani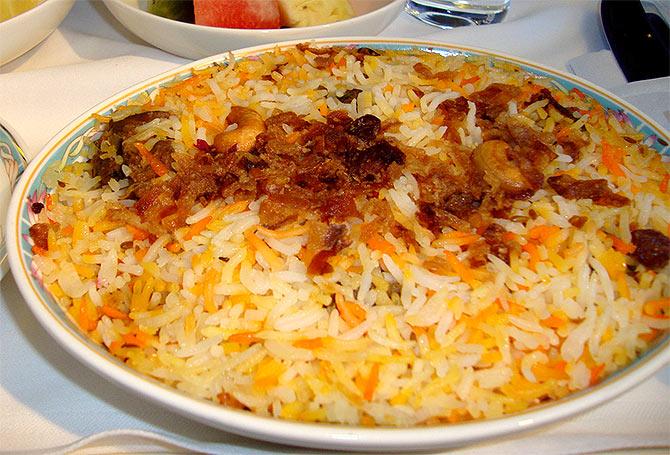 Ingredients
1 kg mutton pieces
750 grams basmati rice, par boiled.
750 gram onions, julienned (for birasta)
250 gram oil (for birasta)
½ cup smoked oil
250 gram thick curd
1 tbsp ginger garlic paste
1 tbsp red chilli powder
2 tbsp coriander powder
1 tbsp tandoori powder
1/2 tbsp turmeric powder
1/2 tbsp garam masala powder
1/2 tsp red food colour
1/2 kg potatoes, fried
Wheat dough enough for two rotis
1/2 cup ghee
1/2 cup coriander leaves, chopped
1/2 cup mint leaves, chopped
Few cashewnuts and few apricots
Few peppercons
2 bay leaves
2 star anise
2 to 4 green cardamoms
2 tsp shahjeera
Salt to taste
Method
Birasta
Fry onions until golden brown.
Remove on tissue paper.
When it cools, grind or hand-crush it. Keep aside.
Smoked oil
Heat 1/2 cup oil. Place a small piece of live coal in a vessel and pour the hot oil over it. Cover it with lid.
Parboiled rice
Boil to 2 to 3 liters of water in a big vessel. Add salt, few peppercons, 2 bayleaves, one star anise.
Add the washed rice.
Boil till it is half done. Strain excess water.
Biryani
Clean, wash and cut mutton pieces. Apply salt.
Add curds, birasta, ginger garlic paste, red chilli powder, coriander powder, tandoori powder, turmeric powder, garam masala powder, red food colour. Mix well.
Add half of the chopped coriander and mint leaves. Mix well and marinate for 6 to 8 hours in refrigerator.
Heat smoked oil in a thick-bottomed vessel. Fry shahjeera.
Add mutton. Let it fry for a good 20 minutes. Turn off flame.
Add fried potatoes. Layer parboiled rice over the mutton.
Sprinkle remaining coriander and mint leaves. Garnish it with cashewnuts and apricots.
Pour hot ghee over the rice.
Cover vessel with a lid and seal the edges with the wheat dough.
Heat a tava and put the vessel on it. Cook on high flame for 10 minutes and then on low flame for 40 to 45 minutes.
Serve hot with raita.
Photograph: James/Creative Commons
---
Sheer Khurma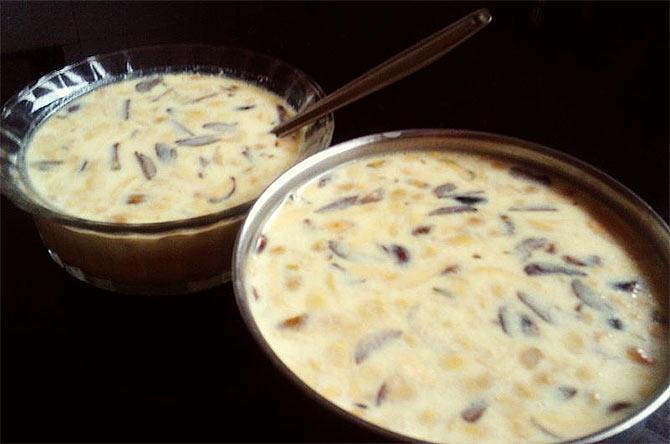 Ingredients
1 litre milk
100 grams roasted vermicelli (crushed into small pieces)
1 cup sugar
2 tbsp ghee
1/2 cup dry fruits chopped (almonds and pistas julienned, charoli or chironji)
Method
Boil milk. Add sugar. Let it simmer so it thickens. Keep stirring in intervals.
Heat ghee in a pan. Fry the vermicelli till golden brown.
Remove from pan and let it cool.
Add to the boiling milk.
Garnish with dry fruits. Serve warm.
Photograph: Sahil Tiwarie/ Creative Commons
---
Also See
Want to share your favourite recipe? Simply e-mail your recipes to getahead@rediff.co.in (subject line: My Fav Recipe) with your name, hometown and any interesting details about the origin of the recipe, along with a photograph of the recipe, if possible. We'll publish the best preparations right here on Rediff.com and India Abroad.