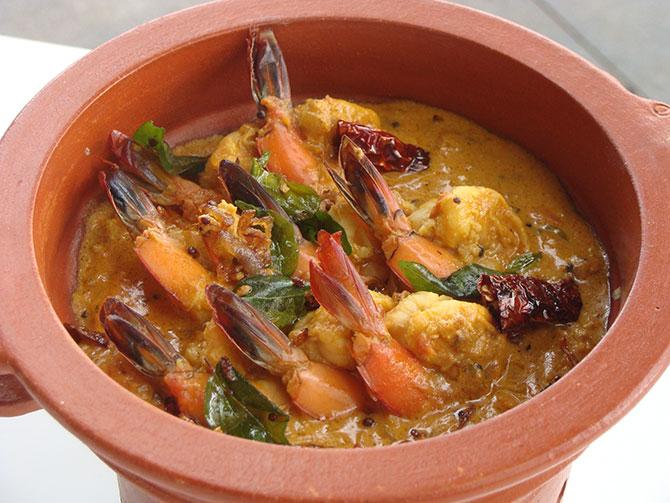 Easter, the feast of reverence and symbolism, after the austere period of fasting, chimes with the mood of celebration and is all about good food.
Easter eggs, which represent new life, are the most common symbol of Easter.
And although Easter eggs are a must, it's the meats and seafood that people eagerly await on Easter, which they usually abstain from during Lent. Non-vegetarian delicacies are thus savoured on this feast.
Mini Ribeiro gets four chefs from across India to share their favourite Easter recipes which they relish.
In Kerala, the Christian community may look forward to beef and pork, but seafood dishes are equally an attraction.
Meen Mappas, Recipe by Chef Michael Saju, Executive Chef, Holiday Inn Cochin
Chef Michael Saju, Executive Chef, Holiday Inn Cochin reminisces how as a child he would wait for his father to go shopping on the Saturday before Easter to buy fresh fish, which his mother would then prepare on Easter Sunday for lunch.
This home-style fish delicacy made with fresh coconut is intrinsic to celebrations and is best enjoyed with the sweetish sour, fluffy appams according to the chef. Till date, he faithfully follows his mother's recipe.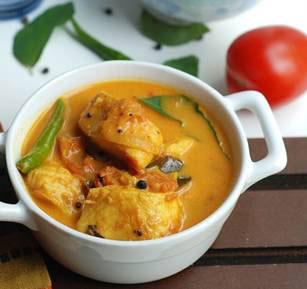 Ingredients
500 gm fish cut into medium pieces
4 cardamoms
3 cloves
1 cinnamon stick
2 onions (finely sliced)
3 tsp ginger garlic paste
2 tomatoes
3 green chilli
½ tsp turmeric powder
¾ - 1 tsp pepper powder
1 ¼ cup thin coconut milk
¾ cup thick coconut milk
Few curry leaves
Oil
Salt
Method
Heat oil in a pan and add cardamom, cloves and cinnamon and saute for 2 mins.
Add sliced onion and curry leaves and cook till onion becomes golden brown in colour.
Add green chilli, ginger garlic paste and cook for 2-3 mins.
Add turmeric and pepper powder, salt and cook for 2-3 mins.
Add chopped tomato and cook for 2 mins.
Add thin coconut milk and wait till it starts boiling.
Add fish pieces and cook with the pan covered in low-medium heat till fish is cooked (swirl the pan in between).
Once the fish is cooked, add thick coconut milk.
Cook for another 4-5 mins in low flame. Switch of the stove.
Pour 1 tsp of ghee over the curry prepared. Keep the pan closed for some time and serve hot with palappam
****
Chemmeen Masala, Recipe by Chef Thomas Joseph, Executive Chef, Crowne Plaza Bengaluru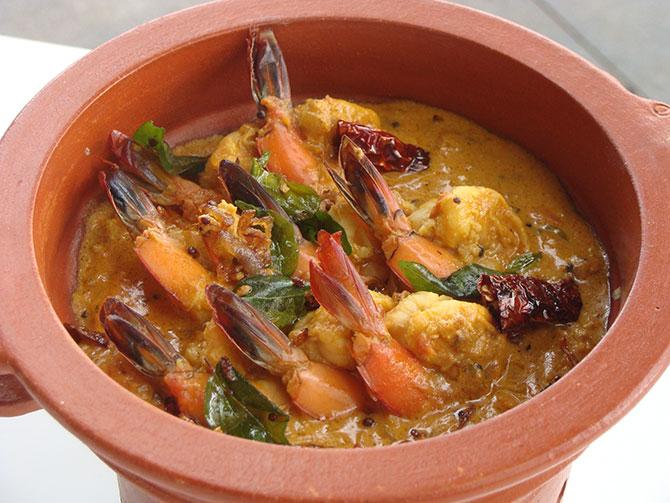 Living by the sea has its own advantages according to Chef Thomas Joseph. "Our house being on a riverbank and also in close proximity to the sea, it was but natural to have a prawn preparation on all special occasions like Easter. Made with fresh prawns, coconut and spices, Chemmeen Masala is an all- time festive special in our family," he reveals.

Ingredients
500 gm prawns (U40 cleaned, tail off)
6 gm green chili
15 gm red chili powder
15 gm coriander powder
5 gm turmeric powder
250 gm onion, chopped
200 gm tomatoes, chopped
20 gm ginger, chopped
10 gm garlic, chopped
5 gm fenugreek seeds
30 ml refined oil
200 ml coconut milk
Salt to taste
5 gm mustard seeds
3 gm black pepper, crusted
Method
Wash the prawns with salt and turmeric powder. Strain and keep aside.
Heat oil, add mustard seeds, fenugreek seeds, onion, garlic, ginger, green chilli and curry leaves.
When the onions turn light brown, add coriander powder, chilli powder and turmeric powder.
Cook for a minute, add tomatoes and allow to cook till the tomatoes are very soft and mushy.
Add the prawns and simmer it till the prawns are cooked.
Add the coconut milk, black pepper and simmer for a minute.
Adjust the seasoning and serve hot.
***
Shepherd's Pie, Recipe by Chef Clement DCruze, Hyatt Regency Kolkata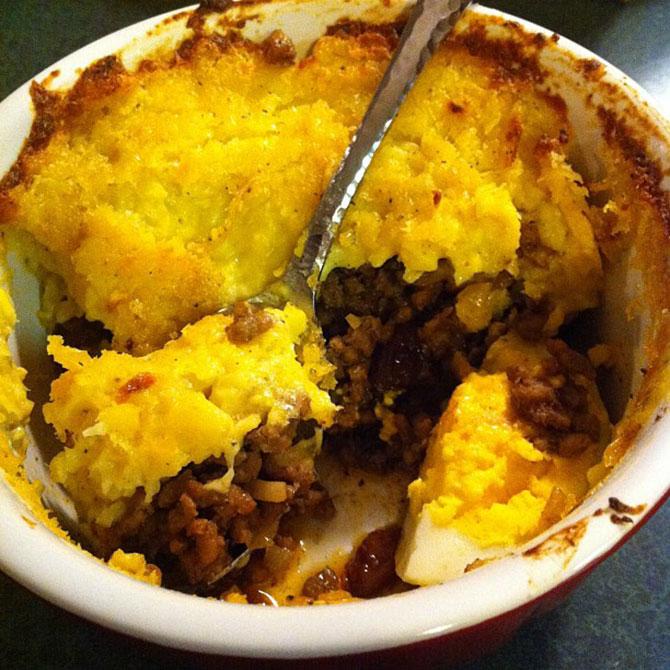 Photograph: Courtesy Amber DeGrace/Creative Commons
Shepherd's Pie -- made from lamb mince seasoned in British style and then baked under a potato topping -- is a classic dish, and Kolkata having a strong British influence has adopted this dish. Those craving for lamb on Easter, yet not keen on a lamb curry, opt for this.
"I too enjoy it," says Chef Clement DCruze.
Ingredients
1 tbsp olive oil
1 brown onion (halved, finely chopped)
1 carrot (peeled, finely chopped)
2 celery sticks (trimmed, finely chopped)
500 gm lamb mince
2 tbsp plain flour
1 dried bay leaf
1 tbsp Worcestershire sauce
1 tbsp tomato paste
Salt and freshly ground black pepper
4 (about 200 gm each) potatoes (peeled and chopped)
40gm butter
125 ml (1/2 cup) milk
Melted butter (to brush)
Method
Heat oil in a large saucepan over medium-high heat. Add onion, carrot and celery and cook, stirring, for 5 minutes or until soft. Add lamb mince and cook, stirring to break up any lumps, for 5 minutes or until lamb changes colour.
Add flour and cook, stirring, for 2 minutes or until combined. Add stock, bay leaf, Worcestershire sauce and tomato paste. Bring to the boil. Reduce heat to low and cook, stirring occasionally, for 30 minutes or until sauce thickens. Taste and season with salt and pepper.
Meanwhile cook potato in a saucepan of salted boiling water for 15 minutes or until tender. Drain well. Return to the pan with the butter. Use a potato masher or fork to mash until smooth. Add milk and use a wooden spoon to stir until combined. Taste and season with salt and pepper.
Preheat oven to 200°C. Spoon lamb mixture into a 2 L (8-cup) capacity ovenproof baking dish. Top with mashed potato and use a fork to spread over lamb mixture. Brush with butter. Bake in preheated oven for 20 minutes or until mashed potato is golden brown. Serve immediately.
***
Dukra Maas (Pork curry), Recipe by Chef Crystal Mendonca, Executive Chef, Peninsula Grand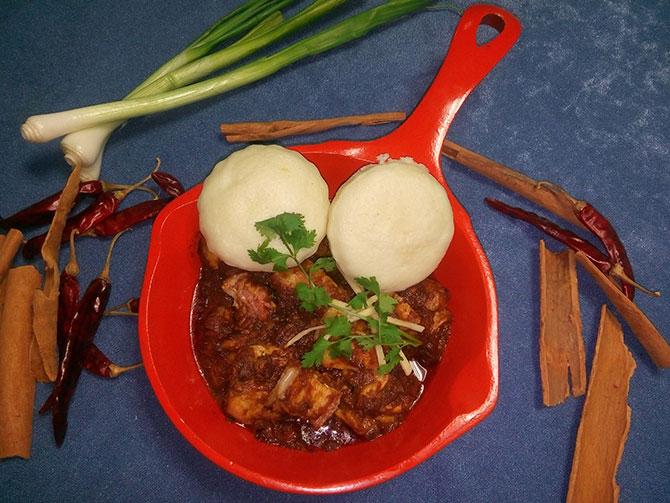 According to Chef Crystal Mendonca, the elders in Mangalore believe that although the 'lamb' may be the most significant symbol of Easter, for Mangaloreans, the 'pig' has always been a symbol of 'good luck'. They also vote it for 'peace' because as you are done with the house blessing prayers, after which 'Dukra Maas' is savoured and hunger satiated, peace engulfs the house as everyone retires for a well-deserved siesta on Easter. His family favourite is this typical Pork curry which they enjoy with sanna.

Ingredients
1.5 kg pork (cut into 4 cm cubes, leave the fat on)
2 cups boiling water
3 medium size potatoes (cut into 1 cm thick slices)
3 onions
2 tbsp tamarind pulp
2 tbsp toddy vinegar
8 flakes garlic
1 tbsp sugar
10 gm ginger
2 tsp cumin seeds
7-8 dry red chilli (Bedgi or Sankeshwari)
1 tsp turmeric powder
6 peppercorns
6 cloves
4 green chilli
6 cm cinnamon
2.5 tsp salt
8 tsp (120 ml) oil or ghee
Oil to deep fry potatoes
Method
Heat oil or ghee and add pork pieces and fry till light brown. Remove and set aside.
Fry the potatoes separately and drain.
Dry roast the red chillies, cumin and peppercorns.
Grind them together with the onions, ginger, garlic, green chillies, turmeric, tamarind pulp and vinegar.
Heat the oil used to fry the meat and fry the cinnamon and the cloves.
Add the ground masala paste and fry for 4-5 minutes while sprinkling water as required to prevent masala from burning.
Add the sugar, boiling water, meat and salt and stir well.
Cover and cook till meat is done. Add the fried potatoes. Serve hot.