Celebrity chef Ripu Daman Handa shows us how to whip up a delightful meal this Dussehra.

Welcome the grand festival of Dussehra with these two delicacies.
Here are the recipes:
Bombay Biryani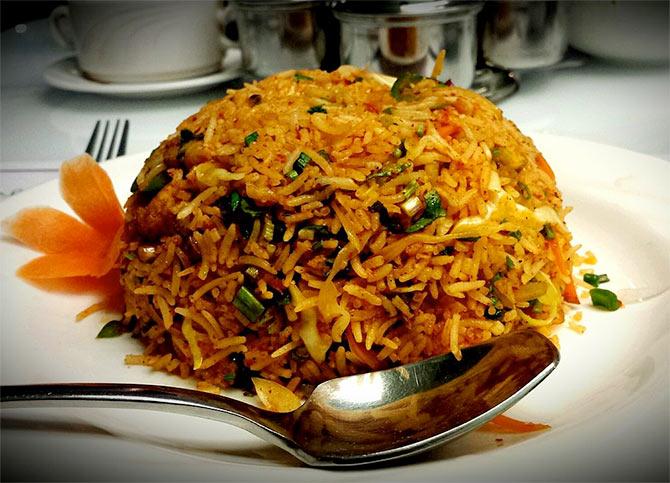 IMAGE: Bombay Biryani.

All Photographs: Kind courtesy

Glocal Brand Solutions
Ingredients
2 tbsp oil
1 tbsp ghee
1/2 cup green capsicum, cut in pieces
1/2 cup red capsicum, cut in pieces
1/2 cup of carrot, cubed
1/2 cup of potatoes, cubed
1/2 cup of cauliflower florets
1 spring curry leaves
1/2 tsp cumin
1 tbsp ginger garlic paste
1 onion, ground into paste
2 green chilies (as per your taste)
1/2 tsp cumin powder
1 tsp red chili powder
1 tsp garam masala powder
1 tsp coriander powder
30 to 40 ml thick yogurt
10 cashews and 2 tbsp water melon seeds, ground together to a smooth paste with little water
2 medium-size tomatoes, pureed
20 mint leaves, crushed and juice extracted
Few strands of saffron soaked in 1 tbsp milk
For the rice
2 and 1/2 cup of water
1 and 1/2 cup extra-long grain basmati rice (soaked for 30 min)
1 tbsp oil
1/2 cup green peas
2 inch cinnamon sticks
6 cloves
4 cardamom
1 bay leaf
Method
Boil water in a pan.
Add salt and all the ingredients mentioned for preparing the rice.
When the rice is fully cooked, put off the flame and set aside.
If the water isn't enough to cook the rice, you can sprinkle some warm water and cook. Make sure you don't over-cook the rice as it will become mushy.

Heat oil in another pan and fry the red and yellow capsicum on a high flame until it's partially cooked. Keep aside.

Fry the potatoes, carrots and cauliflower florets until they are almost cooked, set aside. (

Alternately you can use cooked vegetables).
Take another pan and heat oil.
Add cumin and curry leaves. Allow them to splutter.
Add onion paste and fry until the onion paste turns golden. It takes for about two to three minutes.
Add ginger garlic paste and green chilies and fry to get an aroma.
Add garam masala, turmeric powder, cumin powder and red chili powder. Saute for a min.
Add tomato puree and fry until the mixture becomes thick.
Add yogurt and gently mix well.
Add the cashew and water melon seed paste. Fry for a minute to get an aroma.
Pour half to three-fourth cups of water, salt and bring it to a boil.
Once done, add the fried vegetables. Make sure that blend the vegetables well with this mix. Cover and cook for two minutes. Keep aside.
To assemble
Layer half portion of the cooked rice with half portion of the fried vegetable mixture. Top it up with half portion of the fried red-yellow capsicum mixture.
Repeat the same with the remaining portion of rice, mixed vegetables and capsicum mixture.
Add coriander leaves on the top.
Sprinkle some mint juice and saffron dissolved in milk.
Cover the entire mixture and cook for two to four minutes on a low flame. Make sure that you do not burn the biryani.
Serve with raita.
---
Rice Phirni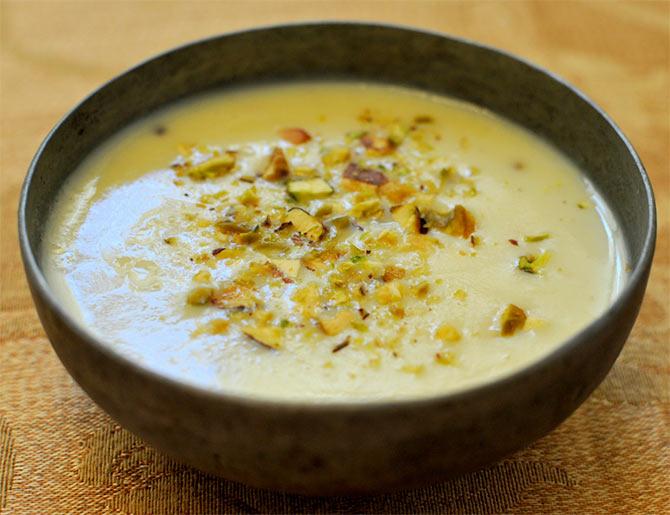 IMAGE: Rice Phirni.
Ingredients
1/4 cup basmati rice
1 litre organic milk
3/4 to 1 cup sugar or as required
18 to 20 almonds, blanched (reserve a few for garnishing)
6 to 7 green cardamoms, crushed and powdered
12 to 15 strands of saffron
Method
Rinse the rice a couple of times in water.
Drain and let the rice dry on its own. You can even wipe the grains dry with a kitchen towel.
Grind rice in a dry grinder or coffee grinder until the consistency resembles fine semolina. (You can also soak the rice in water for 30 minutes, drain and grind it into a semi fine powder.)
Keep the ground rice aside.
Heat milk in a thick bottomed broad pan.
When the milk gets warm, take one tablespoon from it in a bowl.
Stir the saffron strands in this warm milk. Keep aside.
Allow the milk in the pan reach to a boil.
Lower the flame and add the ground rice. Stir and add sugar.
Cook the ground rice in milk on low to medium flame. Do not cover the pan.
Keep stirring at intervals so that lumps aren't formed.
Take almonds and water in a microwave bowl, and heat it in a microwave for two to three minutes.
When the almonds are warm, peel and slice them. Discard the almond peels.
Reserve a few almond slices for garnish.
When rice is almost cooked, add almonds, cardamom powder and the saffron dissolved in milk.
Stir and cook for another five to six minutes or more until the phirni thickens.
Pour phirni in serving bowls. Garnish it with the remaining chopped almond slices.
Cover the bowls and cool it down.
Once cool, refrigerate. Serve.
Celebrity chef Ripu Daman Handa is the winner of MasterChef India season 3. He recently prepared the above mentioned recipes using rice from brand Amira Pure foods at the Annapoorna Food Festival last month.
---
Send us your favourite recipes! Mail to us at getahead@rediff.co.in (subject: Recipe) with your name, city/town and any interesting details about the origin of the recipe, along with a photograph if possible.
We'll publish the best recipes right here on Rediff.com.