Traditional Bengali preparations to help celebrate Durga Puja.
No Bengali festival can be over without a gala feast. Naturally therefore, every Bengali kitchen is abuzz with activity during Durga Puja, the festival of festivals.
I present here are a few mouth-watering dishes culled from my mother's cookery diary:
Luchi (Puri)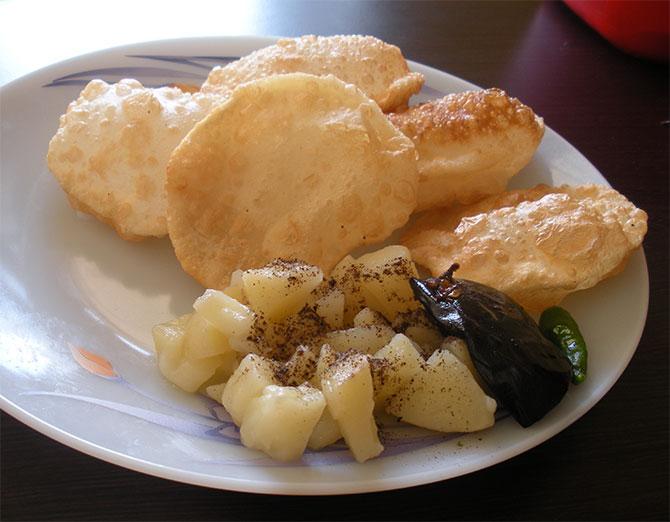 Ingredients
250 gm maida (refined flour)
3 tbsp mustard oil
1/2 tbsp salt
1/2 tbsp sugar
Lukewarm water to knead
Oil to fry
Method
Add 2 tbsp oil, salt and sugar to the maida and mix it uniformly. Knead into dough with lukewarm water.
Make small balls.
Flatten them into round pancakes, approximately 4 cm in diameter.
Deep fry them till they puff up and turn light brown.
Serve hot with any vegetarian or non-vegetarian dish.
Photograph: OdetomyLife/Creative Commons
Shorshe Ilish (Hilsa in mustard sauce)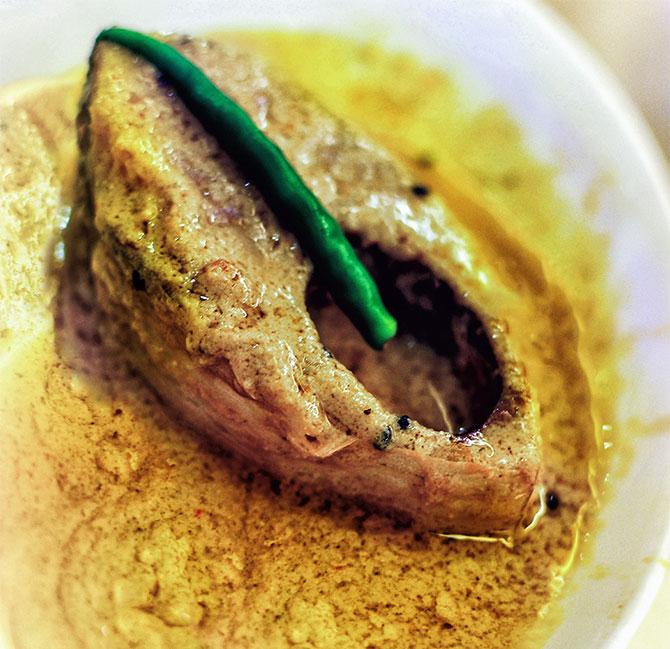 Ingredients
1 medium-sized Ilish (hilsa), cut into 8 pieces
1 cup brown mustard seeds paste
4 green chillies, slit in the middle
4 tsp mustard oil
1 tsp haldi powder
1 tsp of red chilli powder
Salt to taste
Method
Arrange the fish (without overlapping) in a microwave-proof container.
Mix mustard paste, haldi, salt, green chillies and oil.
Pour the mixture evenly over the fish.
Cover the container and microwave on 70 per cent power for four minutes.
Take out the container.
Turn the fish over gently.
Microwave for four more minutes.
If you do not have a microwave, you can pressure cook the ilish marinated with the aforesaid mixture for two whistles.
Serve hot with steamed rice.
Photograph: Sirsendu.mohanta/Creative Commons
Kasha Mangsho (Meat curry dry)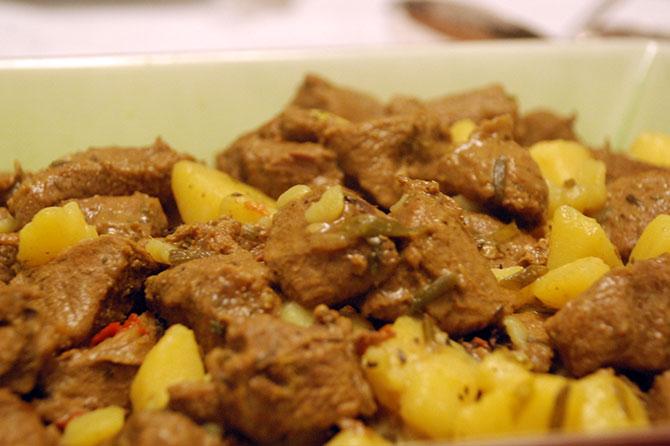 Ingredients
1 kg lamb or mutton
1 cup cooking oil
1 tbsp whole garam masala
1 tbsp garam masala powder
3-4 bay leaves
1 tbsp garlic paste
2 tbsp yogurt
2 tbsp ginger paste
2 onions, large
1 tbsp turmeric (haldi) powder
2 tbsp red chili powder
2 tbsp coriander (dhania) powder
2 large potatoes
2 tbsp ghee
1 tbsp roasted cumin (jeera) seeds
1 tbsp red chilli powder
Method
Wash the meat and cut it into small pieces.
Cut each potato into four pieces.
Add garlic, ginger paste and yogurt to the meat. Marinate for 30 minutes.
Heat the oil in a pan.
Add bay leaf and the whole garam masala.
Fry for 30 seconds.
Add sliced onions and fry till light brown.
Add garam masala powder.
After 30 seconds, add the red chilli, haldi and dhania powder and fry it on slow heat till the oil separates from the gravy.
Add little water if the spices start to stick to the bottom of the pan.
Add the marinated meat and potatoes.
Cook on low heat till oil separates from the curry.
Remove the potatoes from the pan and add 1 cup of water.
Cook the meat in a pan with a lid on, for an hour, stirring frequently as required till the meat becomes tender.
Add the potatoes.
Add ghee, roasted cumin, roasted red chilli powder and mix well.
Serve hot with rice, pulao or luchi.
Photograph: Tony Moore/Creative Commons
Payesh (Kheer)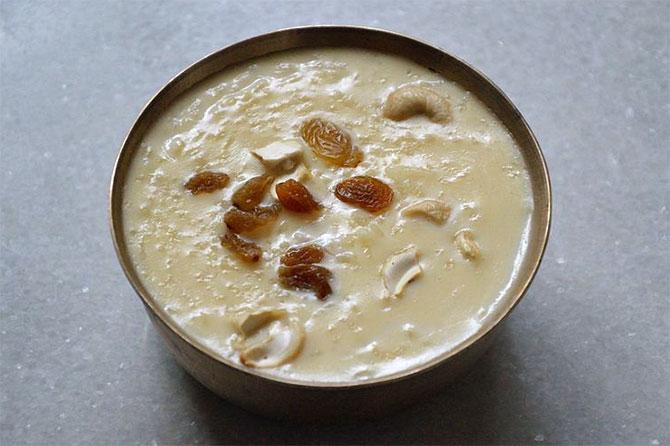 Ingredients
Ghee or sunflower oil
¼ litre milk
3-5 tbsp sugar
3 pods green cardamom
100 gm rice
1 tbsp of chopped almonds
1 tbsp of raisins
1 tsp of pistachios
Method
Heat ghee or sunflower oil in a pan and fry the rice (the colour should not change).
Boil milk and add the rice.
Boil till the milk thickens.
Add sugar and cook on low heat.
Grind the seeds of the cardamom pod to a fine powder and add it to the mixture.
Cook on low heat for 5 minutes.
Garnish with chopped almonds, raisins and pistachios.
Serve cold.
Photograph: Biswarup Ganguly/Creative Commons
Click here for more interesting recipes and food features!
Want to share your favourite recipe? Simply e-mail your recipes to getahead@rediff.co.in (subject line: My Fav Recipe) with your name, hometown and any interesting details about the origin of the recipe, along with a photograph of the recipe, if possible. We'll publish the best preparations right here on Rediff.com and India Abroad.