It is time to impress your guests with these delicious recipes.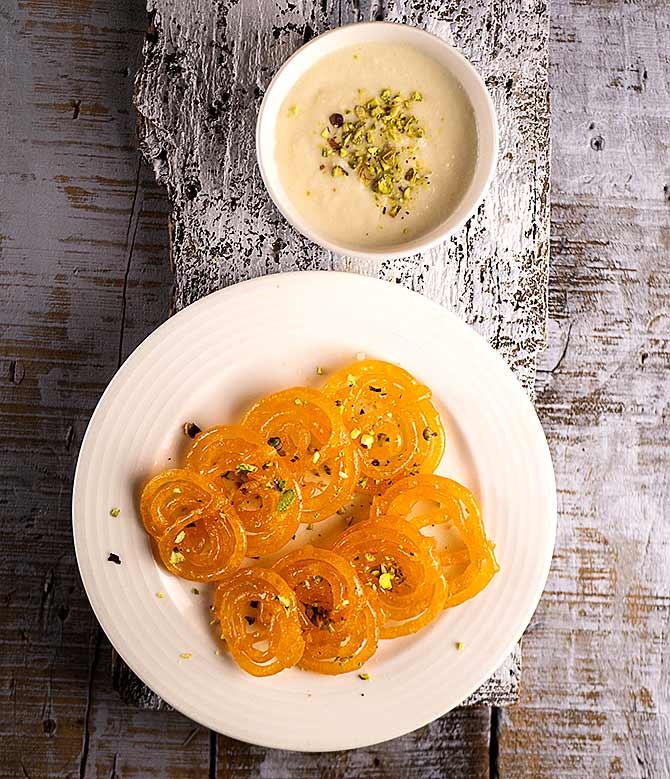 Doodh Jalebi
Ingredients:
3 cup maida
1 cup curd
½ cup corn flour
3 cup sugar
Few strands saffron
1-2 tsp cardamom powder
4-5 tsp ghee
2 tbsp baking soda
4 cup sunflower oil
4 cup water
4 tsp rose essence
2-3 drops of edible food colour
½ cup milk
Method:
Mix maida, corn flour and baking soda in a bowl. Add ghee and orange food colour in the above mixture. To make a thick batter, add curd and water. Mix well until it is thick, but has a pouring consistency. Keep it aside for 8 hours or overnight.
To make the sugar syrup, heat water in a pan over medium flame. Add sugar and mix until fully dissolved. Simmer the syrup until it attains one string consistency. Add saffron, cardamom powder and rose essence. Stir well.
Heat oil in a pan over medium flame for deep frying. Now fill the jalebi batter in a muslin cloth and pierce a small hole in the cloth. Squeeze the muslin cloth to make concentric circles. Fry till jalebis are crisp and golden.
Soak jalebis in sugar syrup for 2-3 minutes. Ensure that the sugar syrup is warm and not very hot. Now remove from the syrup and place it on a tray lined with butter paper or foil. Decorate with silver foil and serve the jalebis hot, warm or at room temperature with creamy rabri. Serve hot with milk.
---
Puran Poli
Ingredients:
2 cup maida
1½ cup sugar
2 tbsp cardamon powder
Salt as per taste
1 cup milk
3 cup chana dal
1/3 cup ghee
1 glass water
Refined oil
1 tsp nutmeg powder
½ cup rice powder
Method:
Take a bowl and mix flour and water. Knead well to make a stiff dough. Cover the dough and keep aside for one hour.
Take a pressure cooker, add chana dal and water in it. Put the cooker on the gas and heat it over high flame. Pressure cook the dal and once it's done, strain the excess water.
Transfer the dal in a bowl and allow it to cool. Once the dal has cooled, add it in a pan and heat it over moderate flame. Add sugar along with ½ tbsp of ghee. Keep stirring. Cook on low flame till the gram mixture is soft and sticky. Once it's done, turn off the flame and keep the mixture aside.
Now knead the dough again, adding salt, water and oil, little at a time, till the dough becomes pliable. Grind the dal and sugar mixture to a smooth consistency, adding a little milk if it is too dry. Add cardamom powder and nutmeg powder.
Take a lump of the dough and a little larger lump of the dal mixture. Stuff the dal mixture in the dough like paratha and roll out.
Heat ghee on a hot griddle and put the puran poli on it. Keep pressing and turning it so that it cooks well on both sides. Keep adding ghee all around to brown it evenly without sticking to the griddle.
---
Chilli Cheese Samosa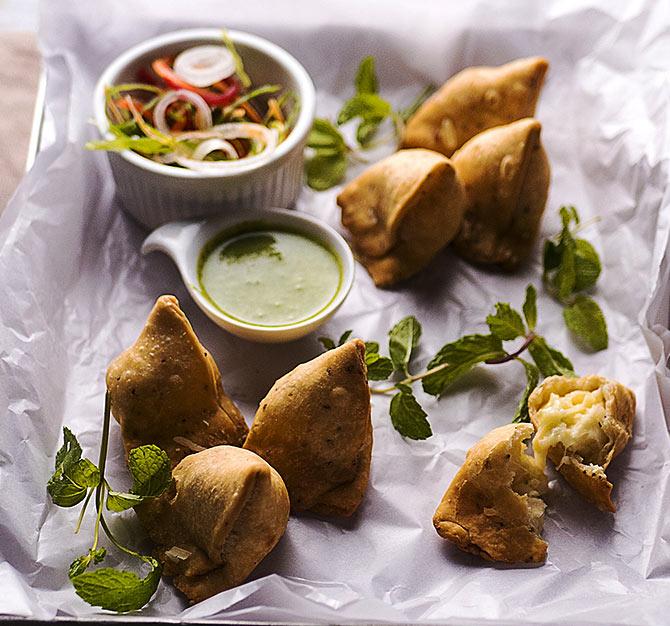 For the chilli cheese mix:
½ cup green chilli
1½ cup processed cheese
½ cup coriander
1 cup mozzarella
1 cup potatoe

¼ cup butter

Salt as per taste

Oil for frying
For the samosa covering:
Method:
Boil the potatoes in water and cook until soft. Fine chop the green chilies, coriander and grate the cheese.
Once the potato is cooked, peel them carefully and grate it.
Melt butter in a pan on a low flame and add chopped green chilies and toss it.
Quickly add the grated potato and mix well. Cook until the mash is steaming hot.
Add salt and coriander. Remove from the flame and cool it down.
Once cooled, mix in the grated cheeses (you can use processed and mozzarella cheese).
For the samosa covering:
Mix all ingredients together until the dough becomes dry and flaky. Prepare small balls and roll it into chapattis of about 6 inches.
Cut chapattis into two halves. Take mixture for stuffing, place it in the center and fold. Seal the edges and prepare a triangle-shaped samosa. Deep fry and serve hot.
---
Chicken Makhani Naan Pizza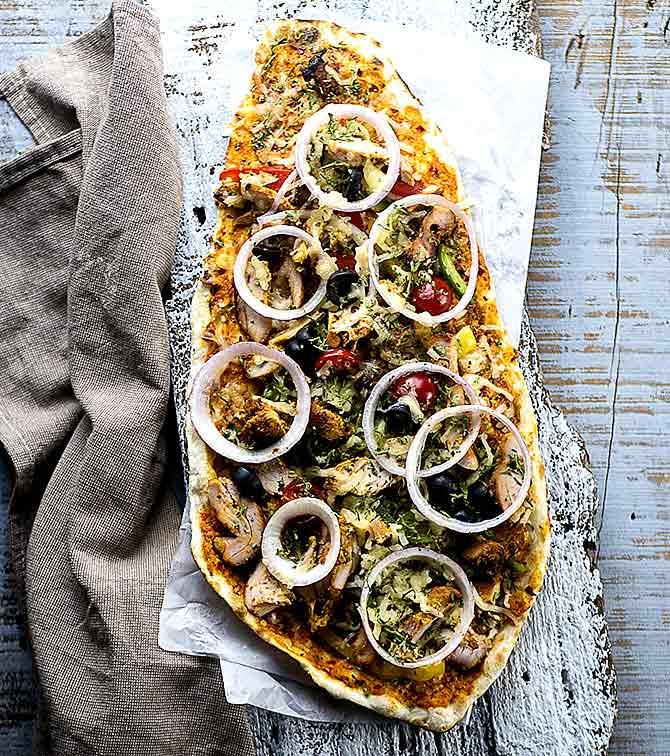 Ingredients:
3 cup refined flour

½ cup butter

1 cup milk

Salt as per taste

1 glass water

2 cup makhani sauce

2 cup mozzarella cheese

1 cup onion

Olives as required

2 cup grilled chicken

1 cup coriander
Method:
Roll the dough and place it in a tandoor. Spread makhani sauce and cheese on top. Add chicken and onion rings as topping.
Place in an oven pre-heated at 240°C for about 8 mins.
Once cooked, remove from the oven and place on a cutting board. Using a pizza wheel cut it into 8 uniform wedges. Serve hot on a pizza plate sprinkled with coriander.
---
Suresh Thampy is the executive chef of Holiday Inn Mumbai International Airport.
---