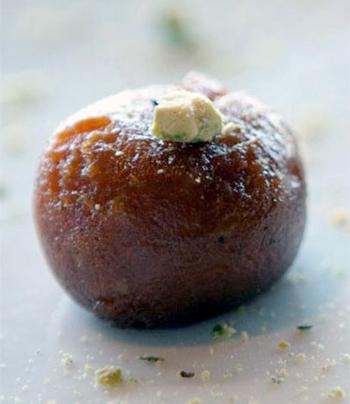 We'd asked you, dear readers, to share your favourite Diwali recipes.
Rediff reader Amal Nandy from Bhopal shares a recipe you can't say No to.
Soft, spongy Gulab Jamuns soaked in sugar syrup is a traditional sweet in India.
Give it an innovative twist by adding sweet potatoes.
Here's the recipe:
Sweet Potatoes Gulab Jamun (Misti Aloor Pantua)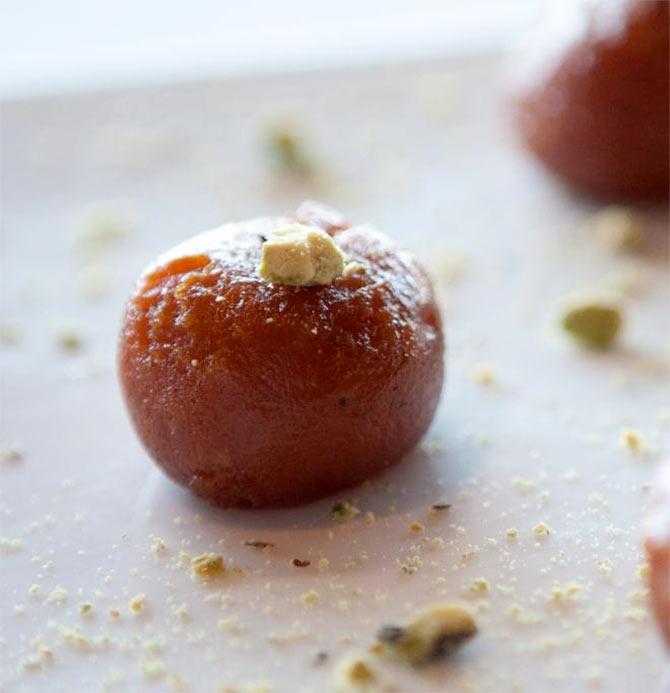 Ingredients
3 medium size sweet potatoes
3 tbsp khoya
Few green cardamoms
2 tbsp all purpose flour
1 tsp pistachios, chopped
A pinch of salt
Oil for deep frying
For syrup
2 cups sugar
2 cups water
Method
For syrup
In a deep bottom pan, heat water and bring it to a boil.
Add sugar. Stir it until the sugar melts.
Pound some green cardamoms. Add it to the syrup.
Lower the flame and let it thicken until the syrup becomes really thick or should have two string consistency.
For gulab jamuns
Boil, peel and mash the sweet potatoes. It should yield around three cups of mashed potatoes.
Add all purpose flour and salt. Knead it well to form a smooth dough.
Pinch a lemon size ball from the sweet potato dough.
Flatten it, stuff it with a pinch of khoya, a cardamon seed and tiny bits of pistachios.
Roll it tightly and make a smooth ball. Repeat this with the entire dough.
Heat the oil until it's at the smoking point.
Lower the flame to medium. Deep fry the dough balls.
When the dough balls turn deep brown in colour, dunk the jamuns in warm syrup.
Let the fried dough balls soak in the syrup for 20 to 30 minutes.
Slot them out from the syrup and keep it separately in a flat bottom vessel.
Let the flavour mature for another five to six hours.
Sweet potato gulab jamun is ready to be served.
Lead image used for representational purposes only. Photograph: Aamer Javed/Creative Commons