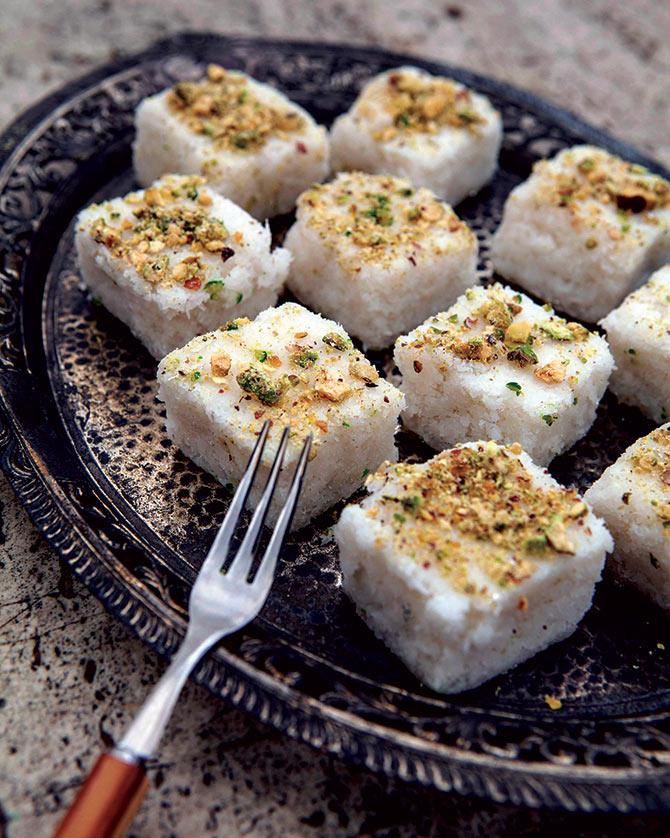 Arthur J Pais invites North America's leading desi chefs to offer their best recipes for Diwali.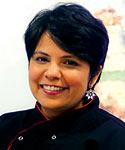 Surbhi Sahni
Surbhi Sahni is the co-founder and owner of Bittersweet, New York City.
Her creations are inspired by her childhood as well as her knowledge of Eastern and Western styles, and her experience in various New York restaurants for the past 15 years.
She enjoys inventing desserts by using traditional Indian ingredients, such as curry leaf, cilantro, ginger and cardamom, and a blend of Indian, European and American pastry techniques.
Here she shares the recipe for cookies made from Besan ke ladoo.
Besan ke Ladoo ke Cookies
Here's an interesting fusion take on a traditional Diwali sweet recipe.
Yield: 2 dozen
Time: 50 minutes
Ingredients
1 cup chickpea flour or besan (prefer Laxmi brand)
1/4 cup almond flour
1 1/2 tsp green cardamom seed or elaichi powder
1/2 cup granulated sugar
4 oz cold butter, diced into small cubes
1/2 cup almonds, toasted, crushed, slivered
1/4 cup raisins, golden
Confectioner's sugar for rolling and sprinkling on top
1/4 cup clarified melted butter or ghee
Method
Slow roast (very carefully) dry besan with cardamom seeds powder, stirring constantly with a spoon to avoid sticking and burning.
Once it turns light brown turn quickly into a cold bowl.
Let it cool completely; put the sugar in the bowl.
Turn the mixture into a robot coupe and pulse for about 1 minute.
Add cold butter and pulse till the dough is almost together.
Turn it into a bowl and sprinkle almonds and raisins, bring the dough together constantly rubbing to distribute the butter evenly.
Wrap with cling film and chill in the refrigerator for at least 20 minutes.
Preheat the oven to 350 degrees.
Take out the dough sprinkle plenty of confectioner's sugar on the table to avoid the dough from sticking.
Roll it 1/4 inch thick, cut to desired shape and size, and spread the cookies apart on a baking tray with parchment paper, chill for 20 minutes.
Bake for 6 to 8 minutes turning it every few minutes to allow even baking.
Brush the cookies with clarified butter as soon as they come out of the oven and sprinkle some confectioner's sugar on them.
Cool and store in air tight containers.
---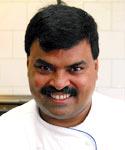 Hemant Mathur
Michelin-starred chef Hemant Mathur is owner of the Tulsi and Fine Indian Dining Restaurant group, New York City.
This recipe was created for Diwali.
Soybean, Spinach and Lentil Croquettes with Tomato Salsa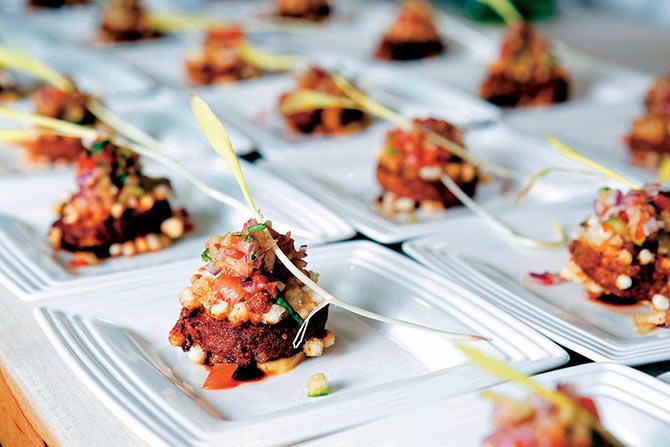 A healthy, vegan Diwali snack!
Makes 24 patties
Time: 1 hour
Ingredients
2 cups split yellow lentils or channa dal
1 whole clove
1/2 tsp black peppercorns
3 green cardamom or elaichi pods
1 black cardamom pod
1 cinnamon stick
Salt
2 cups Nutrela soy nuggets
10 ounces spinach, blanched, drained and finely chopped (if using frozen spinach, unfreeze and squeeze out excess water)
2-inch piece ginger, peeled and finely chopped
5 green chillies, finely chopped
1 tsp roasted cumin or jeera powder
A small bunch of cilantro or green dhania, finely chopped
1/4 tsp garam masala
Canola oil for cooking
Method
Wash the lentils, place in a sauce-pot and cover with 6 cups of cold water.
Add the clove, black peppercorns, green cardamom, black cardamom, cinnamon and salt to taste.
Bring to a boil and simmer until the lentils are soft, about 35 minutes.
Strain out the water and place the lentils in a bowl.
Remove the whole spices.
Soak the soy nuggets in hot water for 20 minutes, squeeze out the water and place in a food processor.
Add the cooked lentils, spinach, ginger, green chillies, cumin and cilantro.
Finely grind the mixture. Add the garam masala and salt to taste.
Divide the mixture into 3-ounce portions and form into small patties.
Heat 2 tsp of oil in a nonstick pan over high heat.
Working in batches, place 3 to 4 patties, or however many will fit in the pan.
Lower the heat to medium and cook until golden brown on both sides.
Serve hot with Tomato Salsa.
Tomato Salsa
Ingredients
4 tomatoes, finely chopped
2 green chillies, finely chopped
A bunch of cilantro or green dhania, finely chopped
1/4 tsp crushed black peppercorn
2 tsp olive oil
Juice of 1 lime
Salt
Method
Toss all the ingredients together.
Serve immediately.
---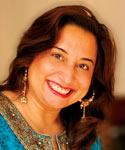 Monica Bhide
Monica Bhide calls herself a storyteller: 'I bring you a feast of tales about food, love, life and culture. I write cookbooks and novels.'
Semolina Idlis with Mustard Seeds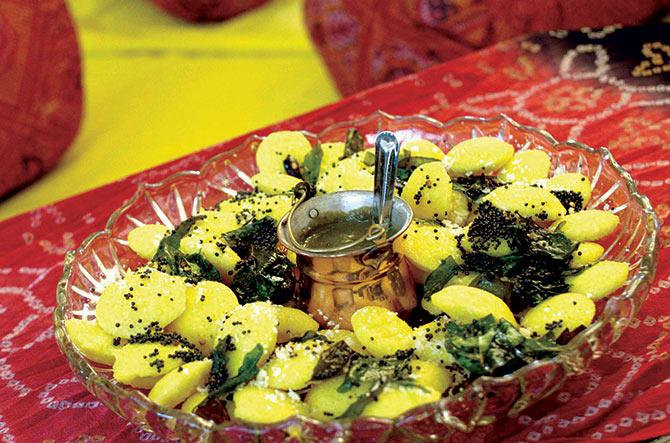 Yield: Depends on idli mould used
Time: 35 minutes
Ingredients
For the batter
1 cup semolina or suji
3/4 cup yogurt (full fat, drained of any whey)
Salt
1/2 tsp turmeric
A pinch of chaat masala
1/2 tsp baking soda
For the tadka
2 tbsp oil
1/2 tsp mustard seeds
2 to 3 broken red chillies
Several curry leaves
Sliced serrano peppers, optional
Garnish
Coconut flakes
Method
How to make the the idlis
Mix all the ingredients for the batter and set it aside for at least 20 minutes.
Get the steamer ready.
I use a mini-idli mould here but you can use a regular mould as well.
The number of idlis this recipe produces will depend on the size of your mould.
Add the water to the steamer and allow it to come to a boil.
Grease the idli moulds with some oil.
Do not forget this step or the idlis will stick!
Just before steaming the idlis, mix the batter well. Now pour the batter into the moulds.
Be careful not to overfill the moulds.
Steam the idlis for 10-15 minutes or until they are no longer wet.
To test whether it is done -- insert a tooth pick into the idli.
If the idli is done, the toothpick should come out clean.
If not, steam for a couple of more minutes.
Let them cool and then un-mould them onto a large platter.
How to serve
Heat the oil in a small pan.
When the oil begins to simmer add all the tadka ingredients.
In less than a minute, the mustard seeds will pop.
As soon as you hear them popping, remove the pan from the stove and pour the tadka over the ready idlis.
Garnish with coconut flakes.
Serve with your favourite cilantro or tamarind chutney.
---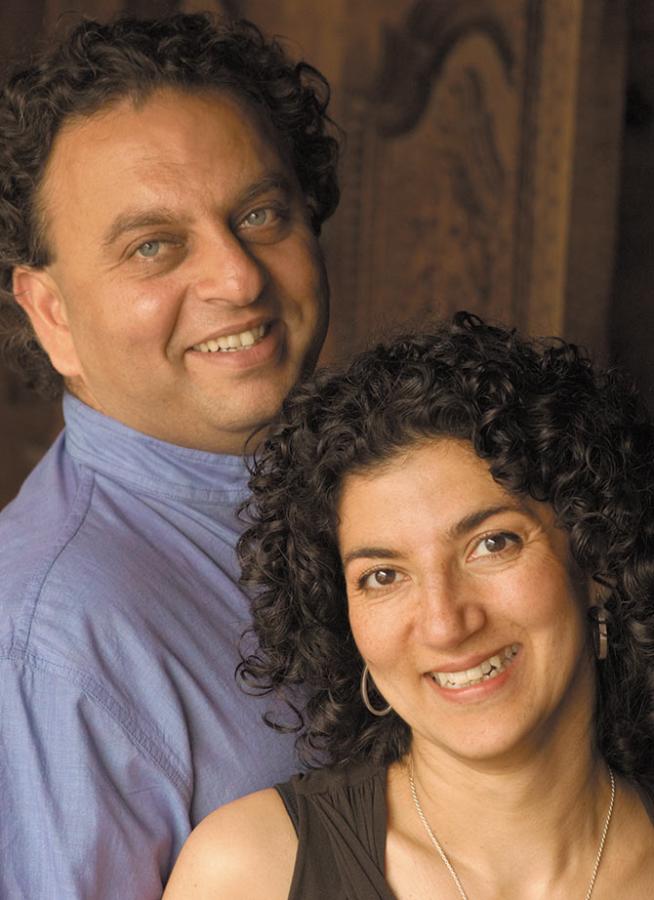 Vikram Vij and Meeru Dhalwala
Vikram Vij and Meeru Dhalwala are chefs and co-owners of Indian restaurants Vij's and Rangoli in Vancouver, British Columbia.
Spiced Chopped Kale and Potatoes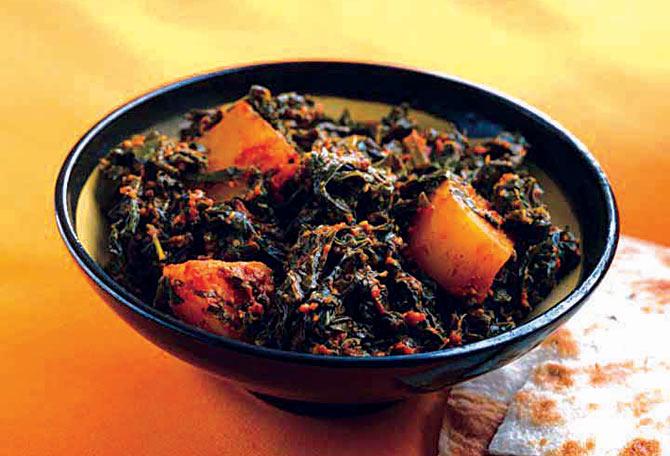 This is a healthy and delicious vegetarian dish, or appetiser, for those of us living in North America, where organic kale is abundant.
The red tomatoes and green kale add a wonderful colour to this dish.
While all of the spices are Indian, the combination of ingredients is slightly different from the traditional curries with greens and potatoes
The kale will shrink in size after cooking, but you will have to use a large pot to accommodate the raw kale.
We normally serve this kale dish with chapatti at our restaurants, but at home we enjoy mixing this curry into 1 and 1/2 cup cooked Basmati rice and serving it as a Vegetarian Pilaf with Raita on the side.
Serves: 4
Time: 30 minutes
Ingredients
2 bunches fresh kale
1 large potato, unpeeled
1/3 cup canola oil
2 cups pureed tomatoes
1 tbsp cumin or jeera seeds
1 tsp turmeric powder
1 tsp cumin powder
1 tsp coriander powder
1 tbsp garam masala
1 tsp ground red cayenne
1 tbsp salt
Method
Cut and discard the stalks of the kale.
Wash the kale leaves, and chop them finely.
Place in colander, rinse again and set aside.
Wash and scrub potato, chop in 1/2 inch pieces and set aside.
In large, heavy bottomed cooking pot, heat canola oil on medium heat for 1 minute.
Add cumin seeds and cook them until they have sizzled for 30 seconds.
Immediately stir in pureed tomatoes and all the remaining spices.
Cook the masala for six to eight minutes, or until the oil glistens on top.
Reduce heat slightly, add the kale and potatoes and make sure the masala is well mixed.
Cover pot and let cook for 15 minutes.
Be sure to stir the kale and potatoes every three to four minutes to ensure that nothing is sticking to the bottom of the pan.
Check to see if potatoes are cooked through.
If necessary, cover and cook an additional few minutes.
---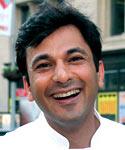 Vikas Khanna
Vikas Khanna is an award-winning, Michelin-starred, Indian chef, restaurateur, cookbook writer, filmmaker.
This recipe is taken from his cookbook Indian Harvest.
Diwali Persimmon-Vanilla Cobbler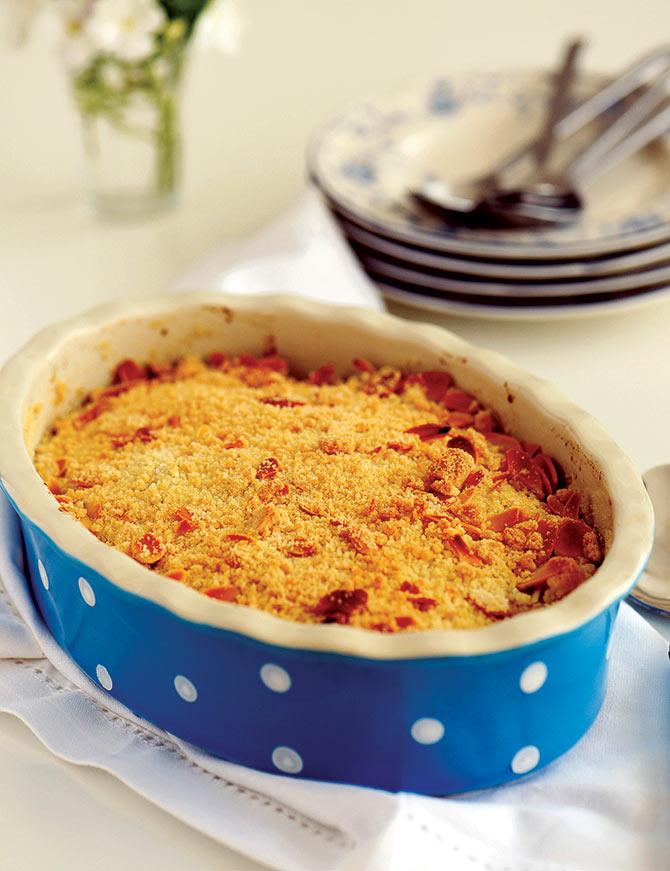 During Diwali my maternal grandmother would always send a basket of fruits.
It would be wrapped in colour transparent paper and secured with golden ribbons.
Through it I could see the perfectly glossy persimmons.
Either too firm or too ripe. Either too astringent or too sweet.
In grocery stores they are available in the fall, generally of 2 types; hachiya or fuyu. You can use any firm kind.
Cobbler is one of my favorite desserts, easy to make with so many fruit combinations.
In this recipe, the tangy sweet delicate flavor of persimmons is enhanced by rich smooth vanilla and topped with buttery crispy pastry: A comforting end to a perfect meal.
Serves: 4 to 6
Time: 1 hour 15 minutes
Ingredients
8 persimmons, trimmed and cut into wedges
1 tsp vanilla extract
1/2 cup brown sugar
1 and 1/4 cups, plus 2 tbsp all-purpose flour
6 tbsp cold unsalted butter, cut into pieces
1 tsp baking powder
1 tbsp cornstarch
1/4 cup almonds, thinly slivered skinless
Pinch of salt
Method
Heat oven to 350°F.
In a bowl, toss the persimmons with the vanilla extract, 1/4 cup of sugar, and 2 tbsp of flour.
Transfer to a medium baking dish.
Combine the remaining flour and 1/4 cup sugar with the butter, baking powder, cornstarch, almonds, and salt, using your fingers to form coarse crumbs.
Evenly cover the persimmon layers with the mixture without pressing it.
Place the baking dish on a rimmed baking sheet and bake until golden brown and bubbly, 50 to 60 minutes.
Serve hot with vanilla ice cream.
---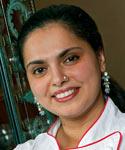 Maneet Chauhan
Maneet Chauhan is a cookbook author, Iron Chef contestant and owner of the Chauhan Ale and Masala House, Nashville, Tennessee.
Malpua stuffed with Gajar Halwa and garnished with Rabri and Pistachio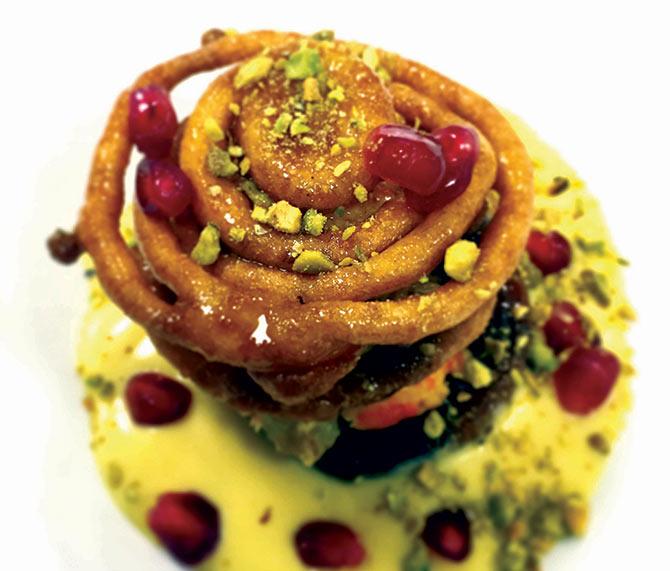 A rich but traditional take on a typical Diwali sweet.
Makes: 5 cups batter, 1 quart halwa
Time: 1 hour
Ingredients
For the cake
2 cans condensed milk
1 cup milk
3 cups all purpose flour
1/2 tsp baking soda
1/4 cup fennel seeds
For halwa filling
260 gm carrots, finely grated
425 gm half and half
100 gm condensed milk
2 tsp cardamom powder
3 strands saffron
For rabri sauce
290 gm golden raisins
8 oz cream cheese
5 oz condensed milk
For pistachio dust
1 pint pistachio
Vegetable oil and ghee for frying
Pomegranate seeds for garnish
Saffron syrup for serving
Method
For the cake
Combine wet and dry ingredients separately.
Add wet ingredients to dry ingredients and mix thoroughly, place in a large squeeze bottle.
In a flat-bottomed sauce pan, heat 1 cup vegetable oil and 1/2 cup ghee.
Add batter in a circular motion and finish by connecting all layers (see picture).
Heat until slightly passed golden brown, flip and cook until desired doneness is reached.
Cakes should be crispy when cooled.
For halwa filling
Bring all ingredients to a boil, reduce to a simmer, stirring occasionally.
Cook until carrots are cooked through and the mixture has thickened.
Allow mixture to cool on a tray.
For rabri sauce
Mix raisins with cream cheese and condensed milk.
For pistachio dust
Place pistachios in robot coupe and pulse into a fine powder.
To assemble
Toss three Malpua cakes with 1 tbsp saffron syrup.
Place in microwave for 20 seconds.
In a wide-rimmed bowl, place 2 tbsp rabri sauce.
Layer cakes with 1 tsp halwa filling between each and 1 tsp on top.
Sprinkle 8 to 10 pomegranate seeds on top.
Sprinkle with pistachio dust.
---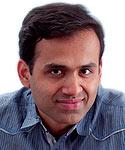 Hari Nayak
Hari Nayak is a chef, restaurateur, cookbook author and culinary consultant.
He authored the best-selling book Modern Indian Cooking.
Recipe adapted from his latest cookbook The CafeSpice Cookbook from Tuttle Publishing 2015.
Coconut Fudge or Nariyal Barfi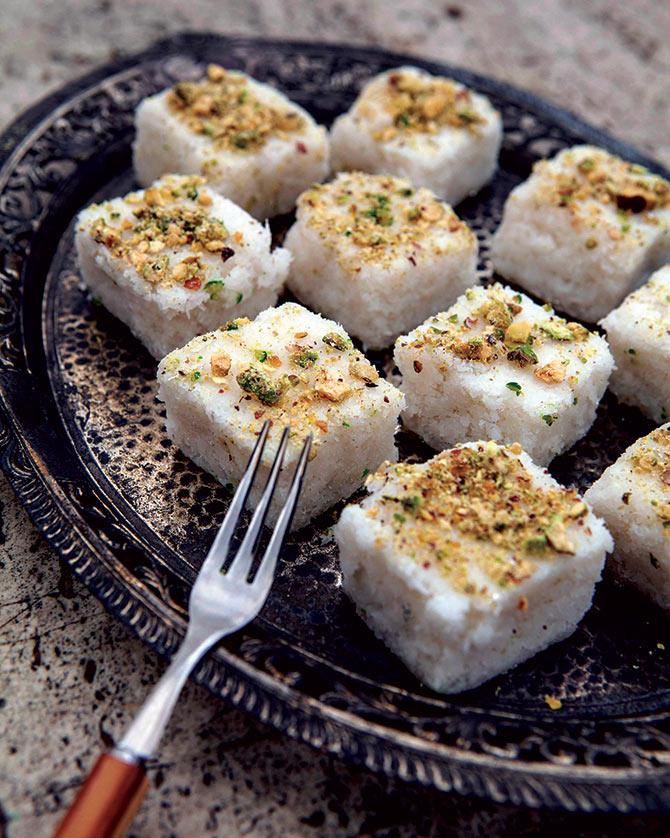 Diwali all about gift giving and sweets. I wanted to combine both.
The recipe is so easy to make that it can make a great handmade special gift to your friends and family.
Yield: Serves 4 to 6

Time: 40 minutes
Ingredients
2 cup shredded, unsweetened coconut, freshly grated or frozen
100 gm desiccated coconut
1/2 cup sugar
400gm condensed milk
1 tbsp ground cardamom, preferably freshly ground green cardamom seeds, from about 10 cardamom pods
1 cup unsalted butter, plus extra to grease
1 cup roasted unsalted pistachio nuts, finely chopped, optional
Method
Heat a medium-wide mouth pan over medium to low heat.
Add the fresh coconut, desiccated coconut, sugar and condensed milk, cook stirring frequently for 20 to 25 minutes, until the mixture has thickened to fudge.
Note: Do not leave the pan unattended as the coconut mixture should not take on any brown cooked colour.
Stir in the ground cardamom and butter and remove the pan from the heat.
Pour the coconut mixture into a lightly butter baking dish and spread out to about a 1 to 2 inches (2 to 3 cm) thickness.
Top it with the pistachio nuts (if using) and press it gently with a back of the spoon for it to stick.
Let it cool completely, then chill for at least 30 minutes to allow the fudge to firm up.
Cut the coconut fudge into small diamonds or squares. Serve at room temperature.
---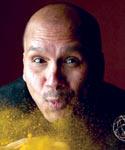 Raghavan Iyer
Bombay-educated, Emmy-winning chef Raghavan Iyer acquired a degree in chemistry before he switched career tracks.
A television docu-maker, restaurateur, member of The James Beard Foundation, he is the author of several award-winning cookbooks including Betty Crocker's Indian Home Cooking.
Funnel Cakes or Jalebis in Saffron Syrup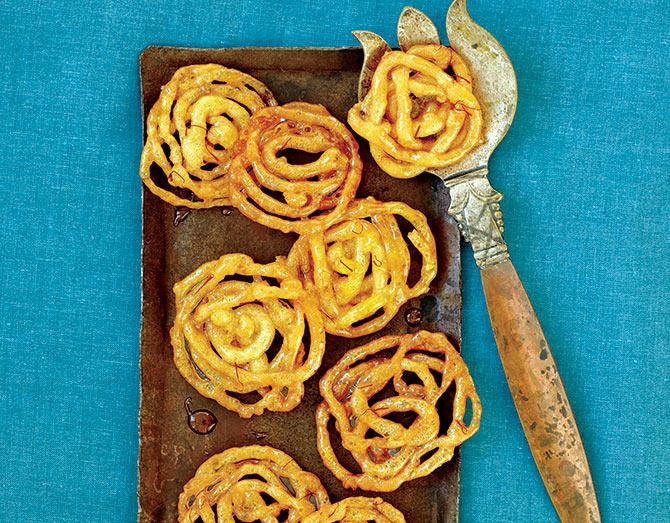 No other sweet is more synonymous with Diwali than Jalebis and for that matter it is just as popular year-around.
Diwali evokes a need for labour in the kitchen, an extra bit of time to fashion something that is deemed time-consuming.
This recipe is all that without the labour. But it will generate a perception of being slaved-over anytime someone sees a platter of these at the Diwali table.
A common sight, especially on the streets in northern India, are vendors hunched over a gargantuan wok with hot oil as they pipe, with impressive dexterity, oodles of these funnel cakes, called jalebis, and flipping them in one melodious motion from the oil to the syrup, and then stacked onto platters.
Those juicy, crunchy cakes beckon passersby as they go about their business, and one is usually hard-pressed to turn that temptation.
Sweet, crunchy, aromatic, and slightly sour, this is one of my favorites, and it always leaves me feeling guilty because I cannot stop at one.
Makes: 8 to 10 funnel cakes, serves 4
Time: 1 hour cooking, 2 to 3 hours rising
Ingredients
For the funnel cakes
1/2 tsp active dry-yeast
1/2 cup unbleached all-purpose flour
1 tsp chickpea flour or besan
1/2 tsp unrefined granulated sugar
1/2 tsp canola oil
For the saffron syrup
1 cup white granulated sugar
1 tbsp freshly-squeezed lime or lemon juice
4 to 6 green or white cardamom pods
1/2 tsp saffron threads
Canola oil for deep frying
Method
Get the funnel cake batter ready.
Sprinkle the yeast into a medium-size bowl and pour in about 1 tbsp warm tap water
Mix the two well to make sure the yeast dissolves.
Stir in the two flours, sugar, and 1/2 tsp oil, and, using a whisk, pour in 1/2 cup water to beat it into a smooth, lump-free batter.
Allow the batter to sit 1 to 2 hours in a warm spot.
While the batter rests, make the syrup by stirring the sugar, 1/2 cup water, lemon juice, cardamom, and saffron in a small saucepan, uncovered, over medium heat.
Once it comes to boil, continue to boil it, uncovered, until it reaches a single-thread consistency (if you scoop a bit of the syrup into a spoon and dip your forefinger in it and then touch your thumb and forefinger together and separate them again, that drop of syrup should connect the two fingers very briefly by a sugary thread), about 5 minutes.
Turn off the heat and, when you are about to fry the cakes, turn the heat back on under the syrup to the lowest setting to keep the syrup warm.
Place a cake rack on a plate or a cookie sheet. I usually line the plate or sheet with parchment paper.
As the funnel cakes will sit on the rack and shed the excess syrup onto the plate below, it will make for an easy clean-up.
To fry the funnel cakes, pour enough oil roughly two-inches deep into a medium-size saute pan.
Heat the oil over medium-high heat until an oil or candy thermometer stuck in its depth (without touching the bottom) registers close to 275°F.
Pour the batter into a squirt bottle (like one of those old-fashioned plastic ketchup bottles you find in restaurants) and squeeze out the batter into concentric circles about 2-inches in diameter directly into the oil.
Quickly squeeze out maybe three more funnel cakes into the oil.
Fry them, flipping each of the cakes occasionally, until they are golden brown and crispy, 5 to 7 minutes.
Lift them off the hot oil and drop them into the scented syrup.
Completely coat each cake with the syrup and transfer them from the syrup to a rack.
Repeat with the frying, drenching, and drip-drying.
I usually serve the crispy cakes warm alongside a bowl of cold ice cream to highlight a pleasing temperature difference.
Tips
These are really simple to form once you get the hang of making those coil-like concentric circles.
Don't be heartbroken if they are not perfect because they will still taste incredible.
The beauty of these funnel cakes is their ability to last in the refrigerator for up to two weeks.
Re-warm them in a microwave for barely a minute before you eat them. These do not freeze well at all.
---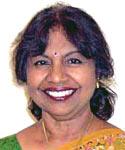 Alamelu Vairavan
Alamelu Vairavan has worked in long-term care facilities and as a holder of a Wisconsin Nursing Home Administrator's license she has been a consultant for many Wisconsin healthcare facilities.
She attempts to educate folks on the role of legumes and spices in creating healthy, delectable foods.
Vairavan has published a few books on South Indian cooking.
Excerpted from Recipe from Healthy South Indian Cooking by Alamelu Vairavan & Patricia Marquardt, published by Hippocrene Books, New York.
Bell Pepper and Tomato Rice with Cashews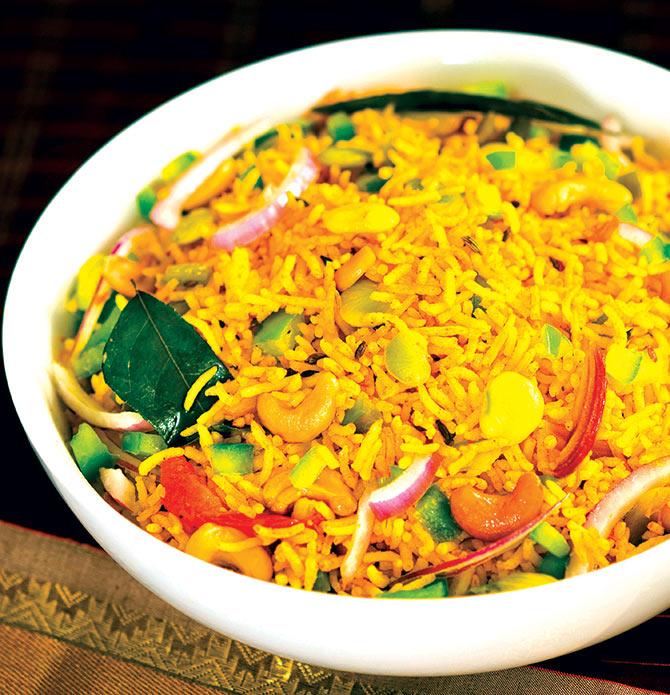 This colourful, nutritious rice dish is delicious by itself.
A great rice dish to serve on festive occasions like Diwali and also with Thanksgiving dinner.
Serves 4 to 6
Time: 40 minutes
Ingredients
1 cup basmati rice
1 tbsp oil
1 tbsp butter
2 to 3 curry leaves, optional
2 to 4 slivers cinnamon stick, about 1/2 an inch
1 bay leaf
1/2 tsp cumin or jeera seeds
1/2 tsp fennel seeds or saunf
1/2 cup onion, sliced cut lengthwise
1/4 cup diced tomato
1 cup coarsely chopped green bell peppers
1/4 tsp turmeric powder
1 tsp curry powder
1 tsp salt
1/4 cup tomato sauce
1/2 cup frozen green peas, thawed
1/4 cup cashew halves
1 tbsp red onion, cut lengthwise
Method
Cook rice in a rice cooker or saucepan in 2 cups of water.
Transfer cooked rice into a bowl.
Fluff and let it cool for about 15 minutes, so grains do not stick together.
Heat oil and butter in a skillet over medium heat.
When oil is hot, but not smoking, add cinnamon, bay leaf, cumin seeds, and fennel seeds.
Brown for a few seconds.
Add onion, and tomato.
Stir-fry for 1 minute.
Add bell peppers, turmeric, curry powder and salt. Mix well.
Add tomato sauce.
Stir and cook, covered, over medium heat, until bell pepper becomes slightly tender, approximately 1 minute, stirring occasionally.
Do not overcook the bell peppers. Add cooked rice to above mixture and gently blend well with sauce.
Immediately reduce heat to low and stir in green peas, cashew halves and red onions.
Fluff and mix the rice.
Serve warm.
---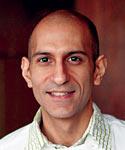 Jehangir Mehta
Jehangir Mehta is a television food show personality, cookbook author, executive chef and owner of New York City restaurants Graffiti, Me and You, and Mehtaphor.
Hibiscus Jamun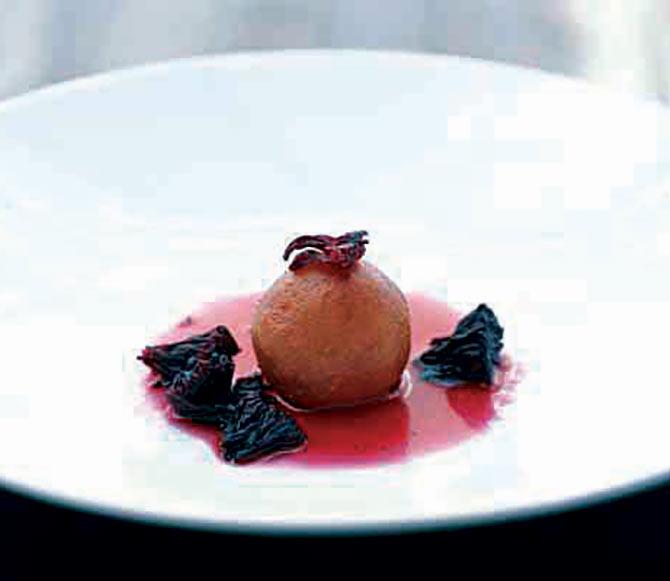 Flowers such as rose, hibiscus, lily are part of Persian culture, and pairing them with jamun, which is so Indian, is my way of showcasing my Persian Indian heritage.
The spongy texture of the jamun simply melts in the mouth, unleashing an intoxicating hibiscus perfume.
Makes 12 jamuns
Time: 30 minutes
Ingredients
For the hibiscus syrup
1 cup sugar
3 cups water
2 cups dried hibiscus flowers
For the jamun
1/2 cup flour
1/2 tsp baking powder
Salt
1 cup Carnation milk powder
3 tbsp condensed milk
1 quart grape seed oil, for frying
Method
For the hibiscus syrup, mix the sugar and water in a saucepan and bring to a boil over medium heat.
Reduce the heat, add the flowers, and simmer for 25 minutes.
Remove the mixture from heat and allow it to cool.
Sift the flour and baking powder into a standing mixer, and then add the remainder of the ingredients.
Run the mixer with a paddle attachment for 2 minutes, stop and then cover and refrigerate for 10 minutes
Tear off small pieces of dough and roll into balls about 3/4-inch across.
Heat the oil to 200º F, and then fry the dough.
Fry about 4 pieces at a time and be sure to push the balls around in the oil so that all sides are evenly fried, about 7 minutes.
Transfer the balls to the hibiscus syrup, then spoon them into a bowl.
Serve with some additional hibiscus flowers.
ALSO SEE