It's the new year. A new beginning.
For Bangalis across the globe, Poila Boishakh (the first day of the Bengali calendar) calls for a celebration.
We begin the day by wearing new clothes. Most garment shops in West Bengal go on sale right before the New Year starts, i.e in the Chaitra Maash (the last month of the Bengali calendar that begins on March 15 and ends on April 13)
Women draped in beautiful saris and men in their traditional dhuti (dhotis) or pajamas and panjabi (kurtas) offer sweets to the Lord and make a wish for the year to bring in gifts of joy, good health and prosperity.
People send New Year greetings to their dear ones. Some visit elders in the family and neighbourhood to wish them Subho Nababorsho (Happy New Year) and seek blessings. Soon after, it's time to catch up with our pals over lots of adda(long chats).
But the most important part of this occasion is plenty of good food. One just can't deny that we Bengalis live to eat. We also believe if the first day goes well, the rest of the year will follow suit.
So indulge in lip-smacking delicacies on this auspicious day. Here are two recipes for you to try.
Aamer Dal (Lentils with Green Mango)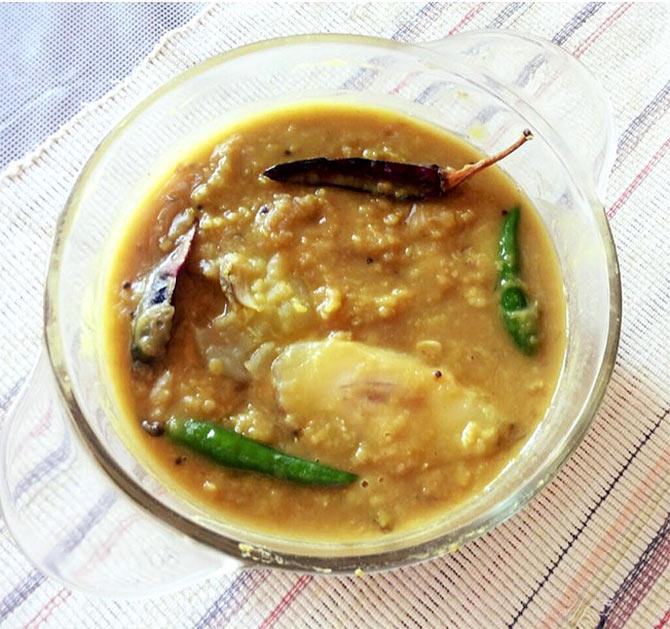 Ingredients
200 gm yellow moong dal (green gram that are skinned and split)
1 medium-sized green mango (peeled)
10 gm mustard seeds
2 to 3 pieces of red chillies
2 to 3 pieces of green chillies
1/2 tsp turmeric powder
1/2 tsp white oil
Salt and sugar, as per taste
Method
Wash yellow moong dal properly. Boil with enough water in a pressure cooker. Keep aside.
Cut green mango into pieces and cook in water till they get soft.
Now mix boiled dal, mango pieces and sugar and salt as per requirement.
Add green chillies, turmeric powder and mix well. Keep this mixture aside.
Heat oil in a pan. Add red chillies and mustard seeds. Saute it on a medium flame.
When the seeds start popping, add the dal and mango mixture. Bring it to boil, cook for 3 to 4 mins.
Once the dal gets thick, turn off flame. Serve hot with rice.
---
Mangsho Morich (Mutton in black pepper)
Photograph: Rediff Archives
Ingredients
250 gm mutton (cut in medium size)
2 1/2 tsp pepper powder
250 gm curd
50 gm melon seeds (paste)
100 gm cashew nuts (paste)
2 to 2 1/2 spoons of onion paste
1 tsp garlic paste
1 tsp ginger paste
1/2 tsp turmeric powder
5 to 6 pieces of cloves
1 inch cinnamon
5 to 6 pieces of cardamom
4 tbsp of white oil
Salt and sugar, as per taste
Method
Take a vessel, add water and mutton. Boil it.
Once boiled, strain the water. Keep the mutton pieces and stock separately.
Marinate the boiled mutton with one and a half teaspoon of pepper powder and 125 gm of curd. Refrigerate for at least an hour.
Heat oil in a non-stick pan. Add cloves, cardamom and cinnamon. Cook over medium flame.
Add onion, ginger and garlic paste, salt and sugar as per taste. Mix well.
Add turmeric powder and the remaining pepper powder. Fry it.
Once it is fried, add the marinated meat and fry it for two to three minutes.
Add the remaining curd with the cashew nut paste and melon seed paste. Cook for two to three minutes. (Add water from the stock if you prefer more gravy.)
Serve hot.
ALSO READ
Click here for interesting recipes and food features
Do you have an interesting recipe to share? Write in to us at getahead@rediff.co.in (subject: My Fav Recipe) with your name, hometown and any interesting details about the origin of the recipe, along with a photograph if possible.
We'll publish the best preparations right here on Rediff.com and in India Abroad.