Eat and make merry with these Christmas recipes.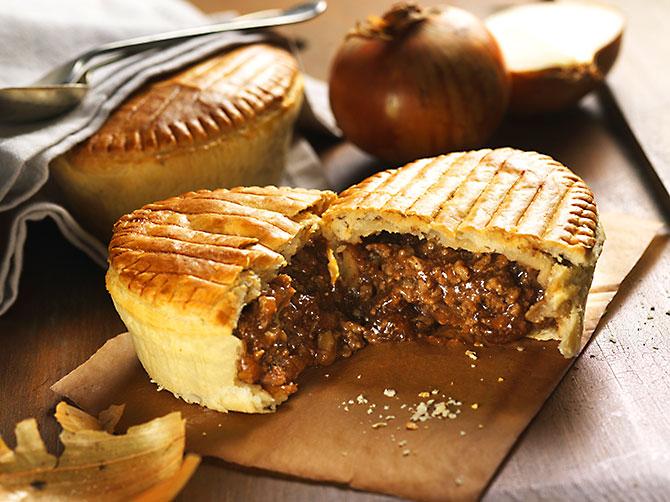 Mince pie
Ingredients:
360 gm (2 cups) dried mixed fruit
200 gm (1 cup, firmly packed) brown sugar
50 gm (1/3 cup) slivered almonds, finely chopped
1 Granny Smith apple, peeled, quartered, cored, coarsely grated
40 gm butter, melted
2 tablespoons brandy
3 teaspoons finely grated lemon rind
1 tablespoon fresh lemon juice
1 teaspoon ground cinnamon
1 teaspoon mixed spice
Pinch of ground nutmeg
1 egg, lightly whisked
White sugar, to dust
For the pastry:
300 gm (2 cups) plain flour
70 gm (1/3 cup) caster sugar
160 gm chilled butter, chopped
1 egg yolk
2 tablespoons iced water
Method:
Finely chop half the mixed fruit. Place in a large bowl. Add the brown sugar, almond, apple, butter, brandy, lemon rind, lemon juice, cinnamon, mixed spice, nutmeg and the remaining mixed fruit. Stir until well combined. Cover with plastic wrap and set aside overnight, stirring occasionally, to macerate.
Transfer the fruit mixture to a fine sieve over a bowl and stir to remove excess liquid.
To make the pastry, place the flour, sugar and butter in the bowl of a food processor and process until mixture resembles fine breadcrumbs. Add the egg yolk and water, and process until the mixture just starts to come together. Turn onto a clean work surface. Shape into a disc. Cover with plastic wrap. Place in the fridge for 20 minutes to rest.
Preheat oven to 180°C. Roll out the pastry on a lightly floured surface until 5mm thick. Use an 8.5cm-diameter round pastry cutter to cut 20 discs from the pastry. Use a 5cm-diameter star-shaped pastry cutter to cut 20 stars from the remaining pastry.
Line twenty 80 ml (1/3-cup) capacity muffin pans with pastry discs.Divide the fruit mince among the pastry cases. Top with pastry stars. Brush the stars lightly with the egg and sprinkle with white sugar. Bake for 20-25 minutes or until light golden. Set aside in the pans for 5 minutes to cool before transferring to a wire rack to cool completely.
---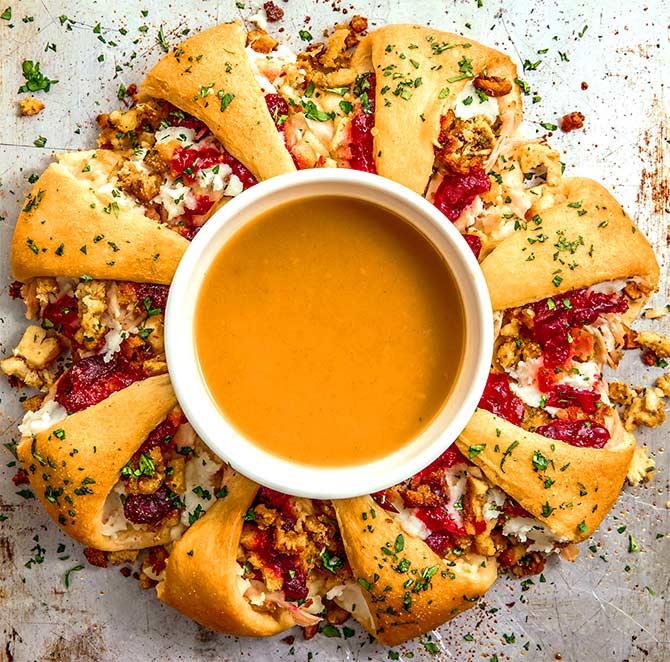 Brie, cranberry and herb mini pull-apart cobs
Ingredients:
8 sourdough rolls
400 gm spreadable cream cheese
2 garlic cloves, crushed 1 tablespoon fresh thyme leaves, plus extra to serve
2 tbsp chopped fresh sage leaves
2/3 cup whole cranberry sauce
200 gm double brie, chopped
1 cup grated pizza cheese
2 tbsp chopped fresh flat-leaf parsley
Method:
Preheat oven to 200°C/180°C fan-forced. Line a large baking tray with baking paper. Cut the top of each bread roll at 2 cm intervals in a diamond pattern, being careful not to cut the whole way through.
Combine cream cheese, garlic, thyme and sage in a bowl. Season with salt and pepper.
Spread cream cheese mixture over cut sides of bread.
Spoon dollops of cranberry sauce and pieces of brie into cuts. Place on prepared tray. Bake for 15 minutes or until light golden.
Sprinkle with pizza cheese. Bake for a further 5 minutes or until cheese is golden and bubbling. Sprinkle with extra thyme and parsley. Serve.
Recipes shared by Chef Avinash Jha, Jaypee Vasant Continental.