Indulge in the Christmas cheer with these delicious and traditional recipes by Vaibhav Verma, executive chef at Grand Mercure Bangalore.
Sausage Breakfast Casserole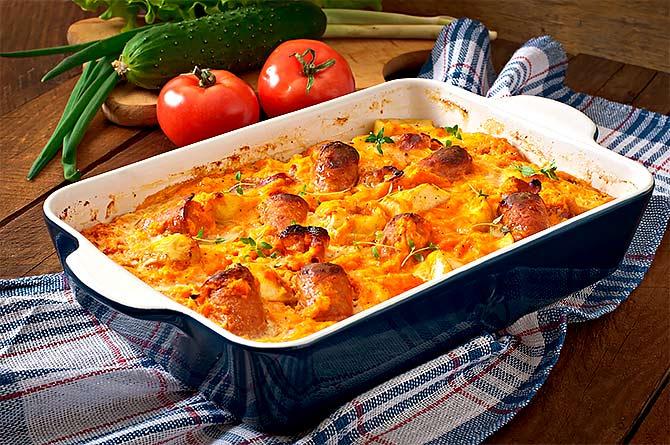 Ingredients:
½ kg pork sausage
10 eggs
4 cups milk
1 tsp dry mustard
¼ tsp onion powder
1 tsp salt
Fresh ground pepper
5 slices of day old bread
2 cups shredded cheddar cheese
½ cup sliced mushrooms
1 cup chopped tomatoes
Method:
Heat a skillet on medium flame. Break up the sausage into chunks and cook, working in batches if need be, until cooked on all sides. As you cook the sausage, you can break up the larger chunks into smaller crumbs. When lightly browned, remove from pan to a paper towel lined plate to absorb any excess fat.
In a large bowl whisk together the eggs, milk, dry mustard, onion powder, salt and pepper.
Place the bread in a well-buttered baking pan. Sprinkle with cheese, chopped tomatoes and mushrooms. Top with the browned crumbled sausage, distributing it evenly. Pour the egg milk mixture evenly over the bread and cheese.
At this point, the casserole can be covered and chilled in the fridge (once cooled) until ready to bake and serve, up to overnight.
If baking immediately, let the casserole sit for 10 minutes before putting in the oven.
When ready to cook, preheat the oven to 325°F. Bake uncovered for about one hour. Tent with foil if the top begins to brown too quickly. Let the casserole cool for about 10 minutes before serving.
---
Roast Beef Tenderloin with Sauteed Mushrooms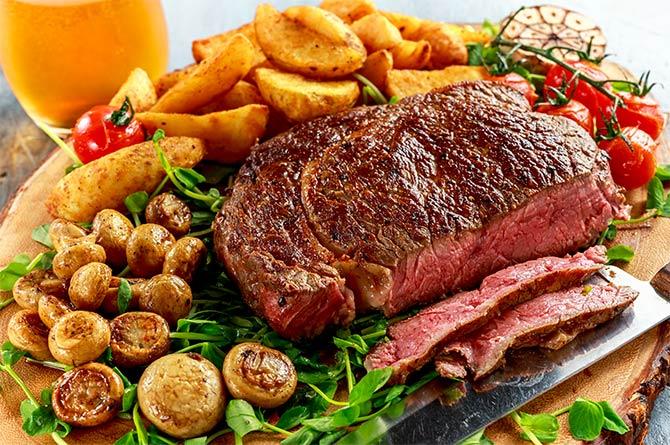 Ingredients:
1 kg of beef tenderloin, trimmed of excess fat and silver skin
1 tsp salt
½ tsp black pepper
1½ tbsp extra virgin olive oil
1 cup sliced mushrooms
3 tbsp butter
1 tsp salt
2 tbsp minced shallots
2 tbsp minced garlic
1½ tsp of herbs
Method:
Remove roast from refrigerator 1 to 2 hours before cooking so that it has time to come close to room temperature. Sprinkle all sides with salt and pepper and set aside.
When ready to cook the tenderloin roast, preheat oven to 425°F. Heat olive oil in a cast iron or thick-bottomed saute pan that can take the heat, on high heat. When the oil is hot, place the roast in the pan and brown it on all sides, including the ends, about 10 minutes. When sufficiently browned, remove the roast from the pan (do not clean out the pan) and place on a roasting pan.
Place in the oven and roast at 425°F until the internal temperature is 130°F for rare (140°F for medium), about 20 minutes.
Remove from oven and loosely tent with foil to rest for 15 to 20 minutes before slicing.
While the roast is resting, prepare the mushrooms. Add 3 tbsp of butter to the same pan you used to sear the beef roast. Heat on medium heat to melt the butter. Add the minced shallots and garlic, and cook for half a minute.
Stir the mushrooms into the pan and cook until they start to give off steam. Then add salt and pepper. Continue to cook until just cooked through. Remove from heat.
Use a sharp knife to slice the roast across the grain and serve with the sauteed mushrooms.
---
Peppermint Bark Chocolate Cookies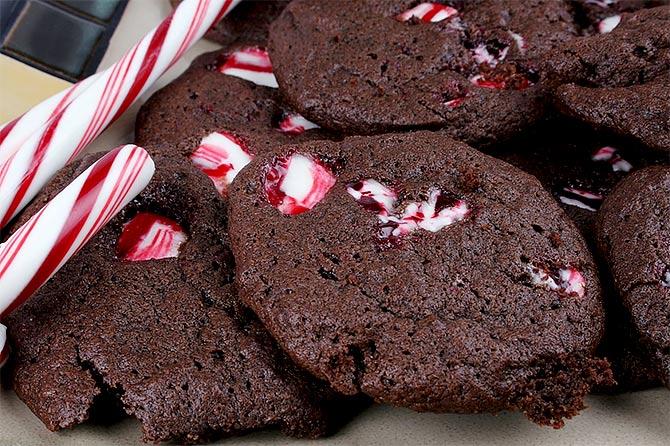 Ingredients:
2 cup all-purpose flour
1 cup unsweetened cocoa powder
½ tsp baking soda
½ tsp baking powder
¼ tsp salt
1 cup unsalted butter, softened
3/4 cup brown sugar
3/4 cup white granulated sugar
1 egg
1 tsp of vanilla extract
About 1 cup store bought peppermint bark pieces
Method:
Preheat the oven to 350°F. Line a baking sheet with parchment paper. Sift together the flour, baking soda, baking powder, salt, and cocoa powder in a bowl and set aside.
To make the cookie dough: Beat the butter and sugars together for about 2 minutes with an electric mixer at medium speed, until completely mixed and light in color. Add the egg and the vanilla extract until well mixed, about a minute. Be sure to scrape down the sides and the bottom of the bowl halfway through. With the mixer on medium speed, add the sifted flour mixture to the bowl slowly. Stop once all of the flour is incorporated (do not over-mix). Fold in the peppermint bark chips using a stiff spatula.
Take small spoonful of the dough and roll between your hands to make 1-inch sized balls. Arrange on the baking sheet, spaced a few inches apart.
Bake the cookies for 10 to 12 minutes. Let cool on the pan for a few minutes, then transfer to a wire rack to cool completely.