We continue our special series on traditional Christmas recipes from Christian communities around India.
Today, Patcy N shares her mom Amey Fernandes' Pork Roast recipe:
ALSO SEE
Christmas recipe: How to make Madras Mutton Curry
Christmas recipe: How to make Milk Pudding
Christmas recipe: How to make Raan Roast
Mangalorean Xmas spreads
Since I grew up in a Mangalore-Goan family, food-wise our Christmas was an all-meat experience, though my mother also made Nevoris (Karanji or Gujjia), Kulkuls, Dos (a kind of jaggery-coconut-besan barfi), laddoos, Chakali and Sev,a week before Christmas, and coconut cake just a night before Christmas.
The Christmas breakfast would be Sorpotel with Sannas (a variation of idlis) but my Mangalorean mother can't make Sannas, so it was Idlis with Sorpotel, made the day before.
Yes, eating meat for breakfast is very common in any Goan or even a Mangalorean household.
Through the day lots of guests came by to wish my parents.
We sisters always had trays ready of soft drinks and coconut cake, surrounded by the Christmas sweets, and another tray of seasonal fruits like apples, guavas, bananas etc. Each sister was in charge of a tray.
I had the cake tray. My youngest sister had the fruit tray -- she would spill things, break glasses, so she got the easiest work.
Lunch was an elaborate spread. No beef, but all the rest of the meats: Pork Roast, Mutton Curry, Chicken Fry and Chicken Pulao, and there was Sorpotel which would last for at least four to five days.
After lunch my mother would be free to make up the trays for our neighbours.
She knew practically everybody in the neighbourhood, so we would set out at two and not return before seven or eight. And then between Christmas and New Year we would go with our father, and later just two of us sisters alone, to the homes of all our relatives with trays, right upto Bhayander, north Mumbai, where our grandmother lived.
It was an adventure and I still miss those childhood Christmases.
Patcy N shares her mom Amey Fernandes' Pork Roast recipe:
Pork Roast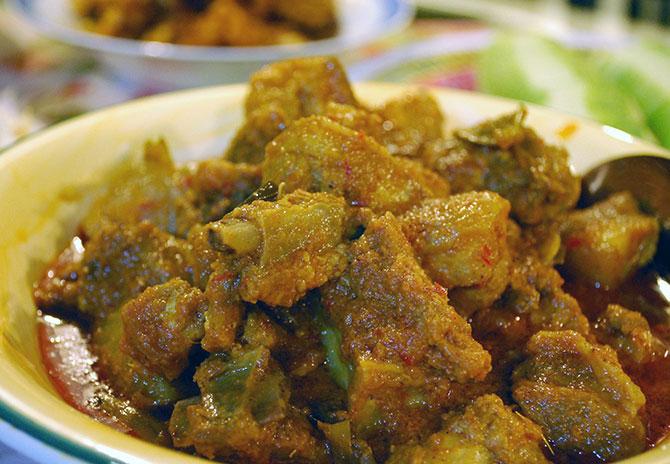 Pork Roast is made one day in advance; it tastes better the next morning.
Ingredients
1 kg pork, boneless, cut little bigger than bite-size pieces
For the marination
2-inch piece ginger, chopped fine
1 whole garlic bulb, peeled, diced fine, alternately can use garlic paste
7 green chillies, slit down the middle lengthwise
10 red chillies
1 tsp black pepper
5 to 6 cloves
1-inch stick cinnamon
1 tbsp coriander seeds
1/2 tsp garam powder, optional, a homemade powder better than a store brand
2 large onions, sliced long
2 to 3 bay leaves
1 tsp turmeric
1/4 cup vinegar (you may add more if you like your pork sour)
Salt
For tempering
1 tbsp oil
2-3 bay leaves
3 red chillies
Method
Wash the pork well, two to three times at least. Drain all the water.
Once dry add the marination ingredients. Let it marinate for a minimum of an hour and ideally up to three hours at least, if not overnight.
If marinating overnight, put it in the fridge but don't add the onions. Instead add the onions the next day when you take the pork out of the fridge and let it sit for 20 minutes.
Heat a heavy-bottomed pot and when hot add 1 tbsp oil.
Add bay leaves. Break the red chillies into two and add. Add the marinated pork. Stir a bit. Cover it with the lid.
Keep a bit of water -- about a cup -- on the lid and cook for 30 minutes.
Pour off the water from the lid and cook the pork without a cover till the water dries up in the pork, about 30 minutes.
Image: monchichi10/Creative Commons
ALSO SEE
How to make Madras Mutton Curry
5 traditional Christmas recipes
Droolworthy X'mas recipes just for you
Party appetisers: 5 finger-licking chicken recipes
Video recipes: Make insanely delicious waffles at home!
You can send us your favourite party recipes too. Write in to us at getahead@rediff.co.in (subject: Party recipes) with your name, hometown and any interesting details about the origin of the recipe, along with a photograph if possible. We'll publish the best preparations right here on Rediff.com and in India Abroad.