We'd asked you, dear readers, to share your family's Christmas recipes.
Here, Chitra R shares this special Christmas recipe from her hometown Kanyakumari.
Tamil Nadu style Chicken Biryani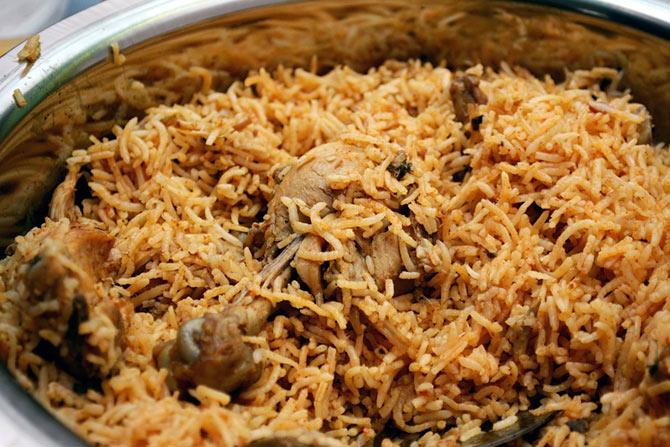 Photograph*: Rupamdas75/Wikimedia Commons
Serves: 3
Ingredients
250 to 300 gm chicken (with or without bones)
2 cup Basmati rice (or) Seeraga Samba rice (soaked in water for 20 mins)
3 medium sized onions finely chopped
3 tomatoes finely chopped
2 green chilies slit
2 tbsp ginger-garlic paste
1 cup mint leaves
¼ cup chopped coriander leaves
¼ tsp turmeric powder
1 tsp red chili powder
½ tsp coriander powder (or) chicken masala powder (optional)
1 cup whisked curd / yogurt
Salt to taste
4 tbsp cooking oil
3 cloves
½ cinnamon stick
2 to 3 bay leaves
1 star anise
2 green cardamom
1 tsp lemon juice
Method
For Chicken Masala
Marinate chicken pieces with turmeric powder and keep aside for 10 minutes.
Heat 4 tbsp oil in a pan or handi.
Temper cloves, cinnamon, star anise, bay leaf and cardamom.
Add ginger-garlic paste and saute a while.
Add 1 tbsp curd and cook for a minute on low flame.
Add marinated chicken and little salt.
Cook it covered on low flame for 10 mins. Remember to not add water, since chicken will cook in its own water.
Add chopped onions and green chillies. Cook for a minute.
Add chopped tomatoes and mash the pulp.
Add mint leaves and coriander leaves. Saute a while.
Add red chilli powder, coriander powder and remaining curd.
Mix well everything and let it cook for another 5 minutes. Remove from the heat and transfer masala to another bowl.
For rice
Soak rice for 20 minutes. Boil 9 cup water in a vessel. Once it starts boiling, add washed & drained rice to it.
Add salt to taste, 2 tsp and sprinkle lemon juice. Cook it on medium-low flame till it is half cooked (may take around 8-10 mins).
The rice grains will be long & firm but not hard. And the grains will be separate. At this stage, remove from the heat and drain the water completely. Keep it aside.
For Dum
Take the same pan in which you have cooked chicken masala.
Pour a ladle full of masala to the pan and spread it nicely.
Now spread another layer of half cooked rice. This way, prepare layers of chicken masala and rice.
Heat a flat frying pan or tava.
Keep the pan on tava and cook on low flame for 20-30 mins.
Switch it off and remove from tava only at the time of serving. Mix everything well and serve hot.
Coconut Macaroons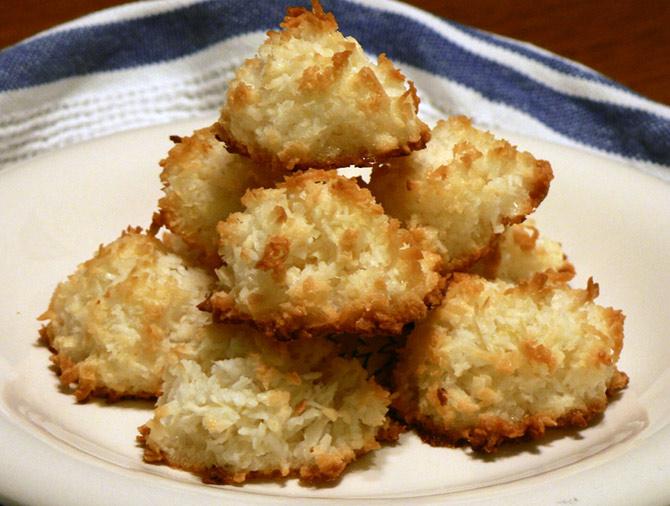 IMAGE: paige_eliz/Flickr/Creative Commons
Ingredients
2 medium sized eggs
½ cup granulated white sugar
A pinch of salt
½ tsp vanilla extract
1 ½ cup unsweetened desiccated coconut (shredded/flaked)
Method
Line a baking tray with parchment paper and keep it ready. If you do not have parchment paper, grease the baking tray with little butter and dust it with flour.
Powder the granulated white sugar and keep it aside.
Preheat oven to 180 degrees C for 10 minutes.
In a large bowl, beat eggs until frothy.
Add powdered sugar and salt to the egg mixture.
Add vanilla extract and mix well using a whisk or a fork.
Add desiccated coconut and mix well.
Drop ½ tbsp of the mixture, one inch apart on the baking sheet.
Bake at 180 degree C (bottom coil -- 15 to 20 minutes and finally top coil for just 1 or 2 minutes to give a nice brown shade on the top) for 15 to 20 minutes or until golden brown.
After 10 minutes, rotate the tray and continue to bake until done.
Remove from the oven and cool for 10 minutes.
Place it on a rack to cool.
Macaroons taste best when served warm.
Once they cool, you may also store them in an airtight container.
Note: For eggless version, mix ½ cup condensed milk with 1½ cup of desiccated coconut and ½ tsp vanilla essence until well combined. The egg less coconut macaroon mixture is ready. Continue baking as mentioned above.
Dear readers, do you have interesting recipes to share?
E-mail your recipes to getahead@rediff.co.in (subject: Recipe) along with your NAME, AGE, LOCATION. Also please provide a photograph and a brief description of the recipe (its history, significance etc), if possible.