These lip-smacking recipes will make your mouth water.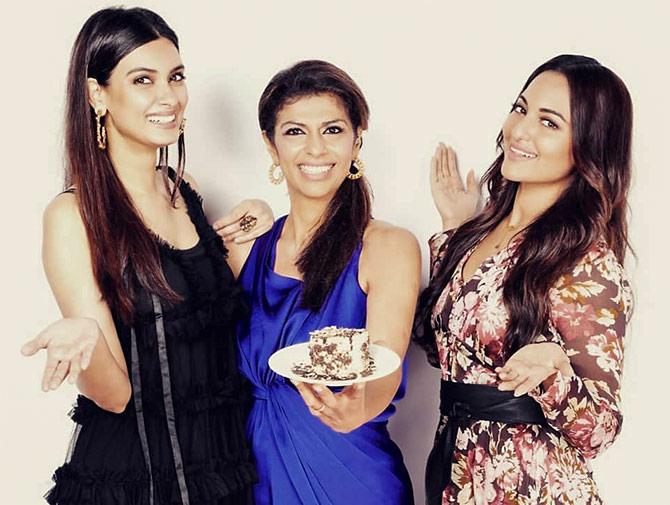 On the television show Gimme Chocolate, Indian chocolatier Zeba Kohli hosts two celebrities in each episode, chosen from among her friends and acquaintances.
Here are some interesting recipes from the show:
Chocolate Almond Muffins
Guests: Sonakshi Sinha and Diana Penty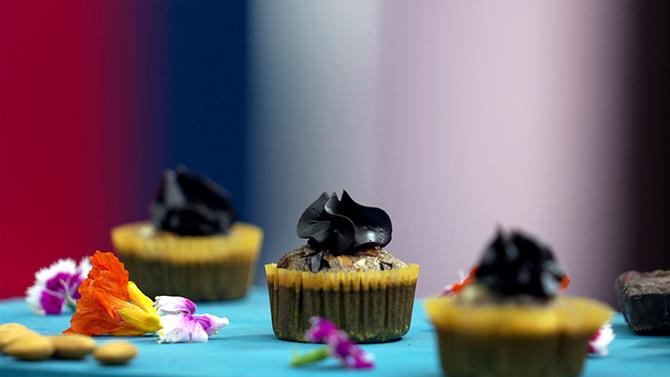 Ingredients
60 gm coconut flour
1 tbsp cocoa powder
90 gm Stevia
110 gm oil
3/4 tbsp baking powder
80 ml heavy cream
1 tsp vanilla essence
4 eggs
80 gm chopped sugar free chocolate
30 gm chopped almonds
Method
In a mixing bowl add coconut flour, stevia, cocoa powder, baking powder
In a separately bowl whisk eggs, oil, cream and vanilla essence.
Mix it until it's all combined
Grease a microwave muffin tray.
Add the batter to the tray and put sugarfree chopped chocolate and almond flakes.
Pat it.
Microwave it for 15 to 20 minutes (Temperature – 165 C degree)
Take it out and let it rest for 10 minutes. Serve.
Guntur Chocolate Alaska
Guests: Raghu Ram and Rajiv Lakshman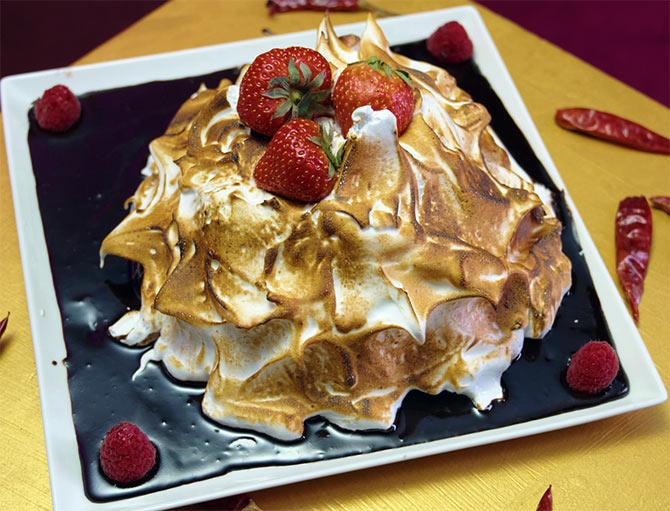 Ingredients
For Alaska
1 vanilla sponge cake
Vanilla icecream
Chocolate icecream
Strawberry icecream
For Guntur Ganache
227 gm dark chocolate chips
180 gm heavy cream
28 gm butter
1 tbsp Guntur chilli powder (as per taste)
For meringue
125 gm egg white
250 gm castor Sugar
Few drops of lemon juice
A pinch of cream tatar
Method
For ganache
Heat the cream and butter in a small sauce pan over medium flame
Bring just to boil, immediately pour the boiling cream and mix well until smooth.
For meringue
With the whip attachment, beat the egg whites first at medium speed then at high speed until they form soft peaks
Add the first quantity of sugar, a little at a time, with the machine running. Whip until stiff
Stop the machine. Fold in the remaining sugar with a spatula.
Chocolate Marquise with plum compote
Guests: Ash King and Jonita Gandhi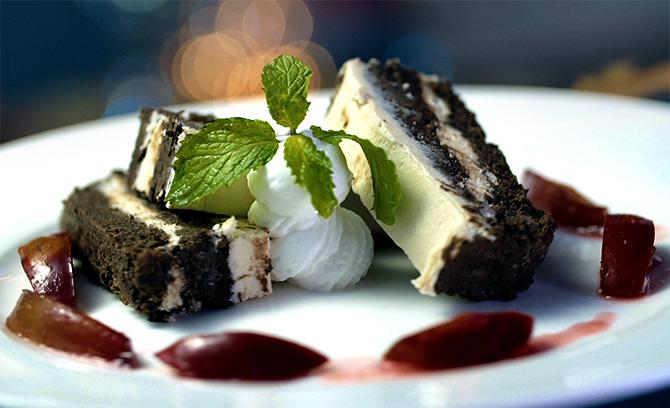 Ingredients
For chocolate marquise
200 gm melted dark chocolate
125 gm white chocolate
45 ml rum
75 gm unsalted butter
50 gm icing sugar
1 tsp cocoa powder
300 ml whipped cream
For plum compote
3 full pieces plum fruit
1 cup water
80 gm sugar
1 cinnamon stick
Method
Put the dark chocolate into heat proof bowl, set over a pan of simmering water.
Add 30 ml rum and leave until melted.
Melt the white chocolate with remaining 15 ml rum in the same way.
Beat 50 gm of butter and 25 gm of icing sugar together in a bowl until pale and creamy.
Sift in the cocoa, add the melted dark chocolate and fold in until evenly incorporated
In a separate bowl, lightly whip the cream; fold half into dark chocolate mixture.
Beat the remaining butter and icing sugar together in another bowl.
Stir in the white chocolate, then fold in the remaining cream.
Place alternate spoonful of two mixture in the preparation.
Tap gently to level the surface.
Chill the marquise for sometime.
For plum compote
Mix all 4 ingredients together in a sauce pan
Boil until thick
Gimme Chocolate Galaxy
Guests: Ranveer Brar and Kubra Sait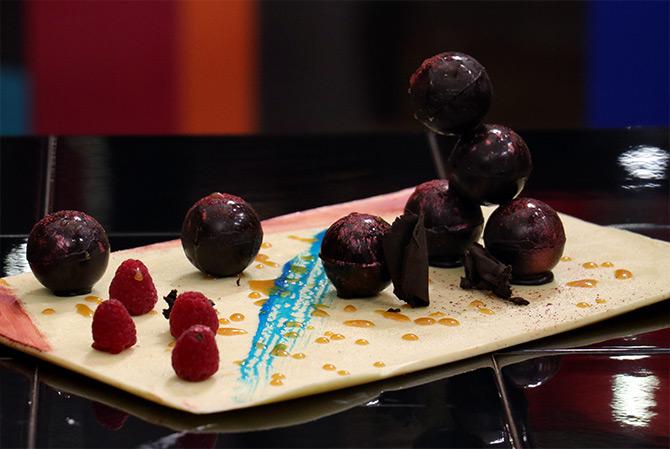 Ingredients
Dark chocolate pieces
Edible metallic colour
For the filling
Cream cheese + thandai
Ginger ganache
Rabadi
Rasmalai
Gulkand
Sea salt + chilli
Flavoured condensed milk
Banana ganache
Rum ganache
Method
Melt the dark chocolate on a medium flame for 10 to 12 minutes.
Brush the mould with the metallic colour and then brush the melted chocolate in the mould.
Freeze the chocolate for 7-10 minutes and then remove from the refrigerator
Start filling the filling one by one in each half and then cover with the other half.
Serve with fresh caramel sauce.
Chocolate Sushi
Guests: Aahana Kumra and Shikha Talsania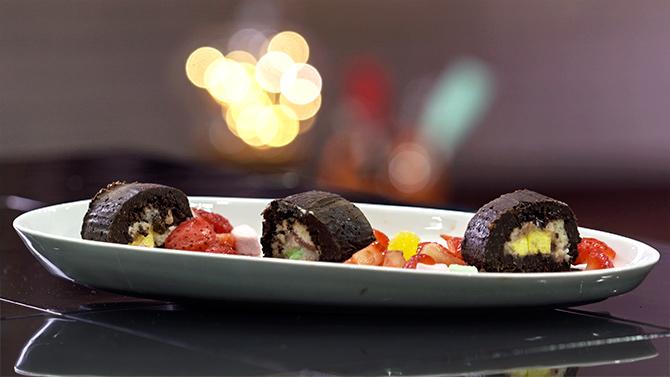 Ingredients
150 gm desiccated coconut
180 gm condensed milk
150 gm chocolate
For white coconut filling
200 gm white chocolate
60 gm heavy cream
30 gm desiccated
For the filling
Marshmallow
Jelly
Fresh strawberries
White coconut filling
Method
Mix the first three ingredients together until soft mixture
Press it down on your bamboo mat, until half way (remember to put cling wrap around the mat)
Put your filling in the middle and start rolling with the help of your mat
It will look like a California roll
Set it in fridge for 20 minutes.
Cut into 8 to 10 wheels (use a warm knife)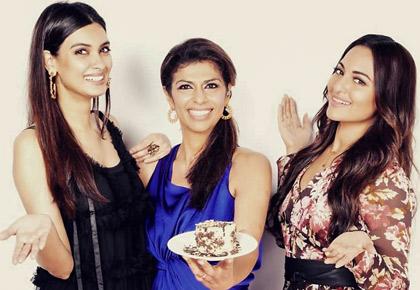 Gimme Chocolate airs on Living Foodz, a lifestyle and entertainment channel.